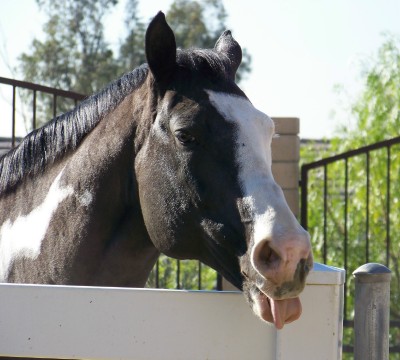 Yes folks, this goofball thinks he's a stud muffin.
Someone needs to inform Danny that he is no longer a stallion. I thought he already understood this, because even though he was gelded only a year ago—after siring more than 20 foals, a fact that confounds me, given his less than ideal conformation—he is a perfect gentleman. He's the Labrador retriever I always wanted.
Then last weekend I went trail riding with my friend Barbara. She owns a pair of Trakehner mares. Dulce is dapple gray, about 8-years old, and on the prissy side. The other horse, Dru, is Dulce's dam. She's a dark chocolate bay in her mid-twenties. Probably because of her age she's a no-nonsense, workaholic kind of horse.
Danny has never paid any attention to young, flashy Dulce. But last weekend Barbara decided to ride old Dru. Since a lot of the trails are narrow and require us to ride head-to-tail, we figured an introduction was necessary. So we allowed Dru and Danny to check each other out and sniff noses. From Danny's perspective it was love at first sight. How do I know? Let's just say that he made his feelings obvious.
Admittedly, I was unaware of these feelings because I was sitting on his back, chatting with Barbara, oblivious of what was literally going on beneath me.
"Uh, Cindy," Barbara said, "there's a certain part of Danny's anatomy that hasn't gotten the message that he's a gelding."
I had to think carefully to get what she meant. That's when I noticed several cars and trucks cruising slowly past us, as if their drivers didn't want to miss the show that was certain to begin momentarily.
I quickly grabbed a better hold of my reins, turned Danny away from the business end of Dru's body, and got him thinking more about the trail ride. Apparently Danny is easy to distract, because for the rest of the morning he behaved. And that's a good thing, because I'd really hate to end up on You Tube, sitting astride my amorous gelding while he performed an equine version of dirty dancing.
Back to Life with Horses