I spend most Wednesdays riding hunters for my trainer friend Sue. She served as rail-side coach for my sister and me when we were showing our own horses. Since Sue lives only a couple blocks away, it's easy to stop by and hop on a horse. It helps her out when she's extra busy and I get to ride a professionally schooled horse. It's a perfect example of a win-win situation in the horse world.
Naturally the set-up works best when I'm assigned to ride a horse that suits me well, and lately that horse has been Dolce. In fact, I find myself volunteering to tack up the pretty gray mare as soon as I arrive. I've barely stumbled out of my truck, saddle cradled in the crook of one arm and helmet slung around the other, before I'm calling out to Sue, "You want me to ride Dolce again?"
Fortunately Sue's response is usually a quick, "Sure!"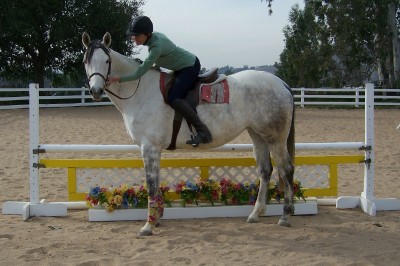 Despite my precarious position, I can't help myself from leaning forward to offer lovely Dolce a peppermint treat for being such a good girl.
Dolce just happens to belong to one of my longtime horsey gal pals, Barbara. But Dolce and I have another connection: She's a Trakehner mare. And I spent many years starting Trakehner babies under saddle (not a job for impatient riders) and showing them (not a job for faint hearted riders).
I'm aware that Trakehners as a breed tend to get a bad rap. They're chided as being too hot, too temperamental and too sensitive. That's unfair. What they are, in my opinion, is too intelligent for the average rider. In contrast to most of the other warmblood sport horses, the modern Trakehner has little tolerance for accidental cues. You put your leg into the side of a Trakehner and you're going somewhere, whether you actually want to or not. There's no three-second delay like there is with some of the duller warmbloods.
So riding Dolce is much like revisiting my competitive past. Besides benefitting from a year of professional training from Sue, Dolce inherited her breed's trademark floating trot. Honestly, I have to remind myself to post, she's that smooth. Sitting on her back at the canter almost feels like ice skating. But just to keep me honest and forever thinking, Dolce has to be kept lightly on the bit and in "work mode." If I allow her to choose her own agenda, she begins to see apparitions in the hedge outside the arena. Or she expresses her contempt for any horse that attempts to pass her too closely.
An added bonus of riding Dolce on Wednesdays is that if I time it just right, I end up in the arena at the same time as my good friend Debbie.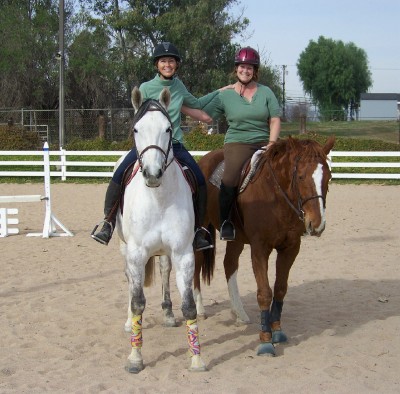 Riding with my longtime pal Debbie makes Wednesdays even better. And look, we wore the same color shirt. How cosmic!
Since Debbie first showed hunters with my sister and me about thirty years ago (wow, I feel old!), the overall sensation is one of nostalgia. Come to think of it, Debbie even had several horses sired by Trakehner stallions. It's no wonder Wednesdays often end up giving me warm, fuzzy feelings. It's like a weekly case of Trakehner déjà vu!
Back to Life with Horses