One of my longtime pals from the show circuit, Linda Tayne, happens to own the most popular feed store in town. Besides serving as a grocery store for my horses and dogs, it's also one of my hangouts. On any given day I can stop by and have an animated chat with Linda or the horse-loving gals on her staff. It really is a crossroads of the community, and I never know who I'll run into at the check-out counter. Better yet, I never know what will be sitting on the counter, whether it's free samples of hoof conditioner or raffle tickets for the 4H club.
Last week's counter display caught me by surprise. Alongside a stack of natural horsemanship DVDs was a large plastic jar. The lid had a slot cut into it and snapshots were scotch-taped to the sides. I was so shocked by the photos that it took a few moments for them to make sense. They were photos of the most emaciated horse I've even seen.
"That's the 'Save Joey' collection jar," Linda explained.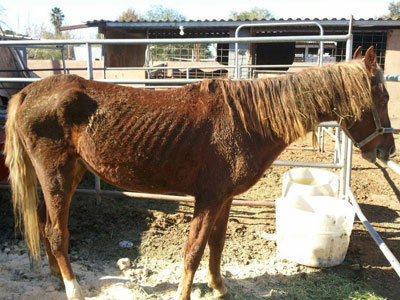 Here's Joey shortly after he was rescued and brought to his new home.
The story she shared both captivated and infuriated me. I looked at my friend as she related the tale, and could tell it affected her the same way. A true animal lover, Linda's face reddened and her eyes welled up, even though she'd undoubtedly related Joey's story numerous times.
Christy Jensen, one of Linda's regular clients, had driven to a dusty, unincorporated area of our county to look at a used horse trailer that a man had advertised for sale. While Christy contemplated the condition of the trailer her young daughter wandered past some broken down fences. There, tucked away without any food or water was what the little girl described to her mom as "a baby horse."
Because her daughter was convinced there was something wrong with the colt, Christy decided to take a look. She was appalled. It wasn't a colt; it was a mature, 15-plus hand gelding. He merely looked diminutive because he was nothing more than a skeleton covered with a thin coat of chestnut hair.
Christy could get very little information from the man other than he'd only had the horse a short time and he was planning to haul it to Mexico. Containing her outrage, she discreetly took photos of the horse with her cell phone. Then she also called the county animal control to report the starving horse. Ultimately, Christy found herself in a dilemma. The county was already backlogged with a bunch of abused and abandoned horses, and adoption rates had slowed to a trickle. There simply wasn't any room for another horse. Once the animal control officers arrived and (hopefully) cited the man, they'd take possession of the horse and euthanize it.
Christy couldn't let that happen. After some discussions between animal control officers and the man, who griped that "someone turned me in," Christy became the gelding's new owner. She named the horse Joey and brought him home. A local vet examined Joey to determine if he could be saved. Though many horses in his condition often suffer irreversible damage to their kidneys and liver, Joey had not. Plus, he was sweet and bright-eyed, and the vet was impressed with his strong will to live. Though he needed his food intake monitored carefully, lest he colic or founder, the vet was convinced Joey could recover with time and love.
Needless to say, that will be a long journey. And as every horse owner knows, it'll be an expensive one, too. That's why there's a big plastic jar sitting on the glass counter top at Linda's Feed and Supplies. Joey has become a community rescue project, and a pocketful of spare change goes a long way to help a horse that would have otherwise met a tragic end.
Though you can follow Joey's recovery on the feed store's facebook page, I'd also encourage you to look around your own community. If you happen to discover a horse that is being abused or neglected, find the courage to take some action. I'm convinced there are plenty of horses out there just waiting for an angel like you.
Back to Life with Horses