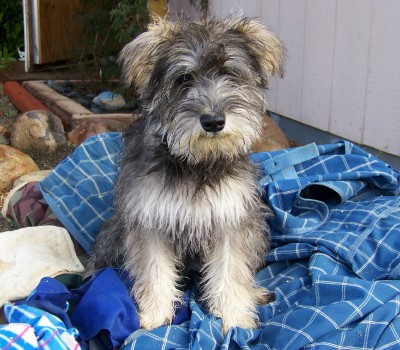 This past holiday I received a warm and fuzzy Christmas gift from my husband. I'd been asking for a barn dog, something more rugged than our sweet but slightly neurotic
Schnauzer
, Betsy. I wanted a dog that could keep me company while I was puttering out back with the horses. What I got was a shaggy mouse-colored male puppy that looked like an elfin ewok.
I chose this floppy mop head from several litters of Schnauzers and named him Jonah. Somehow the name just seemed to fit, and the pup seemed to fit me. He was just over 8 weeks old but I could tell he had the makings of a future barn dog. He was sturdy, confident and curious.
I know what you're thinking. Schnauzers are pretty far down the list when it comes to naming the most typical barn dogs. Jack Russell Terriers, Queensland Heelers, Corgis, Aussies and Border Collies are the popular choices, and understandably so: they've been bred for centuries to herd livestock or root out varmints from the stables. As prototypical barn dogs, I envision Schnauzers ranking somewhere between Malamutes and Lhasa Apsos.
But my husband loves the bearded, wiry-coated canines, and we've had numerous Schnauzers since we've been married. I must admit, as a breed they have some admirable attributes. They don't shed, they're easy to train, and they possess a feisty yet loving temperament. Besides, I've tried to convince my husband that I'd really prefer one of the more traditional barn dog breeds. He got this stern look on his face and replied, "I give you pretty much everything you want. Why can't I at least pick the breed of dog we have?"
Thus I ended up with a baby Schnauzer for Christmas.
Fortunately, Jonah is following in the paw prints of the Schnauzers that came before him in our household. He already goes on a leash. He lies down, sits and holds a "stay" on command (even off a leash, mind you) and is, unless he's overly pre-occupied, housebroken.
Outside, I've begun to trust him more and more around the horses, even as he ambitiously explores the realm of the horsekeeping area. For example, he understands that he is not, under any circumstances, to come into the stall or paddock. That's what the command "Out!" means.
Yet as he matures he's continually subjected to a variety of other commands like, "Jonah! Drop the hoof pick!" Or, "Jonah! Stop chewing on Mommy's chaps!" And then there's also, "Jonah! Stop eating the horse poop!"
I'm sure with time that Jonah will develop into the best possible barn dog a Schnauzer can become. At least I hope so. Meanwhile, until he satisfies his appetite for sampling manure, I'd prefer he not larp me on the face with his tongue.
Back to Life with Horses