It's no family secret that I am not a good baker. Roast a goose with homemade cornbread and apple stuffing? Grill fresh salmon marinated in whiskey and maple syrup? Whip up a batch of creamy mushroom risotto? All that I can do. But mix together ingredients that should (allegedly) result in anything sweet and delectable, like cookies? Truly, it's much better for everyone if I just grab something from the bakery aisle at the supermarket. Everyone will be much happier and my kitchen won't require a hazmat team to clean up when I'm finished.
Thus I was more than mildly concerned when my sister gave me a particular gift this past Christmas. It was a cute mason jar filled with neatly defined layers of ingredients like brown sugar, bran, oat flour and a handful of sunflower seeds. Tied around the lid with a bow was a card explaining that I had received the makings of some scrumptious horse cookies. All I needed to add was some water and oil, stir it together in a big bowl and voila! Wally and Danny would have some homemade treats.
I think I sat there on the sofa, in front of the Christmas tree, for several minutes, speechless. The gift itself was adorable.
"I browsed through a local tack store in Arizona when I was at the Jack Russell meet," Jill explained, noticing my look of concern. "And some cute little girl in jodhpurs was selling these to raise money to go to pony club camp. How could I resist?"
Being a sucker for kids and ponies myself, I understood the purchase. But did she really think I was going to attempt to bake these things?
Well, the jar sat on the shelf of my pantry, mocking me, until yesterday. I was out of horse treats and the carrot drawer in the outside refrigerator was empty. I had no choice. I had to bake those darn biscuits for my horses.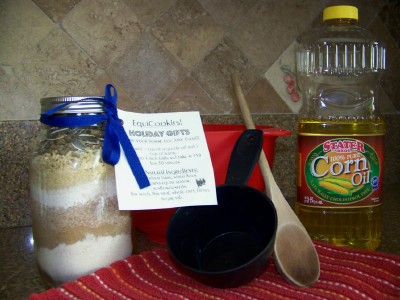 Fortunately, I was only forced to add a cup of oil and about the same amount of water. But naturally, being an embellisher (one of my pals labeled me with that descriptive term), I crunched up a bunch of peppermint candies and tossed them into the bowl, too. Then I scooped up the slurry mess into tiny round balls and placed them onto sheets lined with parchment paper. (A note to talentless bakers like me: lining your baking sheets with non-stick parchment paper can save your life—or at least your dignity.) By the time the horse treats were ready to march into the oven they looked like a regiment of brave, if not slightly disheveled, soldiers.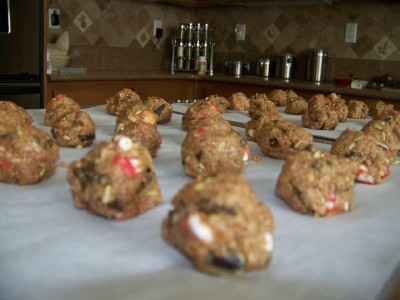 Fortunately, I have a pair of ovens with easy-to-set timers. I heard them beep, warning me that my pony club biscuits were in danger of becoming hardened cinderblocks. Cloaked in oven mitts, I grabbed both sheets and pulled them out, and set the goodies aside to cool off. I must admit, they looked pretty decent!
The true test, however, was whether my horses would eat them. If they turned up their noses at my baking effort, what would that mean to my confidence in the kitchen? That I couldn't even create pre-mixed horse cookies endorsed by a 9-year-old pony clubber?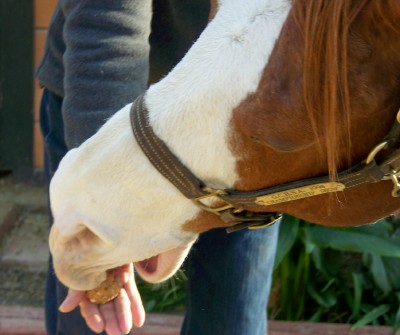 Since Wally has the more discriminating palate of my two horses, I offered him the first couple of biscuits. And you know what? He liked them! No, even better, he loved them! In fact, I merrily carried some baggies, filled with several of my peppermint-enhanced treats, around the neighborhood, proudly offering them to my horsekeeping friends.
"Yes, I baked them myself," I said each time I handed off a baggie of biscuits. I said it with an air of nonchalance, as if I'm in the kitchen every week, baking goodies.
As we all know, that's certainly not true. But it can be our little secret.
Back to Life with Horses