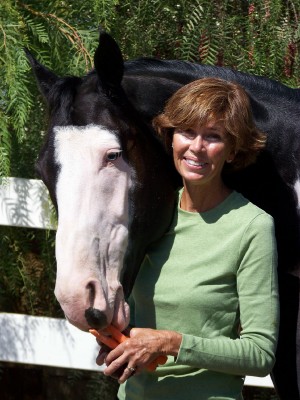 How many times do I have to fall in love with a horse just to end up with a broken heart?
My pals and I have a saying about horses: "Eventually they all go lame." Fortunately, most of those stories have a happy ending. The problem is diagnosed, treated and the horse returns to use. I, however, seem to have more than my fair share of the other type of lameness: the type that doesn't go away. Recently I've been stuck in that scenario with Danny.
As you might recall Danny first went lame last September. My vet, Jennifer, pinpointed Danny's left front fetlock as the problem area. But the initial treatment plan resulted in just a few short weeks of soundness, followed by an onslaught of even more pronounced lameness. Though x-rays verified that Danny was free of problematic bony changes, the films revealed a cluster of tiny metal triangles arranged in a semi –circle just above the troublesome fetlock. What were they? Even the equine surgeon we consulted had no idea, alluding to the fragments as some kind of shrapnel. Yet it seemed more likely that they were remnants of wire sutures or clips used to close a wound. Sure enough, when Jennifer clipped the hair away there was a scar on Danny's fetlock that traced the pattern of the odd triangles.
The mysterious findings combined with the fact that Danny continued to be three-legged lame even on daily doses of bute led me to conduct some detective work. I'd owned Danny for about a year, but I had unanswered questions about his sketchy background. It was time to use my connections in the horse world in hopes of shedding some light on his lameness.
Just to review, I had purchased Danny from a woman acting on behalf of her best friend whose husband was terminally ill. Danny had been the husband's trail horse. Before that, he'd allegedly been bought at an auction by a rather famous A-circuit hunter trainer. That alone seemed odd, because I couldn't imagine that particular hunter trainer attending any kind of auction besides the lucrative warmblood sales held in Germany, but I fell for the story at the time.
With a few phone calls I unraveled the real scoop.
About 5 years ago some kind soul had discovered Danny in a feedlot near Los Angeles. He was waiting to be shipped to the slaughterhouse. So it wasn't a wealthy hunter trainer who'd hand selected him at an auction. Nope. The killer buyer nabbed him for a few hundred bucks. But once Danny was rescued from certain death, he did indeed end up at the famous trainer's barn. Yet after a short time in training—like a few weeks—he went lame. At least those folks were kind enough not to send Danny back to the feedlot. Instead, he was given away to that man as a trail horse.
I asked my informant, "Was Danny ever lame when the man rode him?"
Her response was, "I really have no idea. For three years all that guy ever did on that horse was walk."
Had I been told the true story in the first place, I would've been thrilled that Danny had been saved from slaughter. But I certainly would not have bought him. I may have some physical disabilities but I definitely want to do more in the saddle than just plod around town at the walk.
Once I gave Danny's real history to my vet, we zeroed in on that front ankle again. It made sense that some kind of injury to that fetlock had occurred years ago. It ended Danny's performance career and got him dumped at a cheap auction. My educated guess was an injury to his suspensory, a major ligament that runs down the back of the lower leg and then divides into two branches, one on either side of the fetlock joint.
As my luck would have it, it turned out I was right. But it's not like I haven't met a bad suspensory injury before.
Pulled and torn suspensories are common among horses that do any type of athletic activity at speed, from barrel racing and reining to racing and jumping. That's because the suspensory stretches with every step the horse takes; if the fetlock joint is hyper-extended, the suspensory ligament (one or both branches) can be compromised. A couple of months of rest and rehab can cure most suspensory problems. But if the soft tissue fibers are torn, or if trauma to the area occurs repeatedly, an otherwise fabulous horse can be reduced to a chronic cripple that goes lame with regular exercise.
So, what to do with Danny?
After I pulled myself from a bout of depression, Jennifer and I came up with a plan. She has always liked Danny, appreciating his flashy coloring and his amiable disposition. She explained that if there was any hope of rehabilitating Danny, he'd have to spend about 6 months standing in a small pen. Neither I nor my parents had such a corral. We both have roomy paddocks and whenever Danny feels a little better he kicks up his heels and plays, reinjuring himself. But Jennifer has a small, shaded corral in her backyard, and it happens to be empty.
Yet there was still a dilemma. Even if Jennifer could get Danny sound again, he'd never be able to do anything but walk on the trails a few times a week. While I was contemplating the few options I had, Jennifer spoke up and said, "With my busy schedule that could work for me," she said.
Danny becoming my vet's personal trail horse? It seemed like the perfect opportunity for Danny, which was my main concern. I certainly wasn't going to dump him at an auction.
Yet realistically, Jennifer and I had to decide what to do if Danny didn't recover. After some thought, we made a pact: Danny would be put down. I love him dearly, but I can't stand to think of him hurting with every step. I can't let pain define his existence.
So keep your fingers crossed for Danny. My hope is that next summer Jennifer will be moseying around town aboard that fancy spotted horse. In the meantime, I stop by her house and see Danny every now and then. I always bring him apples, the crisp little red ones. And each time I drive away, I leave with an ache in my heart.
Back to Life with Horses