Last year during Wally's annual teeth floating, my vet Jennifer stopped midway, turned to me and said, "This is it. I'm not equipped to address all the problems with Wally's teeth."
Imagining the worst, I thought, "What does he need? Braces?"
How was I supposed to sell that idea to my husband? Ron already considers a horse to be a money pit on four legs. I imagined it'd go something like this: "Honey, Wally needs to go to an equine orthodontist because he needs braces… Yes, I'm serious… Honey… Are you okay? You look awfully pale and you seem to be twitching…"
Fortunately Jennifer just meant Wally needed a visit from an equine dentist with a full inventory of tools and accessories. Since I live in a horsey community there are several that service our area. For example, Brian Borg, who presented a series on RFD-TV and lectured at the Equine Affaire horse expo, lives just a few blocks away. Since Jennifer works with him frequently she arranged the appointment.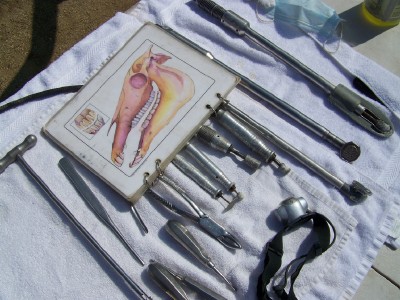 A week later, Wally had his appointment. Brian arrived a few minutes before Jennifer. He set up a portable stand where Wally could rest his head during the procedure. He also unveiled his Table of Torture. I mean table of "instruments." (After countless trips to the operating room I've learned that it's never a good thing to check out the gadgets that are about to invade your body. Luckily Wally has never had such a revelation).
At this point I think it's important to mention that I like my dentist. He's a sweet guy and he has a groovy state-of-the-art office. Nonetheless, at every visit I wish I had a dressage whip so I could snap him across the shins every time he says, "I'm sorry. Was that uncomfortable for you?"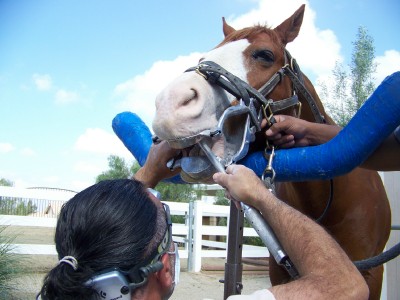 To prevent my horse from having the same ambivalent feelings toward his dentist, Jennifer made sure Wally was transported to Happy Land via an appropriate dose of sedation. Then Wally amicably rested his head on the crook of the stand, which was heavily padded and wrapped in cheery blue duct tape.
Brian crouched in an extremely vulnerable position while he worked. To be on the safe side, Jennifer's assistant, Mark, held onto Wally's lead rope. That way he could prevent a messy scene if Wally suddenly came to his senses and decided he'd much rather be someplace else.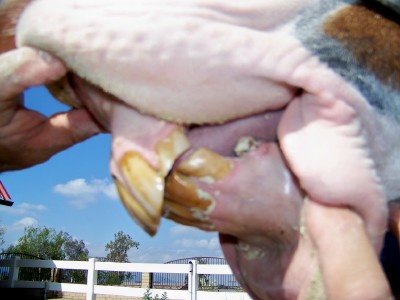 Though not nearly as significant as some of the parrot mouths I've seen on some horses, Wally does have an overbite. As a result, he has trouble keeping his mouth closed when he's eating pellets or carrots. If he lived primarily on pasture, he'd have a hard time grazing because an overbite affects a horse's ability to grab and pull grass.
Wally's overbite creates other issues. Because his upper teeth jut abruptly forward, their length can't be naturally maintained through a grinding action provided by meeting with his lower teeth. If left unattended, he'd eventually have a severe case of bucked teeth that would further impair his eating. Plus they'd also detract from his Hollywood-handsome face.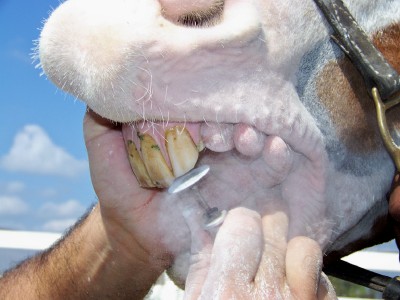 By using what looked like a metal disc sander attached to an electric drimmel, Brian zipped off about a ½-inch of Wally's overly long upper front teeth. I realize it looks like a crude, ugly undertaking because of the tools and the swirling dust (which is composed of airborne particles of Wally's teeth). But Wally didn't seem to suffer any sort of pain and there was no blood at all.
Of course Jennifer was standing right there, monitoring Wally's vital signs and level of comfort. She was also prepared to sedate Wally further if necessary. This is important to mention, because unless the equine dentist also happens to be an actual equine veterinarian (DVM), they should NOT be administering drugs to a horse. Having a vet present does add a little to the bill, but it ensures that the horse remains safe throughout the procedure.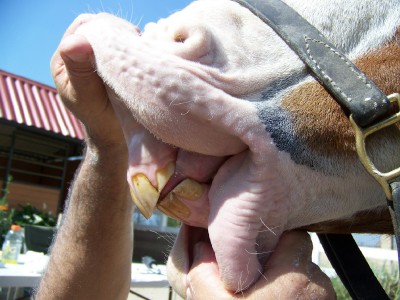 All done!
Since we can't alter the conformation of Wally's skull, he'll always have an overbite. But Brian was able to minimize it.
Brian also removed some nasty hooks and evened out a wave-like malocclusion in a section of Wally's back teeth. Hooks are individual sharp points that can jab into the soft tissue of a horse's cheeks, creating chronic sores. The up-and-down wave formation developed because some of Wally's top and bottom molars didn't meet properly. That was affecting his ability to chew efficiently. With annual dental appointments we can keep all of these issues in check.
In a short time Wally's sedation had worn off and he was back to his normal self, munching on leftover strands of alfalfa. The only difference was that he could now chew comfortably. And he was sporting a bright shiny smile, just like a (horsey) movie star!
Back to Life with Horses