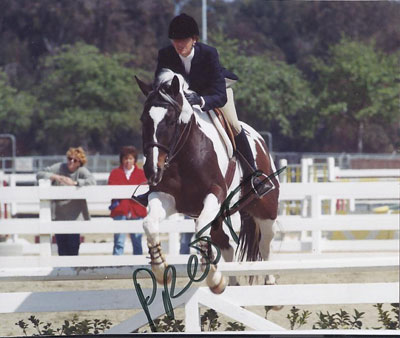 My years spent riding tough horses prepared me for horses like my beloved pinto warmblood, Modern Art. Though a fun, fabulous jumper and medal horse, "Spot" was also hot, quirky and headstrong.
"We'll put you on Buster Brown. He'll dump you."
I'll never forget those words that greeted me many years ago. I had just started work as an assistant to a then-famous A-circuit hunter and jumper trainer. His barn manager, Patty, seemed determined to tarnish my crown as a respected show rider. I'm sure she viewed me as yet another hunt seat princess who looked pretty on a horse but lacked any true ability to actually ride.
And thus I climbed on the back of Buster Brown, a 17-hand bay gelding with a notorious reputation for sliding to a stop in front of a jump. His refusals lacked any predictability, and therein lay the propensity to toss an unsuspecting rider head first into the ground like a lawn dart.
I slid my feet into the stirrup irons and started hacking Buster around the arena. When it came time to jump, I made certain I rode assertively to a definite take-off spot. When Buster's front feet hit the mark, I closed my legs against his sides and waited for him to rock back on his haunches to leave the ground before making any attempt to break over at my hip. I wasn't about to commit the horrible sin of jumping ahead of my horse, particularly not aboard the undependable Buster.
Fortunately for me—and less so for the sour-faced Patty—Buster Brown didn't stop once with me. In fact, I grew to enjoy riding him. The next summer I competed him at several rated shows, winning ribbons in the green hunter division, until he was sold for a handsome price.
But don't think my success with Buster Brown was due to any kind of mythical talent I possessed. No, I learned how to ride naughty, devious and untrustworthy horses the hard way: through experience.
When I was a teenager and young adult I had an insatiable desire to ride yet lacked the money to buy a finished show horse. Those circumstances led to me owning a succession of cheap ex-race horses and castaway rogues that no one else wanted to ride. In exchange for lessons and training, my instructors had me ride the evil-doers in their barn. It's impossible to recollect how many times I was flung from saddle to earth during those years. Yet certain commandments were seared into my brain: Do not change your mind at the base of a jump. Do not ride a poor approach to an oxer. Thou shalt not jump ahead of thy horse.
Unlike my barn buddies, whose wealthy parents made certain they were mounted on impeccably trained solid citizens, I was comfortable being a cowgirl in an English saddle. At shows, my friends vied for blue ribbons and championships. My goal? Get my rebels and rejects around a 3'6" course without a refusal.
Though I suffered numerous bruises and concussions, and produced several dramatic performances in the show ring, I can honestly say that the tough horses I rode made me a better horsewoman than most of my peers who enjoyed the easier route. By combining challenging horses with structured, "let's figure out how to fix this" sessions with knowledgeable mentors, I gained priceless insight into the art of horsemanship. Ultimately, I learned the most important lesson: Quite often, the toughest horses turn out to be our best teachers.
Back to Life with Horses