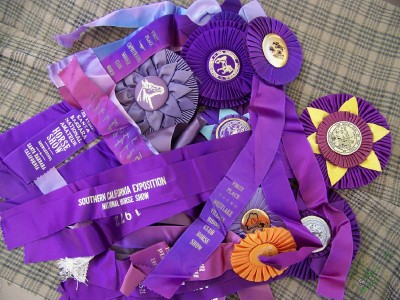 More things than memories fade with time. Longtime horse show competitors know that their blue ribbons eventually fade to a shade of purple that ranges somewhere between grape Kool-Aid and wilted lilac. Except for a handful of treasured ribbons I keep cloistered in a dark closet, most of my ancient first place ribbons have also gone the way of vintage violet. I realized that the other day. My sister Jill was cleaning out her garage and spied a cardboard box marked "Horse Shows." Curious, she opened up the carton. Inside were the horsemanship medals she'd won during her years on the show circuit.
That discovery was wonderful, because I wanted her medals so I could mosaic them onto a keepsake box I'm making for her. (Well, I guess that secret is out now…)
At any rate, at the bottom of the box was a crumpled mass of my old blue ribbons. Why my ribbons—which, by the way, dated all the way back to the 1970s—were in her box I have no idea. But there they were, and Jill encouraged me to take a look at them for old time's sake.
And so I did, and the trip down Memory Lane was a little bittersweet. You see, during my early years on the show circuit I was brimming with barely controlled enthusiasm. As a result I developed a habit of scribbling remarks on the backside of the ribbon rosette. Much of my writing was purely objective, noting which horse I was riding and the name of the judge. But I also wrote spontaneous subjective comments similar to diary entries.
One sentence I'd written gave me a chill. "This was the day Leigh Ann Daniels came off Charm's Way and was badly hurt." v
With apologies to Leigh Ann, I've forgotten who she was to me. She didn't ride in our barn, so she must've been a horse show pal or an equestrian that I admired and tried to emulate. Either way, I was obviously shaken to have witnessed Leigh Ann part with her horse in such a tragic manner.
Having suffered a similar fate as Leigh Ann decades later, I couldn't help but wonder if anyone in May of 2005 scribbled on the back of one of their ribbon rosettes, "This was the day Cindy Hale came off Welcome Home and was badly hurt."
Fortunately, that was the only dark moment I'd jotted down way back when. All of my other handwritten comments were much lighter and reflected my mindset in that era. I am, of course, referring to being almost as boy crazy as I was horse crazy.
On the back corner of one rosette I had written, "Speaking of loneliness, there were only 5 guys at the show today, and they were the ring crew."
I'm guessing I'd won that ribbon after I'd broken up with my on-again-off-again high school boyfriend.
Another one had this urgent, cryptic comment: "Remember Kosti, the phone booth, and Rusty on the motorcycle!"
Hmmm… Yes, I do recall my transitory crush on the handsome Kosti Karazissis, the older Greek brother of the stunning Natasha, my arch rival in the equitation division. But since I had all the grace of a stumbling fawn in Kosti's presence, that romance never went anywhere. In fact, I believe the phone booth reference occurred at a national horse show, in the prehistoric era before cell phones. (We relied on public phone booths for communication.) I vaguely recall being trapped inside the accordion-like folding doors of the phone booth while attempting to both hang up the receiver and at the same time coyly wave to Kosti who was riding by. No doubt my flirtatious attempt was a total disaster. Otherwise no, I do not remember anything about "Rusty on the motorcycle."
Maybe it'll suddenly come back to me once senility sets in. I'll be pushing myself around the skilled nursing facility, mumbling to the attendants about "my pony" and suddenly the entire horse show motorcycle episode—complete with the enigmatic Rusty—will become crystal clear to me.
Ultimately rummaging through that musty box of vintage ribbons allowed me to reconnect to the flibbertigibbet girl I was at the time. On the one hand, the moments I considered worthy of documentation during my youth now seem so trivial compared to the major challenges and serious decisions I face as a mature adult. But then, maybe that's how it should be. We can only be young and carefree once, right?
At least I've had horses beside me all the way, escorting me from child to teen and into adulthood. I intend to keep it that way, too. I'm confident I'll have horses in my life even when my modern day blue ribbons have become the hue of rosewater.
Back to Life with Horses