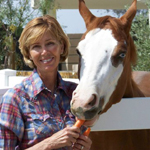 Cindy and Joey
My life has always revolved around horses. From my school days when I was the only kid who cantered around the playground to the many years I spent competing on the show circuit, my identity has been defined by my relationship to horses. Fortunately, I was able to find a career writing about horses. I've written four books for equestrians and won the USEF Pegasus Award for my writing at Horse Illustrated.
One bit of misfortune, however, occurred when I had a terrible riding accident while jumping. That left me with chronic pain and some disability in my right arm. Due to my injuries, I had to re-evaluate just how I'd interact with horses, although I certainly wasn't going to stop riding! My compromise is to ride mostly on the trails, in western tack. That's turned out just fine, because I think during all those years as a huntseat rider I was denying my inner cowgirl.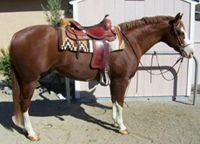 Wally
Two years ago my husband, Ron, finally gave in to my dream of living on horse property. We moved to a home in Norco, California, which has the distinction of being labeled "Horsetown, USA," primarily because the horses here outnumber the humans. I contributed to the population census by placing a pair of Paint geldings in my backyard. Their names are Wally and Joey, and they both have very distinct personalities. Between dealing with their idiosyncrasies, handling the barn chores and giving riding lessons part-time, the horse world keeps me busy. In my spare moments I try my best to be a "normal" housewife for my non-horsey husband. Needless to say, nearly every day brings a new adventure!