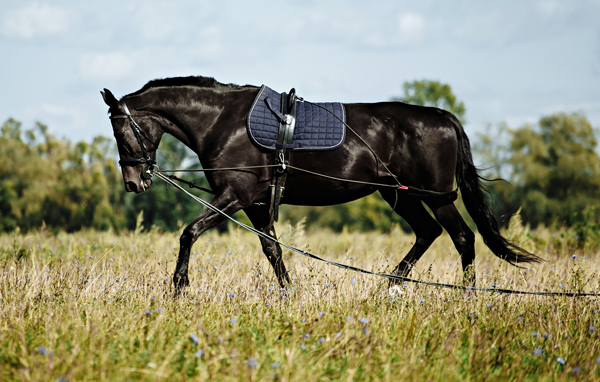 Lack of riding time is a common complaint among adult amateur equestrians. Between professional careers, family commitments, and an often-overwhelming number of other responsibilities, riding for a short time, even a few days a week can be tough to fit in. But, even if you only have a short time to devote to working with your horse, there's a lot that can be accomplished in less than an hour with some longeing and riding exercises.
Based outside of Franklin, Tenn., Raffi Kechejian is a hunter/jumper trainer who gives lessons to children and adult amateurs at his
Parallel Farm
and also at Heatherfield Horse Park near Chattanooga, Tenn. The 35-year-old trainer has been riding since the age of nine. Having come up through the ranks as an amateur, he's well versed in the unique challenges and needs of amateur riders.
Longeing Exercises
Keeping horses fit can be a challenge for the adult amateur equestrian who doesn't have a lot of time to ride. Luckily, there are a variety of longe line strategies to help you meet a variety of goals even if you're short on time.
Kechejian says that it's important to always have a plan and to keep it simple and fun for the horse.
For the series of exercises Kechejian recommends below, he suggests setting your horse up in side reins, or even better, a Pessoa Lunging System, which consists of a training surcingle with ropes, clips and pulleys attached to it and a breaching strap that goes around the horses hindquarters. However, he does advocate for correct use of the rig and cautions against getting the horse behind the vertical.
Once your horse is appropriately outfitted, they are ready for the following longing exercises:
1. Transitions
Make the horse trot two circles and then walk for a circle. By use your voice for the transitions while longing, it reinforces the idea of transitions to the horse. And it helps when you ride them, because longeing works through voice command, says Kechejian.
2. Poles
The purpose of poles is to improve your horse's balance and keep him thinking during his time on the longe line, says Kechejian. Set up one or more poles and ask the horse to trot over them. You can even add in transitions. If using multiple poles, they should be set about five feet apart.
Kechejian likes to see the horse's front end freed up and emphasizes that the biggest goal with these exercises is not to have the horse just run around in circles. "Depending on your horse's fitness level, include more trotting than cantering," he adds.
For longeing, Kechejian suggests a maximum of 30 minutes with 15 minutes max spent in each direction.
Riding Exercises
If you have a bit more time to ride, Kechejian suggests additional exercises after warming up with a good working walk.
"I think the biggest thing we don't focus on is the walk," he says. "When you get on your horse, you should focus on a working walk for the first five to seven minutes of your ride. This way, by the time you start asking for a trot, they are going to be engaged and listening to your leg."
Once your horse is warmed up, you can try one or more of the following exercises:
3. Poles
Just as on the longe line, poles can be an invaluable training tool and can improve the horse's balance.
Kechejian sets them five feet apart. Depending on how much the horse knows, he suggests starting with two to three poles, and then adds more—up to five or six—as the horse advances.
"And, as your skill level increases, you can also intersperse the trot poles with elevated ones," he adds. "It's a good walk-trot exercise."
4. Serpentines and 20-meter circles
Serpentines and circles also work to improve the horse's balance by keeping him upright and coming from behind. They also work to keep the horse moving off the rider's inside leg. When executing this exercise, Kechejian urges riders to watch how much they use their hands and to focus more on using their leg to create the bend for the turn.
"Have a purpose when you ride and don't focus on being stuck on the rail," says Kechejian. "Incorporate serpentines and circles. Add in some trot poles and canter poles. Keep them busy and focus on a goal."
5. Shortening and lengthening of strides
Shortening and lengthening the stride improves your horse's rideability and balance. Kechejian suggests lengthening your horse's canter stride down the long sides of the arena, then going back to a collected canter on a twenty-meter circle.
"As you flat them, make sure that you use all those gears to collect and lengthen the canter," he says. "Go to a half seat and make them gallop and then bring them back. The ability to shorten and lengthen your horse comes into play when you want to jump them or do dressage."
6. Spiral in and spiral out
This exercise is designed to improve your horse's lateral movement in each direction, and it helps them to open up their shoulders and sit up. Start with a big circle, and then ride additional circles that get smaller and smaller. You can ride up to nine or 10 circles until you finally hit the smallest part of the circle. Then, start spiraling back out.
Kechejian reminds riders not to rush the exercise. "As you spiral in, it's all off of your outside aids, but your horse isn't over-bent to the outside. It's just slowly moving the shoulder in a circle following the track you want, then open it back up and slowly ask him to move off of your inside aids."
7. Transitions
This exercise gets the horse rocking back on his hind end and helps him become lighter in your hands. Kechejian suggests riders ask their horses for six canter steps and then six trot steps. Then add in six walk steps then go back to a canter. And then just change it up.
After about 25 minutes of these types of longeing and riding exercises, horses can be cooled down at the walk for five minutes.
Even with a short amount of time, by practicing these exercises on your own, you'll be keeping your horse fit, solidifying his skills, and improving your own riding until you have more time to work with your horse or until your next lesson.
Further Reading