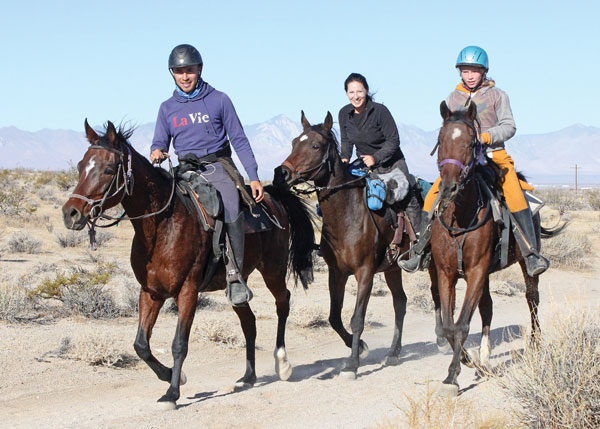 According to the Humane Society of the United States, over 100,000 horses in the united states are sold to slaughter each year. Through innovative programs, the Love This Horse (LTH) equine rescue is seeking to change that.
Owners in Distress
"Many times, what happens when owners get desperate is that horses end up in a bad situation," says Vera V-Abdallah, founder of LTH equine rescue in Mojave, Calif.
Concerned about the future of their beloved equines, owners will often reach out to V-Abdallah. Many are genuinely concerned about finding them good homes. Working within the Arabian horse community, LTH uses a variety of methods to ensure just the right placement for these situations.
"To me, rescue has always meant taking a horse, rehabilitating him, training him and finding the horse a home," says V-Abdallah. "In most places around the country, keeping a horse is a luxury. People want to have a horse they can ride or do something with."
V-Abdallah performed this type of small- scale rescue prior to becoming a 501(c)(3) in 2016 and then expanded on it.
When owners reach out for help, the horse does not usually come directly to LTH to find a home. One method the facility employs in this situation, and in more conventional adoptions, is to screen candidates prior to placement. Then, as an added measure of comfort for the owner, horses can be sent out on an adoption contract. This way the horse will return to LTH if it doesn't work out with the adopter.
Making Adoption Attractive
Although the program's main focus is helping owners in distress, they also rescue horses at auction. In those cases, horses come to the LTH facility, often without registration papers. However, registration papers can play a key role in a future adoption, since having them opens up additional placement opportunities.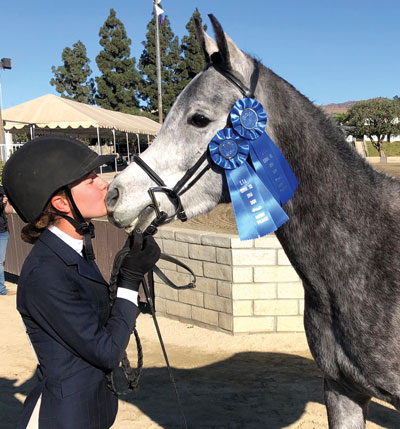 To help those without papers, the program makes use of a service offered by the Arabian Horse Association (AHA). This program involves submitting a DNA sample in order to match registration papers with the horse in question. This often provides an initial point of contact.
"We then contact the last registered owner, and usually they are not the person who last owned the horse," says V-Abdallah. "Often they sold the horse, and he may have changed hands two or three times, but nobody ever registered him. Then we work with the AHA to reunite the horse with his papers. For the most part, the registered owners have been very willing to help. They are usually pretty horrified that the horse ended up in a bad situation."
In addition, LTH partners with the Right Horse Initiative (RHI).
"What we like about the RHI is that they focus on adoption," says V-Abdallah. "A few years ago, [not as many people] adopted a dog from a shelter or a rescue organization. Nowadays they do because they understand it's not the dog's fault, and it's not because the dog is inferior. If we did this for dogs, why can't we do this for horses? [It would] really shut down the slaughter pipeline."
Love This Horse Equine Rescue as Breed Ambassadors
V-Abdallah considers the horses at her facility ambassadors for the Arabian breed.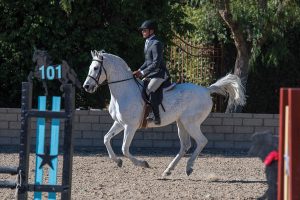 One aspect of this ambassadorship involves getting the horses out into the public through a partnership with a Los Angeles county riding organization for economically disadvantaged youth. Interested participants are provided assistance in order to show the program's horses.
Another involves demonstrating to potential adopters that Arabians are a viable option for safe riding horses. The program sometimes adopts out to people who have never considered owning an Arabian. While they may be expecting flighty behavior, what they find instead are calm horses.
"Many of our volunteers have a history with horses and often become adopters," says V-Abdallah. "They may have had horses as a child or they got out of horses and want to get back in. They use volunteering for their reintroduction."
One program that LTH offers to volunteers is a free riding lesson for anyone who has done five volunteer sessions. Adopters also come from outside the program.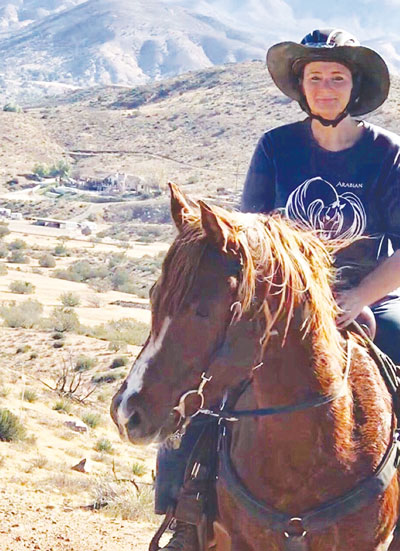 "When somebody wants to adopt a horse, they have to come and spend time with him and test ride him," says V-Abdallah. "We want to make sure it's a good match. We try to be super honest about the horse and his ability.
"Local adopters can also receive additional riding lessons at a reduced rate," she adds. "The program takes horses to shows and endurance rides and invites adopters to take part."
The rescue also has specific needs.
"We always need horse sponsors and donations for hay," she says. "Hay is the hardest thing to find donors for."
LTH has grown a lot since 2016, when they rescued 11 horses and found homes for two of them. In 2019 alone, LTH took in approximately 110 horses and found adopters for 80 of them.
For more information on Love This Horse Equine Rescue, visit www.lovethishorsearabianrescue.org.
This article on Love This Horse Equine Rescue appeared in the March 2020 issue of Horse Illustrated magazine. Click here to subscribe!