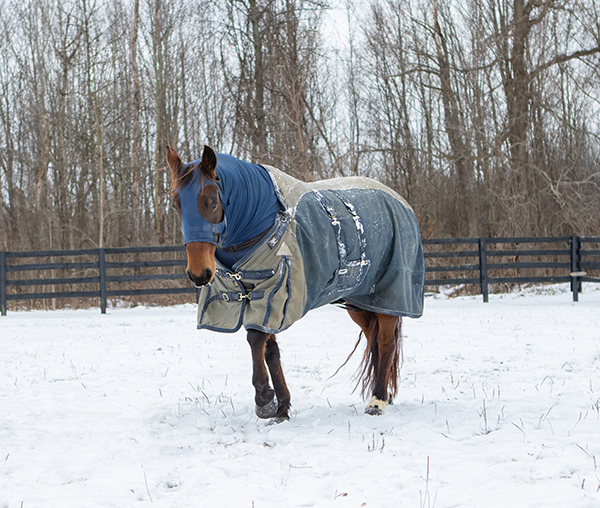 The wind is howling, the snow is knee-deep, you can no longer feel your face, and your horse is standing all the way on the other side of the pasture watching you. You contemplate reasons why you do not live in Southern California or Florida as you trudge out to fetch him, the halter in a frozen hand. It is no secret that staying motivated to ride and developing winter riding goals for you and your horse during the harsh winter months can be a challenge if you live in the northern United States or Canada.
If you struggle to maintain your motivation once the days get shorter and the temperature gets lower, then check out these tips from two Michigan riders, who definitely experience enough frigid weather every winter.
Set Realistic Winter Horse Riding Goals
Whether you are aiming for a show or not, it is helpful to have a goal in mind of where you would like to be with your horse in the future as you keep him legged up. Make sure that you understand where your horse is at in his training. Then, you can determine the steps to achieve your goal. Many Northern states hold off on showing during the winter, so these months are the perfect time of year to work on elements outside of the show pen.
Jill Dutkowski, a full-time small animal veterinarian and part-time holistic service equine veterinarian and barrel racer from Rochester, Mich., thinks of both short- and long-term goals for her six-year-old Quarter Horse mare, Coral. Since she does not need to worry about showing until a rodeo in February, Dutkowski uses her riding time to refocus on the basics after a busy season. In the short term, she will ask Coral to stay collected at the canter or trot nice, round circles, knowing that each smaller objective will lead to stronger long-term success, such as remaining mentally and physically strong for running barrels later.
Be Flexible
No goal is reached without challenges along the way. Horses do not realize the visions we have in mind for them as they often do the best they can with the information we provide them. As riders, we must adapt to their needs, which can easily change no matter the time of year.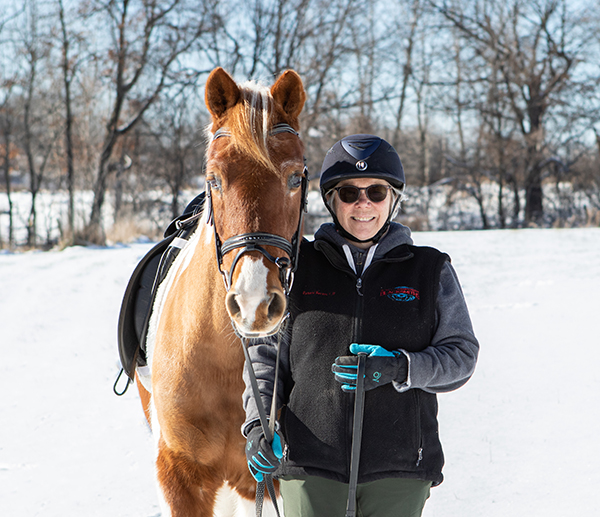 Andrea Becker, of Lapeer, Mich., a retiree who has ridden dressage for the past 45 years, possesses a primary goal of achieving relaxation and confidence within her 15-year-old German Riding Pony, Skittles. Every day as she mounts, Becker assesses where her little project pony is at to avoid stress and tension throughout the ride. Becker does not have current goals of showing Skittles, so there is less pressure to accomplish specific items she has in mind, making it easier for her to constantly reward the little things. She knows that not every ride with her mare will be perfect and is happy to take her time.
Mix Things Up
Without the pressure of a horse show scheduled every other weekend, winter months allow you to easily change your horse's routine as you work toward your riding goals. Constantly working on one aspect of riding can burn some horses out. Trying a new discipline or implementing new exercises into your horse's routine is healthy for his brain while working different muscles.
For horses like Skittles, activities that are more on the fun side keep her from growing ring sour. Although Becker drives to the barn almost every day, there are days when she does not ride. Instead, she might free longe Skittles over jumps, an exercise that Skittles loves. To further prevent her mare from becoming bored, Becker enjoys ground driving, too, which transfers certain cues over to riding.
"The off-season is an important time to work horses in a different way," says Dutkowski. "It is time to take their brains off what they do all summer."
Last winter, Dutkowski gave Coral's brain a break by focusing on basic dressage maneuvers, as well as cross-rails. This season, they are trying out breakaway roping lessons, which increases Coral's versatility while furthering her all-around skills. At the same time, both Dutkowski and Coral can decompress mentally from barrel racing. Likewise, there are days when she does not ride Coral, but will go out to spend a relaxing time with her. Dutkowski believes that consistently engaging with your horse throughout the entire year is key to maintaining a meaningful relationship.
Understand and Overcome External Obstacles
Northern winters often come with factors outside of our control that can make riding difficult, such as fewer daylight hours, harsh weather, and extreme temperatures. Instead of accepting defeat before you hang your barn coat back up, find ways to work around winter weather frustrations.
With darkness arriving earlier in the day, Dutkowski picks up additional hours at the vet office since she cannot ride in time each day after work. This way, she has additional vacation days for the summers when she travels regularly to barrel races. In her free time, she watches training videos, as well, to learn fresh drills and ideas to use for later.
Meanwhile, Becker has spare time to arrive at the barn earlier in the day, discovering that she prefers riding in the winter over the summer. During the colder months, the barn is less busy, there are no bugs, and no sweltering heat.
Sometimes, the best way to successfully battle the cold is to simply dress in layers. Dutkowski lives in heated vests, citing that they are worth every penny. Other options to properly layer up include wild rags, thermal shirts, winter gloves designed for riding, and lined pants or breeches. Some riders do not leave the house without toe or hand warmers to stuff into their boots and socks, too.
You are the Company You Keep
Holding yourself accountable to keep your horse in shape during the winter can be a struggle. Riding or checking in with other motivated friends is a fun way to keep yourself on track. Without the company of other riders, who share similar goals or experiences, it is easy to lose energy, falling into a slump. Plus, having a friend can act as a separate pair of eyes to reassure that you are on the right track as well as to help you troubleshoot issues.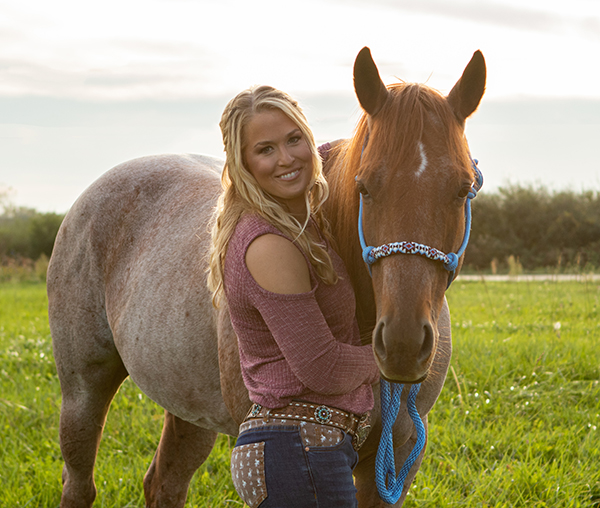 Becker believes surrounding yourself by driven peers is a valuable step in reaching your goals. While the barn is less crowded during the winter, there are several other riders that also display strong commitment to their horses, contributing to a positive environment.
Becker's best friend, Sue Ashley, a dressage trainer and owner of the barn she boards at, demonstrates motivation daily. Becker looks to Ashley as a powerful example of balancing riding and managing the farm with separate personal activities, like taking care of family on top of dog classes. Sometimes, Ashley looks in as Becker rides Skittles to see how things are going or provide guidance on how to move forward. Just by being around her friend, who is constantly on the move, Becker feels energized to pursue her own goals with Skittles.
Enjoy the Journey
While you are working toward your winter goals, remember to enjoy the journey. Do not let the winter blues hold you back from achieving ambitions with your horse. The warm sunshine may be gone for a while, but learning to adapt with your horse and appreciate time with them away from showing will only help in the long run.
No matter your age or work schedule, the best tip is to just get out to the barn. Becker described that age and sore joints do not slow her down. She enjoys the extra time with her project pony, who has taught her patience and flexibility. Since Becker's summers involve traveling with her husband as he shows his cutting horse, she is grateful for the opportunities to progress with her own mare. Her best word of advice is to "just do it, and get out there and ride."
Dutkowski appreciates time with Coral just as much. She trained Coral herself and is proud of the growth they have experienced as a team. At the same time, Dutkowski reflects on when she lived in Flint, Mich., where she had limited access to horses—nevermind the amount of snow or if an indoor arena was unavailable. She was grateful to ride anywhere on any horse. Now, Dutkowski does not take the indoor at her disposal for granted with any of her own horses.
Although any equestrian residing in the Great North longs for warm summer sunshine, there is no reason why winter should drag you down or prevent you from setting winter riding goals for you and your horse. Making the most of the resources available to you as you strive for your goals will help you overcome what is out of your control. Just remember to enjoy the ride along the way, no matter the season.
Further Reading