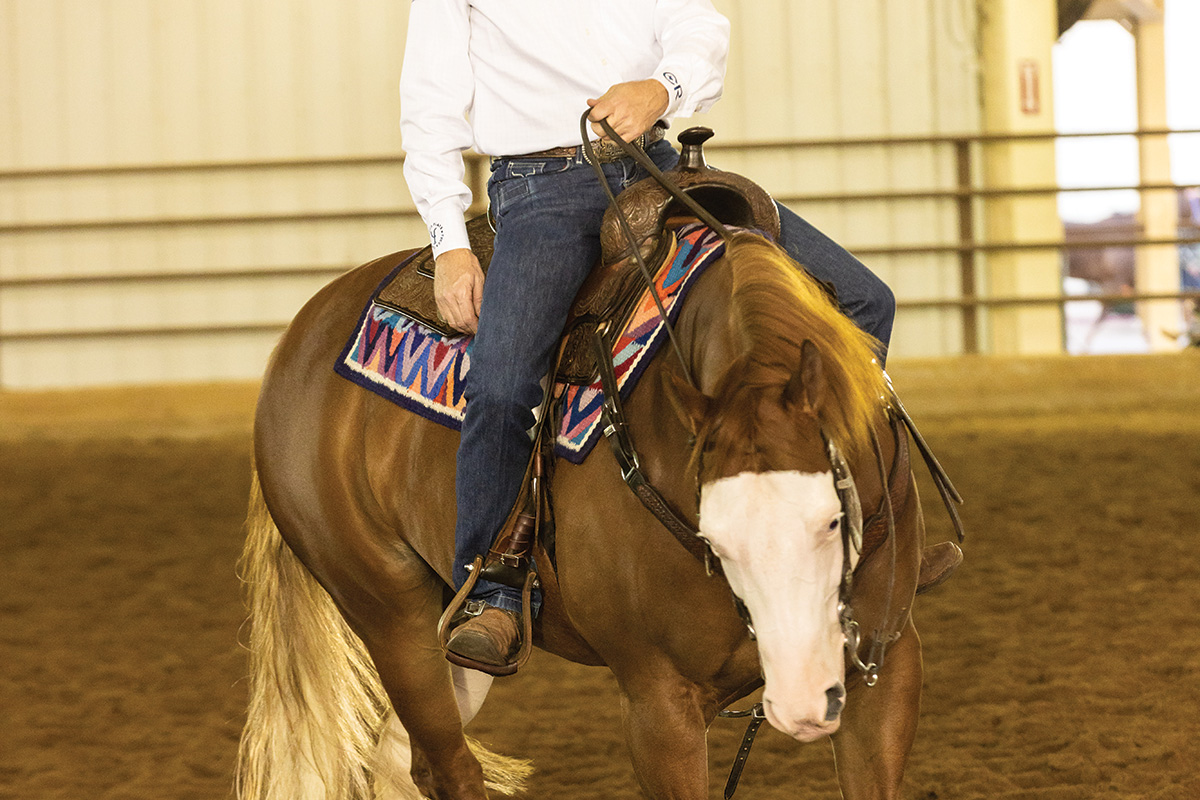 Split reins are by far the most versatile type of reins used in western riding, but they can be a bit challenging to master. The two separate reins can get tangled, dropped, or become uneven while riders struggle to properly manipulate them. Improper use can also disqualify you from your western show class.
Here, reining and ranch versatility trainer Bud Lyons shares an overview of how to use this equipment and gives tips on how to improve your dexterity.
The Benefits of Split Reins
Split reins are the standard in reining, with the occasional pair of romal reins (a set of reins connected to a single tail), Lyon says. You'll see a mix of romal and split reins in ranch versatility events and reined cow horse, but split reins are the rein of choice for cutting and most western all-around events, such as horsemanship. When using a snaffle bit in western events, only split reins can be used.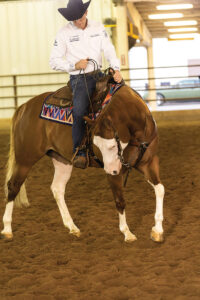 "A lot of times, the type of equipment you use in reining and ranch versatility events is predicated by your background, as well as the region you come from and the type of horse you have," Lyons says. "I think split reins have become the go-to in performance events because of their practicality."
Most often, split reins are made from a strip of harness leather. They can be various lengths and widths and can be weighted on the ends. These options make this piece of tack highly customizable to suit your preferences. Lyon suggests trying out different sets of split reins to discover which ones fit you and your horse best.
Riding Two-Handed
In the show pen, you're most likely to show one-handed, unless you're riding a horse in a snaffle. Two hands on your reins with a shanked bit will often disqualify you in a class.
With a snaffle, and when practicing on a green horse as home, riders often use two hands.
"On a younger horse, we're going to use a direct rein, pulling on one side to guide the nose and teach the horse to follow his nose for steering and guiding," Lyon explains. "Later on in the training process, you also apply the neck rein on the opposite side of the neck to connect the two cues, which will enhance your ability to guide that horse, eventually, with one hand."
To hold the reins two-handed, unless you're an experienced rider, most often you'll lay each rein across your horse's neck, with one rein on top of the other. Reach down and grab the reins on either side of the horse's neck with at least 12 to 24 inches of rein between them, palms down, then bring your hands up above the mane, thumbs facing up, palms facing each other. Your right rein will flow up through your right hand, across your palm and out to the left hand, then down on the left side of the horse—and vice versa (see photo above).
More experienced riders will sometimes keep both rein ends on one side, switching quickly from one-handed to two by picking up one rein with their other hand and holding both reins in the original hand (see photo below). Your hand position is the same as before, but the reins are not crossed over the neck.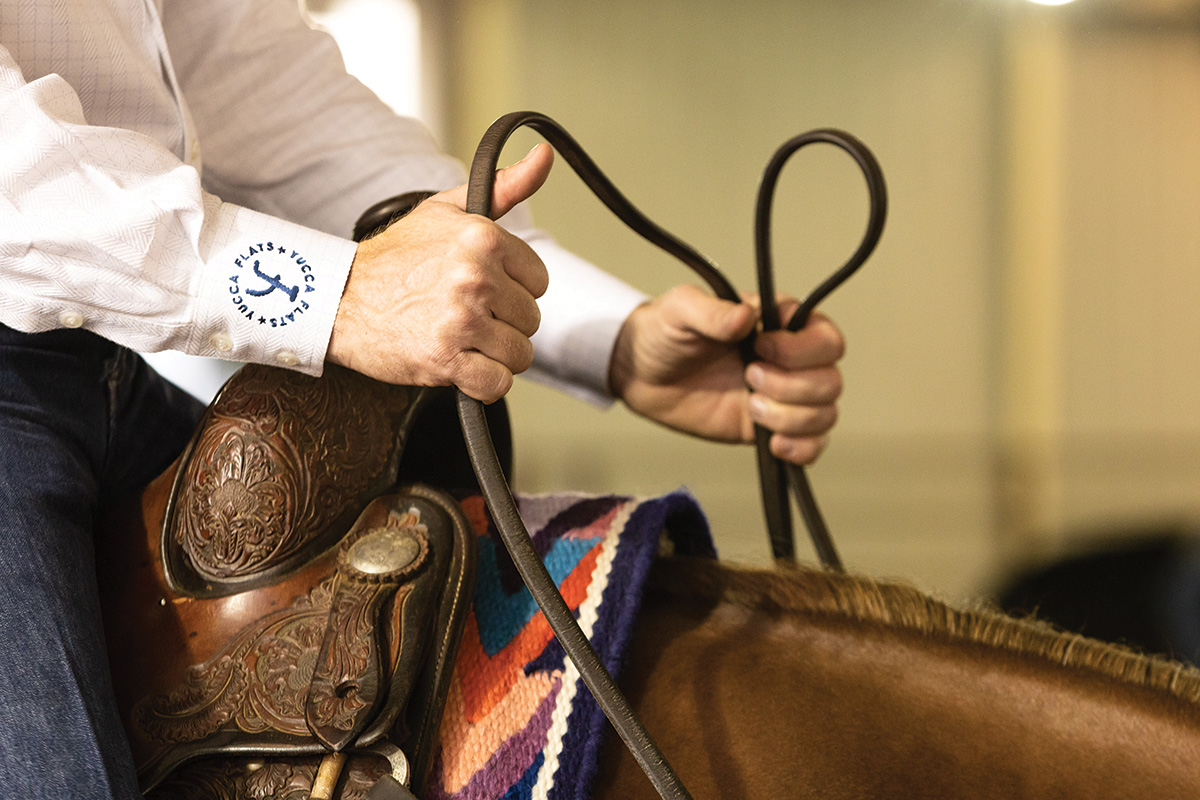 "I have done that before, but it's a bit of a drawback if you're not comfortable using split reins; it's easier to accidentally drop one of the reins, and in that scenario, one rein is more likely to fall to the ground than if they are crossed over the neck," Lyon says. "That becomes not only a safety issue, but it can disqualify you in competition."
Riding One-Handed
Guiding one-handed is the ultimate goal for riding a western horse, especially in competition, Lyon says. This involves only the neck rein cue to ask the horse to move away from its pressure—no more direct rein cues, as used while riding two-handed.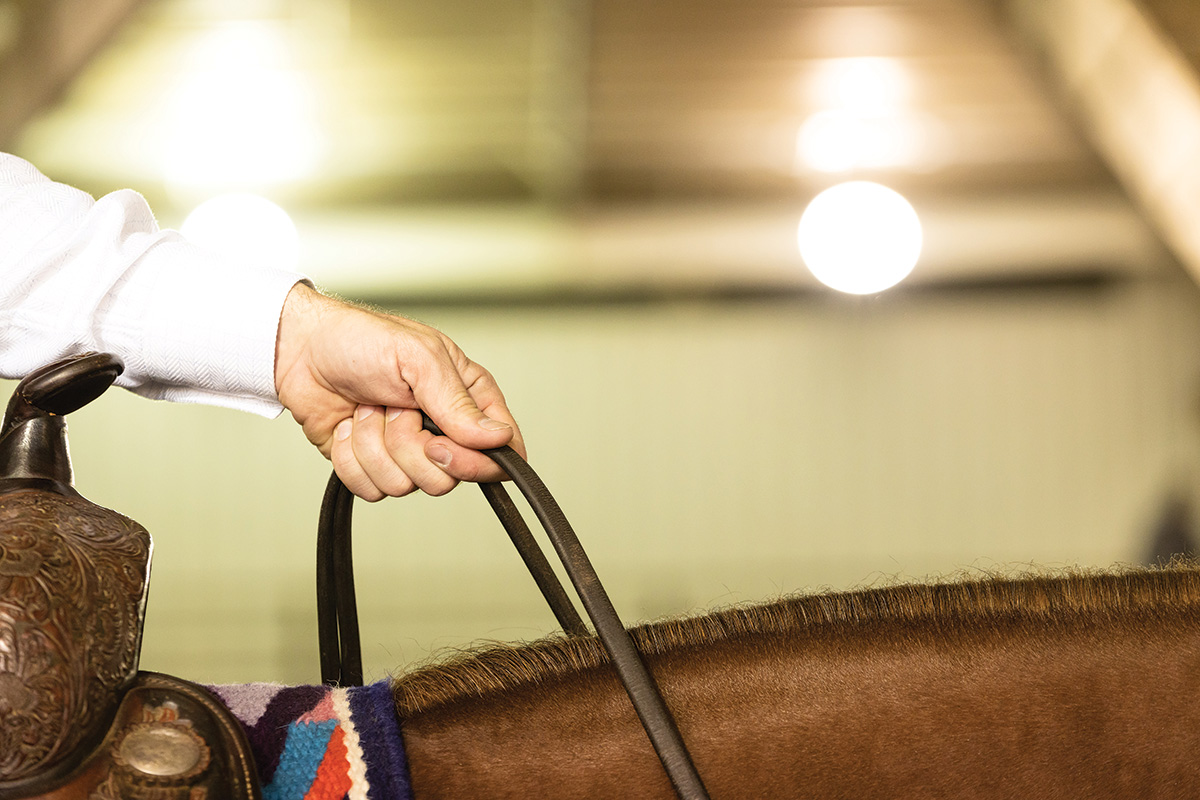 To hold the reins one-handed, you'll typically use your non-dominant hand—so your left hand if you're right-handed—with both tails of the reins on that side of the horse's neck. With the reins pressed together, place your thumb on one side of the reins, your index finger in between the reins, and your middle, ring and pinky fingers curled around the other side of the reins, palm side down.
Depending on which class you're in, you may rotate your hand until your thumb is pointing up and bend your elbow to match the standard riding position for that class. In reining and ranch riding, you'll hold your reins with your palm down when your horse is on a loose rein.
To adjust your reins and tighten them, pinch with your thumb and index finger for one side, or middle finger and index finger for the other one, to walk down the reins toward the bit and take up the slack. To loosen the reins, you'll loosen your grip and walk back on the reins with your fingers until they're the length you want.
Practice Makes Perfect
If you're unfamiliar with using split reins, there can be a bit of a learning curve.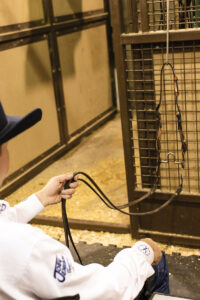 "It's certainly something that takes repetition in order to feel comfortable, until it gets to the point where it's just muscle memory," Lyon says.
He suggests hanging a bridle up on a chair in front of you and sitting with the reins in your hand, practicing tightening, loosening, and adjusting each rein as well as both together. You can do this at the barn or take your bridle home and practice while sitting on the couch. This removes the extra challenges of guiding a horse and allows you to build your muscle memory.
"I use the analogy of learning to use chopsticks," Lyon says. "It can feel very awkward, uncomfortable, and unusual in the beginning. But the more you practice, the more comfortable, efficient, and effective you get."
Meet the Trainer
Bud Lyon is a multiple American Quarter Horse Association world champion as a Youth and Amateur in reining and in Junior and Senior Ranch Riding. He's a National Reining Horse Association Open Derby Level 4 Finalist, a National Reined Cow Horse Association Futurity and Derby finalist, and his clients have won many accolades in Youth and Amateur competition. Lyon is a clinician and trainer located in Whitesboro, Texas, where he lives with his wife, Kim.
This article about how to use split reins appeared in the March 2022 issue of Horse Illustrated magazine. Click here to subscribe!