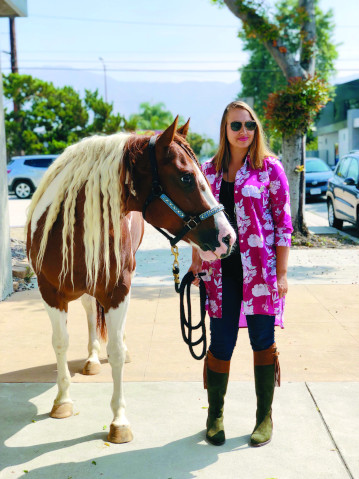 Her parents thought it strange. After all, it was a very un-teen-like thing to do. But that never bothered Raquel. She still enjoyed reading Architectural Digest … even if it was unconventional for a teenage girl when most girls her age were reading things like Seventeen, Teen Vogue and Cosmo. But perhaps it was a look at what was to come for this eventual equestrian lifestyle blogger, who would build a social media following that most bloggers in any industry would envy.
The Early Years
With a mom who wanted to share her love of riding with her two daughters, Raquel Lynn Rzeszotarski grew up having a horse, riding western, competing in 4-H in various disciplines, and barrel racing in northern Ohio. After high school, she attended a broadcasting school tech program and took voiceover classes, which helped her nab an internship and eventually a job doing promotions at a recording label. Her job led her to several things she would end up falling in love with: her husband, content creation and social media.
She and her now-husband, Adam Korbesmeyer, met in 2008 while they worked in the same building. They married in 2014, moved to New York City briefly, and then Adam's career took the couple out to Los Angeles in 2015.
At the same time her relationship was kicking into gear, so was her desire to create her own thing. When the business that she worked for went under, Raquel decided to manage her own blog and social media. So in 2010, she started www.horsesandheels.com under the name Raquel Lynn, using her middle name since it's easy to remember.
Now with more than 1,200 posts, Horses and Heels is "a blog featuring cowboy boots, home décor, fashion, food, and general lifestyle for the equestrian enthusiast. It's for the woman who wants to add a touch of equestrian to her life or the cowgirl who lives and breathes horses." The Instagram account is @horsesandheels_.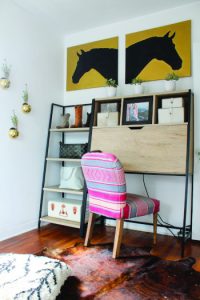 The content often relates to things Raquel likes, some of which are listed on her site: "cowboy boots, sequins, all things sparkly, cowhide, creating, cooking, Pomeranians, Paint Horses, a good sale, flowers, wine, goat cheese, photography, flats, Bravo TV, barrel racing, turquoise, palm trees and sunshine."
Raquel's second blog, www.stablestyle.net, started as a section on her initial blog, but it grew in popularity so much so that it earned its own website to give her readers more of what they wanted—beautiful barns and stables from around the globe. And who better to provide this content than a lifetime lover of Architectural Digest? Before the website spinoff, Raquel Lynn first kicked off Stable Style as its own Instagram account (@stablestyle), which now has more than 78,000 followers. Her blogs get thousands of views every week.
In The Content Biz
"When I started Horses and Heels, I didn't know what I was doing at all, so it was a lot of trial and error," she says. "And I think one of the reasons Stable Style does so well is because I already had the crash course [of] Horses and Heels."
She also works for various commercial clients and freelance writes for publications, such as Horse Illustrated, Chrome, American Paint Horse Journal and others.
"I'm a project person, so I think one of the reasons I thrive doing blogging and freelancing and all of these different things is because I don't like doing the same thing every day," she says. "I get really excited about starting a new project."
One of her goals as a full-time blogger is to evaluate the effectiveness of her various revenue streams so she can adjust what she is spending time on.
"Being a blogger, everything changes so much and so quickly, you need to be able to change too if you want to keep doing it full time," says Raquel Lynn. "For me, since I don't work for a company, if I want to get a raise, then I have to go out and find a way to do it."
The pandemic caused some changes, but it allowed her to finally publish the book she has wanted to put out for years. In November 2020, Stable Style: Barn Inspiration for All Equestrians was released. It's a beautifully photographed coffee table book showcasing everything from two-stall stables to large training facilities.
Raquel Lynn is very passionate about what she does and all of the opportunities and relationships she has built because of her brands.
"It's fun because I'm always learning something new, and I'm always evolving," she says. "That's a nice thing, because I don't know if everybody loves their jobs as much as I do, and I feel very fortunate to have that."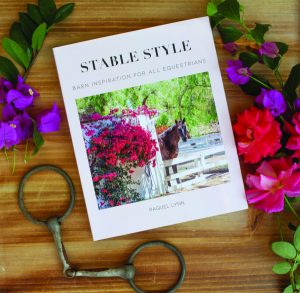 This lifelong Paint Horse enthusiast has embraced being an urban horse owner in L.A., often featuring her rides through city streets aboard her registered American Paint mare, Fira, and strolls with her Pomeranian, Mango. She got Fira as a skittish 3-year-old and trained her within city limits, since Fira literally lives in her backyard.
"It was a fun challenge, but I don't think I would recommend doing it again," she laughs.
One of her highlights over the past decade is seeing the growth in her business, including sales of items, such as her book, and most recently, private-labeled candles.
"Some of my other highlights have just been the friendships that I've made, because I talk with so many people online, and sometimes I get to meet them in person," she says.
This article about Raquel Lynn appeared in the April 2021 issue of Horse Illustrated magazine. Click here to subscribe!