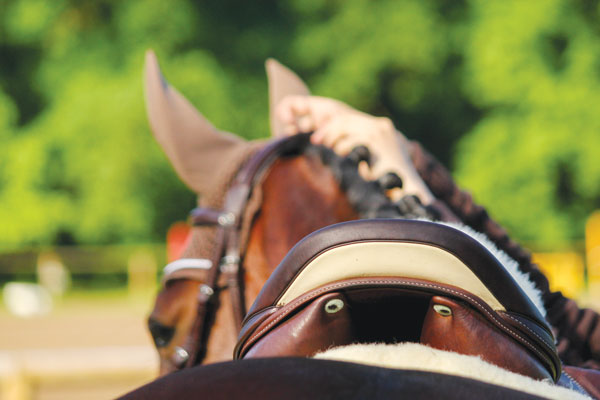 When I started working after law school, I thought I'd be back in the show ring in no time. I didn't want to be missing any horse shows. I was fueled by childhood memories of showground shaved ices, long walks cooling out in the trees with friends, and afternoons goofing around back at the barn between classes. This was my chance to relive those days! I had a great trainer. I had a decent income.
What I didn't have, it turned out, was time. Prep time, travel time, hurry-up-and-wait time—I had none of it. My job is time-consuming, and my husband and I still like to see each other sometimes. I tried to squeeze in shows at first. This is fine, I insisted, as I sat in my parked car in a thunderstorm straining to hear a work call over the booming sky and loudspeaker announcements.
How to Make it Work
After a few shows spent frantically speeding to and from work and home and responding to emails while waiting in line for the crowded show bathroom, I was distraught. I sat myself down to plan for the next show. I needed to school my mare on Wednesday. I could do that after work! But I'd need to leave early (assuming no fires to put out at the office). And I'd get home late. But if something came up, my trainer could school her. That would be fine!
I couldn't show Thursday, because I had a work deadline, so forget it, my trainer would show her.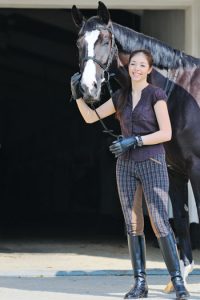 Friday! Friday would be my day to show. Unless I had to be in Colorado for a hearing—or worse, if a snowstorm required me to stay in Colorado. If that happened, my trainer could show her. Again.
But Saturday I could definitely show her. Probably. I just wouldn't see my husband that weekend. That would be OK. Right? And I'd only spend one vacation's worth of money on this.
This was not the horse show experience I had been dreaming about.
I was struggling to identify a show week without a risk of travel or interruption. Weekday classes were unworkable. Out-of-town shows were out of the question—beyond the ever-present possibility of a work nightmare shutting down my show dreams, I couldn't justify trading a weekend away with my husband (who also deserved fun) for five days of solo enjoyment.
Missing Out … Or Not
I know people make it work. I know dedicated riders work hard to squeeze in careers, families and shows. They carefully budget time and money to prioritize showing over dinners with spouses, trips to visit friends, vacations, and fancy cheese.
But I can't do it. I want to have time to have dinner with my husband. I want to go visit friends. I want the fancy cheese.
I still take regular lessons, and I take them seriously. I still pore over cavalletti exercises online and splurge on new equipment. I still tuck my shirt in. I still wear a belt.
Showing just isn't in the cards for me at the moment, and I don't feel guilty about it. Lessons are my shows now, where I get to (hopefully) display what we've been working on and translate it to the courses and gymnastic exercises that keep my horse (and me!) happy, fit and sharp.
Teenagers at my barn still ask whether I'm coming with them to Kentucky or Gulfport. I'm not, you guys. I yearn for the days when school obligations were pliable and taking off for a show was within my parents' discretion—not to mention when they were footing the bill.
I am filled with FOMO (fear of missing out) when I see the trailer being unloaded. I can almost smell the hairspray. But I've eased into my no-show lifestyle.
I miss the adrenaline, but I've leaned into the stress-free way I now lesson without a looming deadline to fix our mistakes. I am missing hanging out ringside at horse shows, but I look forward to the tranquility of the barn aisle or the grass field on a Saturday when everyone is at the show. I miss the excitement, the ribbons, and the long cool-outs in the showground trees.
But I still get to ride. And I look forward to getting home in time for dinner … with the fancy cheese.
This article about missing horse shows appeared in the June 2020 issue of Horse Illustrated magazine. Click here to subscribe!