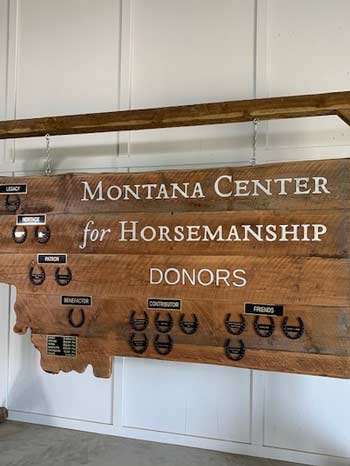 For almost a decade, the Montana Center for Horsemanship has partnered with the University of Montana Western in Dillon, Mont., to offer the nation's first and only accredited four-year Bachelor of Science degree in natural horsemanship. According to Eric Hoffmann, director of horsemanship at the Center, students can pursue two- or four-year degrees in natural horsemanship and customize their educational experience by choosing from four different concentrations.
"Our management concentration is for students who'd like to manage a barn or other business," Hoffmann explains. "We offer a science concentration for students who want to go into nutrition or to vet school. Then we have a psychology concentration for students who want to work with troubled teens, wounded warriors or people with learning disabilities. We also have an instructor concentration for students interested in teaching or training."
In addition to their general education courses, natural horsemanship students take a horsemanship skills class every semester as well as courses in equine science, facility management, nutrition, business, herd health and animal behavior. Hands-on classes take place at the Center, located just a mile-and-a-half away from campus. Sprawling across 70 acres, the Montana Center for Horsemanship is a training and boarding facility with three riding arenas, three round pens and 84 stalls. Students bring their own horses to the program, as well as gain hands-on experience through the university's colt-starting competition, which provides students with the chance to learn how to start a horse from the ground up.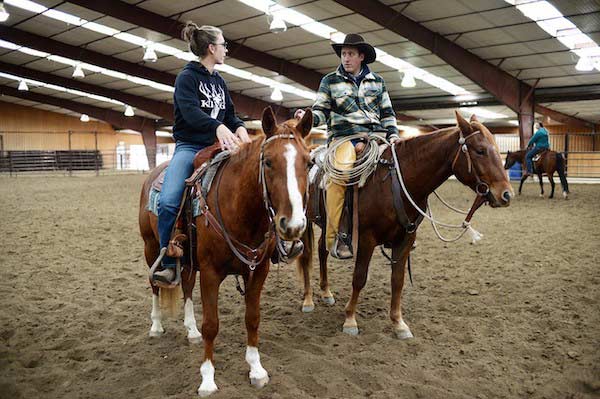 Although it's located in the heart of ranching country, Hoffmann says the program isn't geared exclusively to western disciplines. Instead, Hoffmann and others strive to teach students foundational horsemanship skills that translate across all disciplines.
"The majority of our students are western, but we always have English riders, too. We're not really focusing on a certain breed of horse or discipline, because we're teaching horsemanship skills and techniques," says Hoffmann. "No matter what discipline these students come from or go into, it's all related."
The program's faculty include Hoffmann; Iola Else, the department chair of the Equine Studies Program; two equine veterinarians; and two alumni who now work on staff as natural horsemanship instructors. With six full-time instructors and frequent guest speakers, students benefit from a plethora of training styles and perspectives.
Maggie Blandford of Burlington, Colo., graduated from the program in December 2019 with a bachelor's in natural horsemanship (with concentrations in instruction and management) and a bachelor's in business. She now works as a loper for Eddie Flynn Cutting Horses in Lipan, Texas, and "uses her horsemanship degree every day, all day long."
"My favorite part of going to school at Western was the fact that it was structured, hands-on learning," says Blandford. "But it was also flexible in that if we had a specific problem with a horse in class, we were able to stop and address that, as well as whatever we had planned to learn that day. We were able to get perspectives from a lot of different trainers and other people, which made for a well-rounded experience."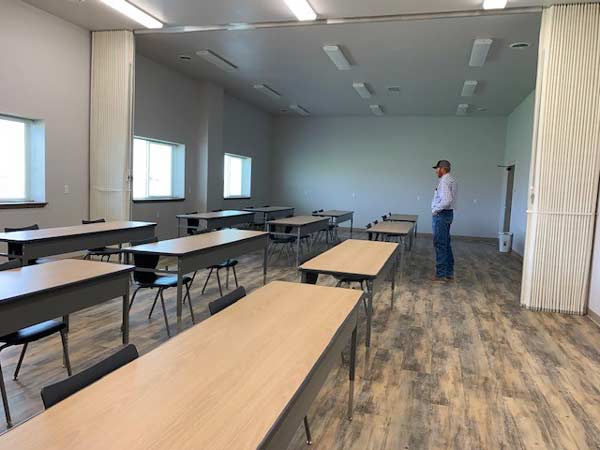 Hoffmann hopes that by the time students graduate from the program, they've learned a new appreciation for the way a horse's mind works.
"To me, natural horsemanship is about learning how to build a relationship with the horse and acknowledging that the horse has a mind," adds Hoffmann. "You can look at horses two ways: either as a motor with parts or as a being that can think and react. We promote learning about the mind and behavior of horses more than just the physical aspects of the animal."
The connection between horses and humans is at the heart of the Montana Center for Horsemanship's educational mission. In addition to its partnership with the University, the Center is a 501(c)(3) nonprofit organization that functions as an equine educational center for students from all over the world. The Center recently began expanding its facilities to include state-of-the-art classrooms, conference and meeting spaces, and a veterinary research laboratory. In order to help with the expansion, the Center recently received a pledge of $250,000, which requires matching funds.
"We have people who come to study, learn and train here from all over the world," says Janet Rose, director of Development and Communications for the Center. "Our board, including our founder, William Kriegel, is committed to the Center becoming a global philanthropic initiative. We envision this becoming a comprehensive education center where you can ride, study horsemanship, and conduct research. We are planning conferences, symposiums, and workshops that advance horse-human education and well-being. We're looking for partners who can understand the impact that horses and humans have on each other and help bring this vision into reality."
The Center's expansion efforts also mean that the degree program will be able to accommodate more students.
"We have about a hundred kids in the program right now, including 40 new freshmen," says Hoffmann. "That's the largest freshman class we've had since the program started. We're always looking to develop more programs to accommodate more students."
To learn more about bachelor or associate degrees in natural horsemanship, the Montana Center for Natural Horsemanship, or to donate to the Center's expansion efforts, please visit www.montanacenterforhorsemanship.org.