Welcome to Horse Illustrated's first weekly installment of the My Right Horse Adoptable Horse of the Week, featuring Flame. Check back weekly for a new featured horse so you can find your #righthorse.
Horse:
Flame
Adoption Organization:
Humane Society of North Texas – Texas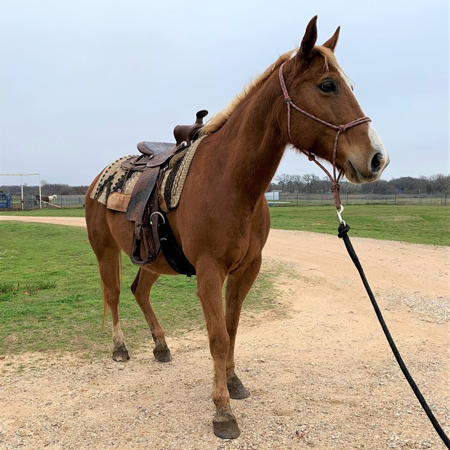 Flame has been through a lot, but his heart is still burning strong! Flame was fortunate enough to be rescued from a very bad neglect situation, where he lived for an unknown period of time in deplorable conditions. When rescuers got to him, Flame was near death due to his emaciated body condition. Since arriving at the Humane Society of North Texas, Flame has regained a nice plump figure.
Flame can be touched, led around, groomed and is very curious about people (those things that walk on two legs and bring delicious treats!). He is gaining confidence around humans every day. Thanks to a grant from the ASPCA, he is currently being started under saddle at Turn About Training in Stephenville, Texas. There are high hopes that Flame will be a wonderful riding horse; he has jumped obstacles and turned on a dime around barrels. He has learned the basics of Parelli training as well.
Flame is a smart horse and warms up to his handler once a relationship has been formed. With positive interactions with humans, there is a bright future for this guy, who should never have suffered as much as he did in his earlier years. Flame needs an experienced handler. If you want to grow a bond like no other, Flame is your guy.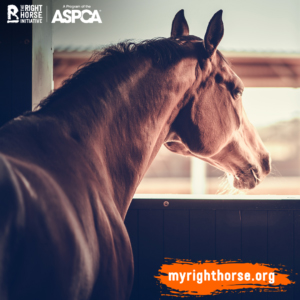 My Right Horse is the online adoption platform of The Right Horse Initiative, a collection of equine industry and welfare professionals and advocates working together to improve the lives of horses in transition. A program of the ASPCA, their goal is to massively increase horse adoption in the United States.
To find more adoptable horses and foster horses, visit www.myrighthorse.org. To learn more about The Right Horse, a program of the ASPCA, visit www.therighthorse.org.