Welcome to Horse Illustrated's weekly installment of the My Right Horse Adoptable Horse of the Week, offered in partnership with The Right Horse. Indiana is this week's adoptable horse. Check back weekly for a new featured horse so you can find your #righthorse.
Horse:
Indiana
, a 16.1-hand bay 10-year-old Thoroughbred Mare
Adoption Organization:
Days End Farm Horse Rescue – Maryland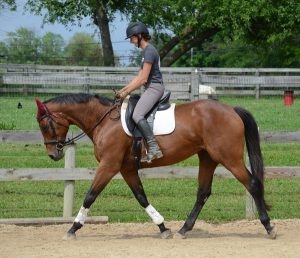 Indiana has taken her time to showcase her potential, slowly building her trust in the trainer at Days End Farm and learning how to develop into a good citizen. Fondly known as "Indy," she loves showing off her smooth, lovely gaits on the longe line while trotting over trot poles. She has shown off her intelligence by being able to do most of the groundwork offline and enjoys following the trainer around at a trot.
She is learning how to continue to develop the correct muscles for under saddle work and has been working hard to please. Indy is currently going at a walk/trot/canter and has started going for rides in the open field and seems to rather enjoy that. She is learning how to tie and to accept that vaccinations only sting for a second! She ground ties well, enjoys a warm bath and comes when called (most of the time). Being the smart (and sometimes opinionated) gal that she is, she really needs a special human to continue her training and give her a structured home but also continue to work on the ground with her, as she really shines when playing at liberty.
Indy has shown her versatility under saddle by going either western or English. She is also learning how to ride with just a neck rope! She has a great whoa and a lovely back-up along with a beautiful turn on the forehand and haunches. She is trying to show that she wants to be a dressage horse by working on stretching into contact and even trying out a little bit of shoulder-fore and haunches-in. Nothing really seems to bother Indy and she rather likes playing with the tarp and the yoga ball.
Click here for questions about Indiana, the My Right Horse Adoptable Horse of the Week
* There is a rider weight limit of 175 pounds and jumping should be very limited due to stifle issues. *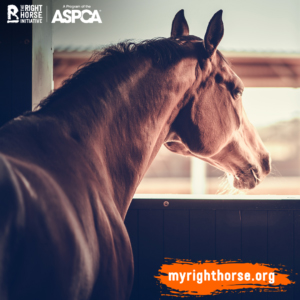 My Right Horse is the online adoption platform of The Right Horse Initiative, a collection of equine industry and welfare professionals and advocates working together to improve the lives of horses in transition. A program of the ASPCA, their goal is to massively increase horse adoption in the United States.
To find more adoptable horses and foster horses, visit www.myrighthorse.org. To learn more about The Right Horse, a program of the ASPCA, visit www.therighthorse.org.