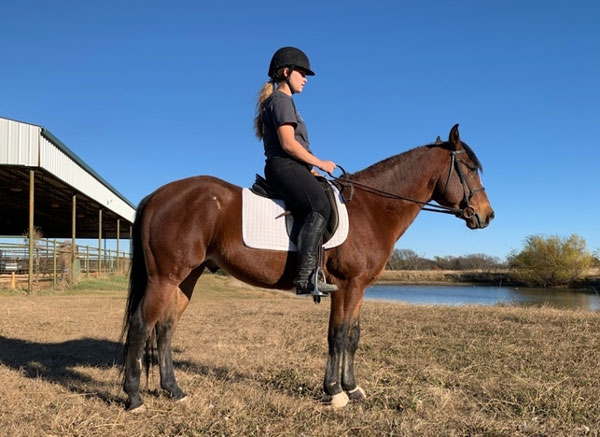 Welcome to Horse Illustrated's weekly installment of the My Right Horse Adoptable Horse of the Week, offered in partnership with The Right Horse. Domingo is this week's adoptable horse. Check back weekly for a new featured horse so you can find your #righthorse.
Horse:
Domingo
, a bay 7-year-old 14.3-hand Peruvian gelding in Fort Worth, Texas
Organization:
Humane Society of North Texas
Domingo is the most handsome guy on the block! He wants to be in your pocket and loves getting attention! He is always waiting for you at the gate to get loved on and has a pretty quiet demeanor when in a low-key environment. He arrived a bit underweight with overgrown hooves and still needs routine hoof care and a good diet, as any horse would! This horse is not for spoiling, but rather, earning mutual respect. From September through November 2020, he was at training with Turn About Training in Stephenville, Texas, so he would be ready for success in his future home. He would be a great trail horse for an experienced rider wanting low-key, short rides. He is working under saddle at a walk and trot; he does appear to be gaited, but he has yet to find his gait under saddle. He was ridden by his previous owner and has decent ground manners, though he still has to be reminded about personal space. While he sometimes has a docile personality, he needs confident consistency in his life through an experienced handler who can redirect and advance his skills. His trainer has exposed him to the round pen, arena, and trails. He requires a confident rider who knows how to drive a horse forward using their hind end rather than pulling them around with the bit. While Domingo is a fairly low-energy horse, he will take advantage of a rider if they are not actively engaged in the task of riding. He needs a rider who will listen and have a conversation with him while under saddle. So this horse can thrive long term, we follow the guideline that the rider (including tack) should be no more than 20% of the horse's weight. In consideration of this animal's size and conformation, weight limit for this equine is limited to under 180 pounds. Domingo stands great for the vet and is up to date on all vaccinations, Coggins, dental care, and is microchipped. To learn more and schedule an appointment, please fill out an interest in adoption form at www.hsnt.org/equine-and-livestock. Could she be your #righthorse?
Click here for questions about Domingo, the My Right Horse Adoptable Horse of the Week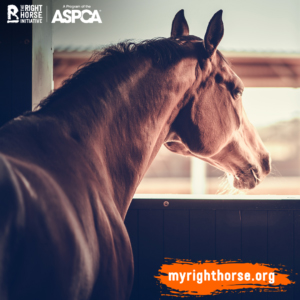 My Right Horse is the online adoption platform of The Right Horse Initiative, a collection of equine industry and welfare professionals and advocates working together to improve the lives of horses in transition. A program of the ASPCA, their goal is to massively increase horse adoption in the United States. To find more adoptable horses and foster horses, visit www.myrighthorse.org. To learn more about The Right Horse, a program of the ASPCA, visit www.therighthorse.org.