Welcome to Horse Illustrated's weekly installment of the My Right Horse Adoptable Horse of the Week, offered in partnership with The Right Horse. La Pie is this week's adoptable horse. Check back weekly for a new featured horse so you can find your #righthorse.
Horse:
La Pie
, a 10-year-old 14-hand Quarter Horse mare
Adoption Organization:
Longmeadow Rescue Ranch in Union, MO
La Pie came to Longmeadow in February 2016. She was pregnant and underweight. She has since had her foal and is a healthy weight. We think La Pie may have been started under tack, but she doesn't seem to know much beyond accepting the saddle. She is also very sweet and easygoing, so she might just be accepting the tack. She is eager to please and enjoys working with people. She is a very intelligent mare and kind. Her training for riding was stared in 2017 at Longmeadow. She has been ridden at the walk, trot and canter in the indoor arena. She was also starting to be ridden outside on the trails. La Pie was then adopted into a home that wasn't able to keep working with her. She had too much time off, and they weren't able to successfully restart her. She was returned to Longmeadow and is now in the consistent training that she needs. At this point, she requires at least 3 months of professional training and then an adopter that will continue to work with her regularly to provide mileage with a rider on her back.
Click here for questions about La Pie, the My Right Horse Adoptable Horse of the Week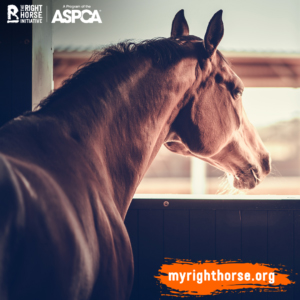 My Right Horse is the online adoption platform of The Right Horse Initiative, a collection of equine industry and welfare professionals and advocates working together to improve the lives of horses in transition. A program of the ASPCA, their goal is to massively increase horse adoption in the United States.
To find more adoptable horses and foster horses, visit www.myrighthorse.org. To learn more about The Right Horse, a program of the ASPCA, visit www.therighthorse.org.