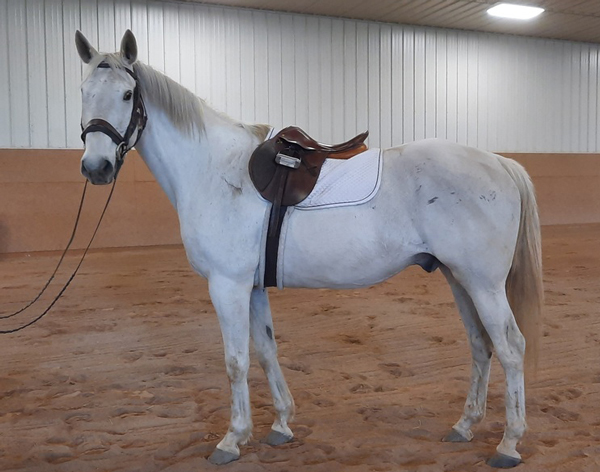 Welcome to Horse Illustrated's weekly installment of the My Right Horse Adoptable Horse of the Week, offered in partnership with The Right Horse. Leroy Kilkinney is this week's adoptable horse. Check back weekly for a new featured horse so you can find your #righthorse.
Horse:
Leroy Kilkinney
, a gray 17.1-hand 17-year-old Canadian Horse gelding in Fairport, N.Y.
Organization:
Lollypop Farm
Looking for a big horse with lots of experience? Meet Leroy! This tall, handsome hunk is a former English show horse and trail horse. Leroy has years of training under his belt, including with professional trainers, and it shows. He's registered with the Performance Horse Registry, and has all of his papers. Leroy seems to be the low man on the totem pole in turnout, and just wants to be every horse's friend. He has had one owner his entire life (his breeder!), so we are lucky enough to have all his background history. You can tell Leroy was very loved upon. Our trainer has worked with him a couple of times now, since he's been out of work for a couple of years. Leroy is a bit rusty due to his little vacation, but clearly remembers his job. Leroy is the ideal horse with his low-maintenance needs. He gets a small ration balancer, trims on his feet, and is happy inside and out. Leroy has a cute disfigured nose from a bone break when he was a baby, but that doesn't affect him! Neither does only having one eye. Leroy would be a great horse for an experienced rider to give a refresher to, or an intermediate rider working with a trainer. He can be a bit pushy, but isn't mean at all…his massive size can just be a little intimidating, and he needs somebody with confidence. With a little elbow grease, Leroy can be a fantastic trail horse, or show horse for somebody! He even could probably get back into some jumping…he knows how! Is Leroy your #righthorse?
Click here for questions about Leroy Kilkinney, the My Right Horse Adoptable Horse of the Week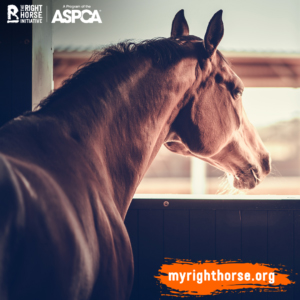 My Right Horse is the online adoption platform of The Right Horse Initiative, a collection of equine industry and welfare professionals and advocates working together to improve the lives of horses in transition. A program of the ASPCA, their goal is to massively increase horse adoption in the United States. To find more adoptable horses and foster horses, visit www.myrighthorse.org. To learn more about The Right Horse, a program of the ASPCA, visit www.therighthorse.org.