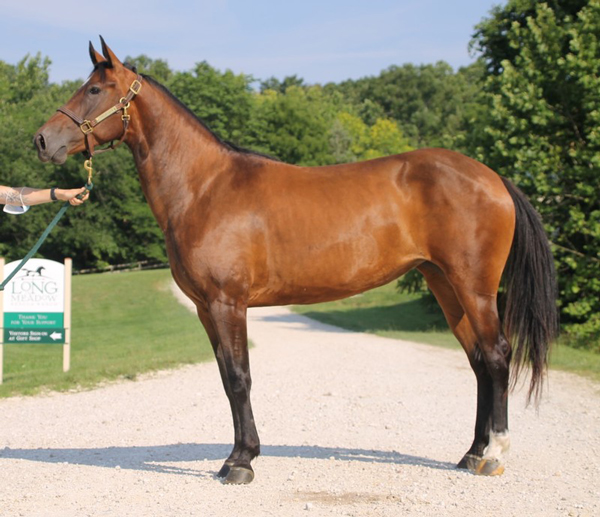 Welcome to Horse Illustrated's weekly installment of the My Right Horse Adoptable Horse of the Week, offered in partnership with The Right Horse. Mia is this week's adoptable horse. Check back weekly for a new featured horse so you can find your #righthorse.
Horse:
Mia
, a 5-year-old 14.2-hand bay American Quarter Horse mare in Union, Mo.
Organization:
Longmeadow Rescue Ranch
Little Miss Mia is one of the surviving 15 horses rescued from a semitrailer wreck on October 18, 2020. Staff at Longmeadow Rescue Ranch were later told by the owner of the horses that he was transporting them for slaughter. In a fateful twist of events, Mia and many other lives were spared. Thankfully, Mia managed to walk away from the accident with very minor scrapes and bruises. She did however have overgrown hooves that were extremely out of balance. With only a few trims, her hooves are looking better than ever! Once she had physically recovered from the wreck, Longmeadow's trainer evaluated Mia to judge her knowledge under saddle. It does not appear that Mia has training under saddle. Although the trainer has commented that she is a smart mare who soaks everything up like a sponge, she will require a professional trainer to start her under saddle training. We do believe she will excel in many different disciplines. Mia is a playful young mare who enjoys pestering her pasture mates to play but does tend to land in the middle of the pecking order. Carrying weight is 175 pounds (including tack and rider).
Click here for questions about Mia, the My Right Horse Adoptable Horse of the Week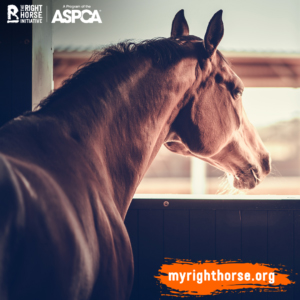 My Right Horse is the online adoption platform of The Right Horse Initiative, a collection of equine industry and welfare professionals and advocates working together to improve the lives of horses in transition. A program of the ASPCA, their goal is to massively increase horse adoption in the United States. To find more adoptable horses and foster horses, visit www.myrighthorse.org. To learn more about The Right Horse, a program of the ASPCA, visit www.therighthorse.org.