Welcome to Horse Illustrated's weekly installment of the My Right Horse Adoptable Horse of the Week, offered in partnership with The Right Horse. Neto is this week's adoptable horse. Check back weekly for a new featured horse so you can find your #righthorse.
Horse:
Neto
, a 9-year-old 16-hand bay Thoroughbred gelding in Elkton, MD.
Organization:
After the Races

Neto is really cool horse in a plain brown wrapper. This 2012 gelding came to us by way of Beyond the Wire in Maryland. He retired from racing in 2016 after 19 starts and then was trained into a track pony. He has been working as a pony horse for four years but started having some issues with cellulitis that the vet thought would do better away from the track where he could get more turnout. Neto's cellulitis cleared up pretty quickly with treatment after moving to our farm, though he developed cellulitis in the opposite leg after he sustained a small scrape in the field. This has also resolved with treatment, though it seems his skin is quite sensitive.
Cellulitis aside, Neto is such a wonderful horse to work around. He's incredibly sweet, kind, and so quiet. He loves everyone and is happy for and all attention sent his way. We started riding Neto and have had a few rides on him now, mid-March. He's just doing walk/trot so far. As you'd expect of a track pony, he's quiet and straightforward to ride, though he does need some education on how to use his body properly and regarding what to do with his head. He makes up for his lack of education by being incredibly willing. We took him for his first trail ride the other day and he did very well. He has a quick walk, so enjoys marching along versus moseying.

He's happy to stand and watch the world go by when asked though. Just a lot of fun to work with. He's not ready for beginners yet but will be a very friendly little project for someone willing to help teach him how to use himself properly.
While he's a very lovable, straightforward horse who we suspect will be worth his weight in gold, he does have a couple of special considerations. He requires four shoes for now and has had a history of cellulitis. He's doing better and better but may remain quite sensitive to abrasions and scrapes other horses shrug off, so he'll need an adopter willing to work with this if it comes up. He's certainly worth it. Neto is available for adoption to the right home for $1,000.
Click here for questions about Neto, the My Right Horse Adoptable Horse of the Week.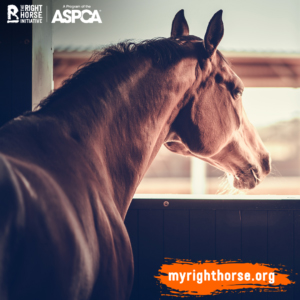 My Right Horse is the online adoption platform of The Right Horse Initiative, a collection of equine industry and welfare professionals and advocates working together to improve the lives of horses in transition. A program of the ASPCA, their goal is to massively increase horse adoption in the United States. To find more adoptable horses and foster horses, visit www.myrighthorse.org. To learn more about The Right Horse, a program of the ASPCA, visit www.therighthorse.org.