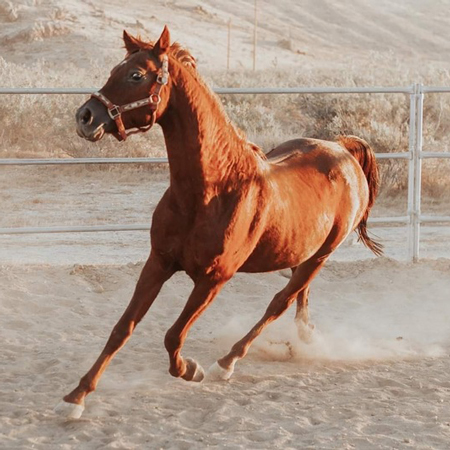 Welcome to Horse Illustrated's weekly installment of the My Right Horse Adoptable Horse of the Week, offered in partnership with The Right Horse. TC Bluesprucebask is this week's adoptable horse. Check back weekly for a new featured horse so you can find your #righthorse.
Horse:
TC Bluesprucebask
, a 14.3-hand 25-year-old chestnut Arabian gelding in Mojave, Calif.
Organization:
Love This Horse Equine Rescue
TC Bluesprucebask is available for adoption through the Love This Horse Equine Rescue's "Oldies & Goodies" Program. It is a no-risk adoption, because if he becomes unrideable because of age, he has a guaranteed retirement space with us, and the adopter can adopt another horse for half of its posted adoption fee. This way, we are able to find adoptive homes for our older horses that still have a lot of riding time left in them. TC is western trained and has a nice temperament. He is not a child horse. We are hoping to find a rider who is wanting to ride in the arena and some trail with him. He is an absolute sweetheart and loves to hang out with people. He likes his cuddles! He has healthy teeth and keeps his weight with just hay. We do supplement feed if we are riding him a lot. Check out his pedigree!
Click here for questions about TC Bluesprucebask, the My Right Horse Adoptable Horse of the Week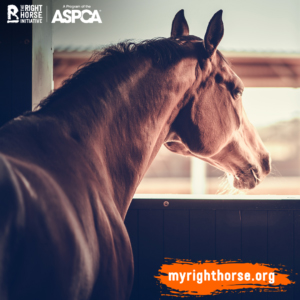 My Right Horse is the online adoption platform of The Right Horse Initiative, a collection of equine industry and welfare professionals and advocates working together to improve the lives of horses in transition. A program of the ASPCA, their goal is to massively increase horse adoption in the United States.
To find more adoptable horses and foster horses, visit www.myrighthorse.org. To learn more about The Right Horse, a program of the ASPCA, visit www.therighthorse.org.