Welcome to Horse Illustrated's weekly installment of the My Right Horse Adoptable Horse of the Week, offered in partnership with The Right Horse. Peppermint Patti is this week's adoptable horse. Check back weekly for a new featured horse so you can find your #righthorse.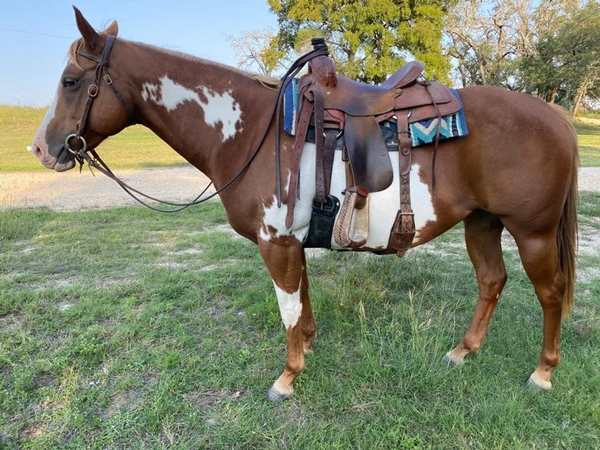 Horse:
Peppermint Patti
, a 9-year-old 14.1-hand chestnut American Paint mare in College Station, Texas
Organization:
Bluebonnet Equine Humane Society
Peppermint Patti was removed from negligent owners and placed with Bluebonnet Equine Humane Societyby the courts. She spent two months with trainer Hilary LoBue in 2018 and was adopted. She was returned in August 2020 due to no longer being a good fit for the family. Peppermint Patti is a very sweet and personable Paint mare with a lot to offer the right home! She's affectionate and seeks out attention, coming right up to the fence for pets and love. This lovely mare only has sight in her left eye, but that doesn't affect her much at all. She will do best in a home that can provide limited access to forage to manage her weight. She has been on thyroid medication in the past but is currently doing well with a round bale in a slow-feed hay net plus low starch grain at this time.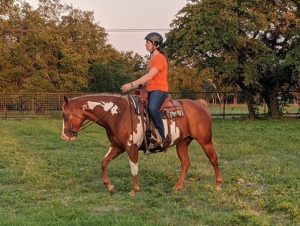 Peppermint Patti longes well, stands for saddling and bridling nicely, and enjoys grooming and attention. She is curious and a quick learner, needing a little encouragement to stay focused on the task at hand instead of wondering what her friends are up to! In a group, she is near the top of the herd, but gets along well with other horses. She is easy to catch in the pasture, ties, loads well in the trailer and is becoming more comfortable with backing out of the trailer. She was a little wiggly for the farrier while having her hooves trimmed but will quickly improve with some patience and training.
Peppermint Patti goes under saddle at a walk and trot, and her loping is improving. She has not shown much tendency to spook at anything but can get nervous when her friends leave her. Some solid time under saddle and being exposed to new situations will help improve her confidence and rideability quickly. Both on the ground and under saddle, Peppermint Patti will do best with a confident intermediate or above who can be a consistent, kind leader to help her remember how to maintain personal space and that she is not "in the driver's seat." She has a great foundation and would make an excellent project to finish your way!
Click here for questions about Peppermint Patti, the My Right Horse Adoptable Horse of the Week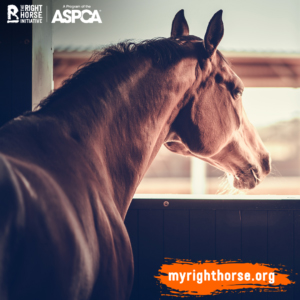 My Right Horse is the online adoption platform of The Right Horse Initiative, a collection of equine industry and welfare professionals and advocates working together to improve the lives of horses in transition. A program of the ASPCA, their goal is to massively increase horse adoption in the United States. To find more adoptable horses and foster horses, visit www.myrighthorse.org. To learn more about The Right Horse, a program of the ASPCA, visit www.therighthorse.org.