Welcome to Horse Illustrated's weekly installment of the My Right Horse Adoptable Horse of the Week, offered in partnership with The Right Horse. Santiago is this week's adoptable horse. Check back weekly for a new featured horse so you can find your #righthorse.
Horse:
Santiago
, a six-year-old 14.1-hand bay Mustang gelding
Adoption Organization:
Heart of Phoenix
Santiago came from a Bureau of Land Management (BLM) sale in Ewing, Ill. He was a three-strike Mustang, which means that he was offered at sale to anyone who would pay $25.00. If Heart of Phoenix would not have taken him, he would have gone to a long-term holding facility, where he wouldn't have been adopted. Santiago was initially not very trusting of humans, but has made tremendous gains after participating in a 100-day training competition. Despite this progress, he was not adopted after the event and is still available. Santiago will be continuing his training with Adkins Quarter Horses. Santiago has done considerable trail riding and would make a great ranch or trail partner for an experienced rider.
Click here for questions about Santiago, the My Right Horse Adoptable Horse of the Week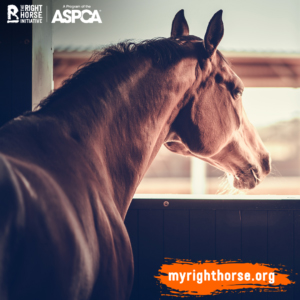 My Right Horse is the online adoption platform of The Right Horse Initiative, a collection of equine industry and welfare professionals and advocates working together to improve the lives of horses in transition. A program of the ASPCA, their goal is to massively increase horse adoption in the United States.
To find more adoptable horses and foster horses, visit www.myrighthorse.org. To learn more about The Right Horse, a program of the ASPCA, visit www.therighthorse.org.