Photo Courtesy New VocationsWelcome to Horse Illustrated's weekly installment of the My Right Horse Adoptable Horse of the Week, offered in partnership with The Right Horse. Schade is this week's adoptable horse. Check back weekly for a new featured horse so you can find your #righthorse.
Horse:
Schade
, a 14.2-hand 2-year-old bay Thoroughbred filly in Lexington, Ky.
Organization:
New Vocations
Schade is a whopping 14.2 hands, but don't let her size fool you! She is only 2 years old, so odds are she'll do some more growing. Schade's sweet personality matches her appearance, and she is easy to lead around the barn. She goes out with two other mares at night (who are both over 16 hands) and she does great! She has enough spunk to not let herself get picked on! She stands very well for the vet and farrier and has no stall vices. As some mares are, she can be a little expressive with her ears when she isn't happy but doesn't mean anything by it. She can be mouthy when she's in her stall, but all she's trying to do is get your attention! Since she is still so young, staff at New Vocations have only sat on Schade a couple of times, which is not new to her—she had training under saddle on the track. The few times she's been under saddle, she's shown great level-headed potential! She has a nice, natural head carriage and is a perfect mix of whoa and go. She has walked bravely in an outdoor riding ring with some spooky Halloween jumps set up, as well as a liverpool, and didn't bat an eye! She has a very mature mindset for her age, which has excited handlers to see what she can tackle in the future. Schade will need some time to continue growing and maturing, and her conformation is a little crooked in her front legs, so only time will tell how she'll "finish" once she's done growing (horses aren't done growing until they're around 8 years old!), but she does already have some arthritic change, so we'd recommend a home with low-level aspirations to give her the best prognosis for riding soundness!
Click here for questions about Schade, the My Right Horse Adoptable Horse of the Week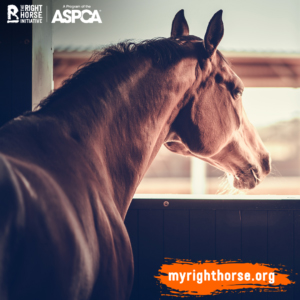 My Right Horse is the online adoption platform of The Right Horse Initiative, a collection of equine industry and welfare professionals and advocates working together to improve the lives of horses in transition. A program of the ASPCA, their goal is to massively increase horse adoption in the United States. To find more adoptable horses and foster horses, visit www.myrighthorse.org. To learn more about The Right Horse, a program of the ASPCA, visit www.therighthorse.org.