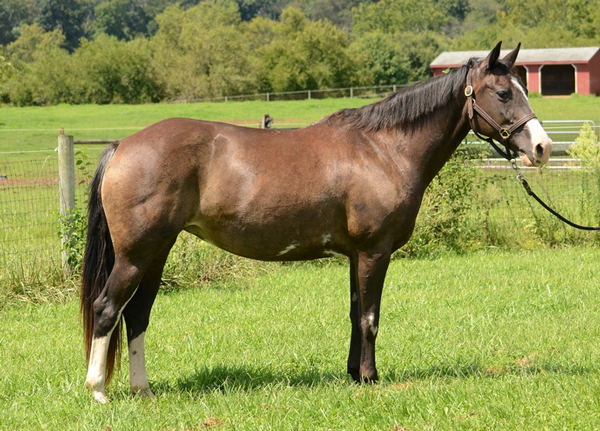 Welcome to Horse Illustrated's weekly installment of the My Right Horse Adoptable Horse of the Week, offered in partnership with The Right Horse. Lover's Lane is this week's adoptable horse. Check back weekly for a new featured horse so you can find your #righthorse.
Horse:
Lover's Lane (aka Laney)
, a 13-year-old 15.1-hand American Paint mare in Woodbine, Md.
Organization:
Days End Farm Horse Rescue
Lover's Lane, aka Laney, is a sensitive, sweet soul with gorgeous Paint markings. She would love to have a home with a person that is quiet and confident as Laney isn't always the bravest. She has been ridden English and western, and she looks lovely in either apparel. Laney is currently going walk/trot/canter and has been out exploring on the trails. Her favorite part of the trails was splashing as hard as she could in the streams along the way. She loved getting her rider and the other horses as wet as she could! Even though she does have Navicular disease, she really would love if she could have at least a small job to do in her new home. She likes to work, and she is an honest little worker bee. She has a soft mouth and moves off of leg beautifully. She ties, loves bath time, loads, stands great for grooming/tacking/mounting and is always ready to be caught. Laney loves scratches, water and being told that she is the prettiest of them all! If you are looking for a drop-dead gorgeous girl with a little bit of chrome, Laney might be your match! An intermediate rider with a well-balanced seat and quiet hands would be the best fit for Laney. She is fun to ride and she makes the rider look really good! Lower level dressage, hacking out, lessons here and there, this girl has your back!
Click here for questions about Lover's Lane (aka Laney), the My Right Horse Adoptable Horse of the Week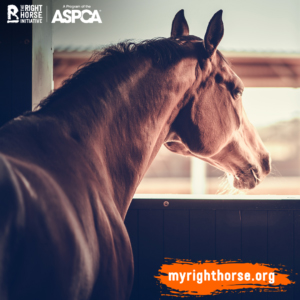 My Right Horse is the online adoption platform of The Right Horse Initiative, a collection of equine industry and welfare professionals and advocates working together to improve the lives of horses in transition. A program of the ASPCA, their goal is to massively increase horse adoption in the United States.
To find more adoptable horses and foster horses, visit www.myrighthorse.org. To learn more about The Right Horse, a program of the ASPCA, visit www.therighthorse.org.