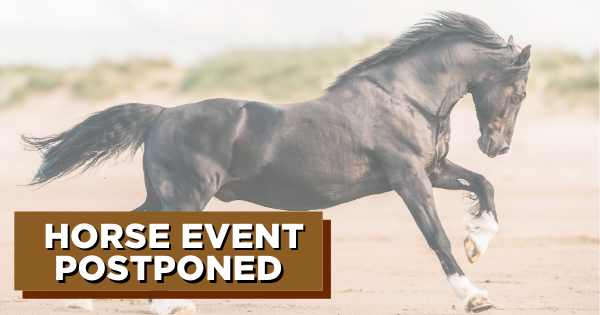 Following the presidential declaration of a national emergency due to coronavirus (COVID-19), the National Reining Horse Association (NRHA) strongly recommends all producers of NRHA-approved shows consider postponing or canceling all reining events for the next 30 days, effective March 14–April 13, 2020.
This action takes into consideration the health and safety of all NRHA members and their horses, as well as spectators, grounds crews, facilities management, and show-production staff.
NRHA has already rescheduled the NRHA European Futurity from March to November due to the COVID-19 outbreak in Italy, where citizens are still coping with the effects of the virus. Additionally, some NRHA-approved shows in the U.S. are being forced to cancel due to state or regional mandates.
"I'm not sure any of us has experienced times like these in our lifetime," noted NRHA President Mike Hancock. "The worldwide coronavirus pandemic has been very scary to watch. It has accelerated and at a pace that no one could've imagined. Our international members are already suffering, and we all need to do our part to manage this situation. Our thoughts and prayers go out to everyone who has been impacted by this outbreak."
NRHA recommends that show managers make decisions as soon as possible to allow members and exhibitors to make plans to travel or stay home. The NRHA team is ready to assist show management with time-sensitive issues and will be as flexible as possible to reschedule events.
If you do plan to show in the next 30 days, please check with event management about possible cancelation or postponement. The following events have officially notified the NRHA Office that they have been postponed or canceled. If you're an event producer, please email Christa Morris-Stone at cmorris@nrha.com to be added to this list.
◆ DRHA Spring Slide; Netherlands
◆ FRHA March Spin; Jacksonville, Fla.
◆ KV Spring Challenge; Finland
◆ EPRHA No Foolin Slide; Logan Township, N.J.
◆ French Kick-Off 2020; France
◆ Heart of Dixie; Perry, Ga.
◆ Carolina Classic; Tryon, N.C.
NRHA Office Closure Due to COVID-19
In addition, due to coronavirus, the National Reining Horse Association will be closing the Oklahoma City office beginning Monday, March 16, 2020, with a target to re-open on Monday, March 30, 2020.
The NRHA team is ready and available to assist show management and members addressing time-sensitive issues, following regular business hours (8 a.m. to 5 p.m., CT), while working remotely to implement social distancing. If you need to contact a team member directly, all NRHA staff email addresses can be found at www.nrha.com/staff. General membership and processing questions should be emailed to memberships@nrha.com. We encourage you to text or email first to create a written follow-up record. NRHA services will continue to be provided, though the majority of the team is working remotely.
Here are suggestions for what you can do to help us better assist you with your needs.
◆ Use ReinerSuite™. This convenient option allows you to access information and conduct business 24/7.
◆ Email us. Access to phones will be limited.
◆ Avoid sending mail. With the NRHA office closed, distribution of mail among staff members will be limited. Especially avoid sending time-sensitive transactions.
◆ Go digital. Download digital membership cards and competition licenses from your ReinerSuite account.
To log in to ReinerSuite, click here. For first-time users, scroll to the bottom of the ReinerSuite page for registration instructions.
For the most up-to-date information from NRHA, follow us on Facebook and check nrha.com regularly.
For information about affected horse industry events, visit the official event website.