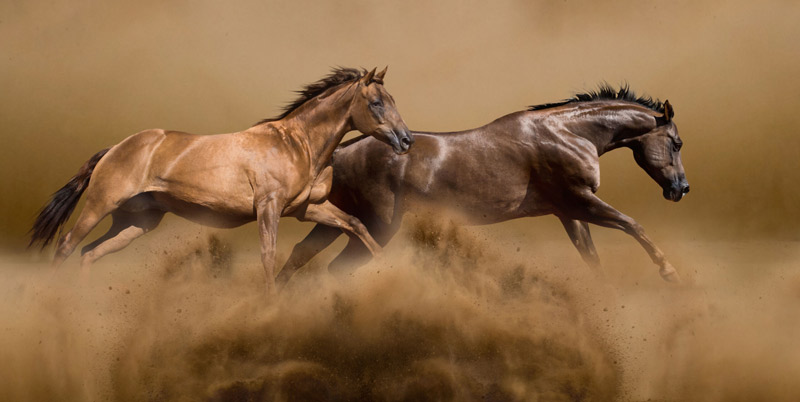 Mustang. Morgan. Appaloosa. Quarter Horse. Each of America's horses has a unique story to tell. From New England homesteads to cattle ranches in Wyoming to tribal lands in the Mountain West, see how the horse is part of this nation's history in Nature: American Horses, premiering Wednesday, February 23 at 8 p.m. ET on PBS (check local listings), www.pbs.org/nature and the PBS Video app, with narration by Bill Pullman.
Discover the origin story of American horses, which can be traced all the way back to the 50-million-year-old fossil beds of Polecat Bench, Wyo. From these ancient beginnings, Equus spread around the globe, but mysteriously went extinct in North America. Arriving aboard ships of Spanish explorers, horses reclaimed the continent after a 10,000-year absence. With their return, the stage was set for a new generation of American breeds and a lifelong partnership with humans.
"Horses helped shape the landscape of our nation," said Fred Kaufman, executive producer for Nature. "Their stories are a fascinating look at how their history and our history are inseparable."
A combination of natural selection, selective breeding, and chance created the wide spectrum of more than 100 American horse breeds we know today. Emerging from regional patterns of work, culture, tradition and geography, these signature breeds each made their mark on the nation. Meet the Appaloosa, bred and revered by the Nez Perce tribe; the American Quarter Horse, perfectly trained to work the open range; the Morgan Horse, whose underdog story is legendary; and the wild Mustang, whose close bonds within their community shed insight into their relationships with humans. Witness vivid scenes of incredible horsepower, whether they are cutting cows in a sagebrush sea, galloping through autumn foliage in New England or racing across the Pony Express Trail.
For 40 years, Nature has pioneered a television genre that is now widely emulated in the broadcast industry, bringing the natural world to millions of viewers. The series has won more than 700 honors from the television industry, the international wildlife film communities and environmental organizations, including 20 Emmys and three Peabodys. Consistently among the most-watched primetime series on PBS, Nature continues to innovate through original digital programming, such as the new podcast Going Wild with Dr. Rae Wynn-Grant and digital series Animal IQ and Crash Course: Zoology. Nature's award-winning website, www.pbs.org/nature, features full episodes, short films, digital series, behind-the-scenes content, news articles, educational resources and more.
Nature is available for streaming concurrent with broadcast on all station-branded PBS platforms, including www.PBS.org and the PBS Video app, available on iOS, Android, Roku streaming devices, Apple TV, Android TV, Amazon Fire TV, Samsung Smart TV, Chromecast and VIZIO. PBS station members can view many series, documentaries and specials via PBS Passport. For more information about PBS Passport, visit the PBS Passport FAQ website.
Nature: American Horses is a production of Grizzly Creek Films and The WNET Group in co-production with Terra Mater Factual Studios. The program is written and produced by Eric Bendick. Thomas Winston is producer, and the show is narrated by Bill Pullman. Fred Kaufman is executive producer, and Bill Murphy is series producer. Janet Hess is series editor. Danielle Broza is digital content and strategy lead.
Support for Nature: American Horses was provided by Kitty Hawks and Larry Lederman, The Hite Foundation and The Sun Hill Family Foundation.
Series funding for Nature is also made possible in part by the Corporation for Public Broadcasting, The Arnhold Foundation, The Fairweather Foundation, Kate W. Cassidy Foundation, Sue and Edgar Wachenheim III, Kathy Chiao and Ken Hao, Charles Rosenblum, Filomen M. D'Agostino Foundation, Lillian Goldman Charitable Trust, Leonard and Norma Klorfine, Sandra Atlas Bass, Colin S. Edwards, Gregg Peters Monsees Foundation, Koo and Patricia Yuen, and public television viewers.
More Information