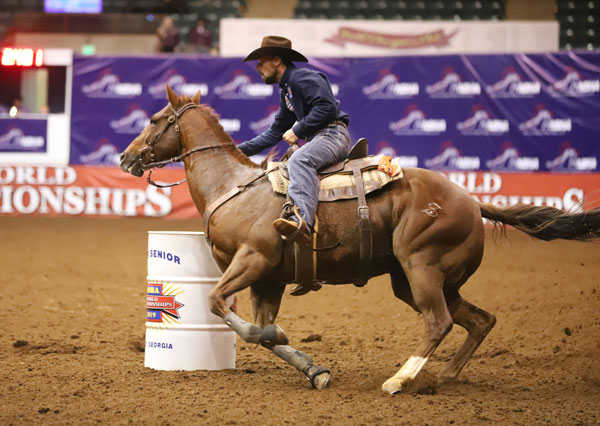 Barrel racers from around the world gathered on October 26–November 2 for the 2019 NBHA Open and Senior World Championships in Perry, Ga. A featured event on the National Barrel Horse Association's tour schedule, the 2019 World Championships pulled over 2,000 entries and awarded approximately $250,000 in cash and prizes. The event attracted international riders from Australia, Italy, Canada, Panama and the United Kingdom. It was Brandon Cullins of Clements, Md., who took top honors in the Open Division with a 14.762 riding A Cornerstone. Edwin Cameron of Tatamagouche, Nova Scotia, secured the Senior Division aboard A Dash Ta Glamour with a 14.962.
"Congratulations to all our champions," stated NBHA Executive Director Sherry Fulmer. "Talk about a smooth show! Other than a loss of power during our Trick or Trot Parade, the 2019 NBHA World Championships went off without a hitch."
In addition to cash prizes, brand new 4 Star Trailers valued at over $32,000 each were awarded to both the Open 1D and Senior 1D Champions. All finalists from the Open and Senior 5Ds were awarded Gist Silversmiths buckles. Prize packages also included awards from Alamo Saddlery, Triple Crown Feed, Wrangler, Yeti, Professional's Choice, Justin Boots, Oxy-gen Inc., and Boot Barn.
Cullin's victory was bittersweet. His mount A Cornerstone, was owned by the late Sarah Attea Griffin, and the Open Finals marked the one-year anniversary of Griffin's passing.
"I have had him (A Cornerstone) for almost two years, and he is now owned by Sarah's husband," stated Cullins. "Sarah got to see him start to win before her passing. He'll always be a very special horse to me."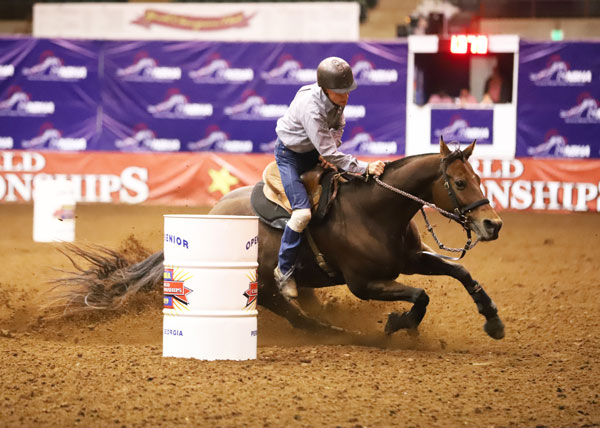 Cameron's mount, A Dash Ta Glamour, although a recent purchase, is the perfect combination of Cameron's two favorite bloodlines.
"A Dash Ta Glamour is a 7-year-old gelding who I purchased in July. He's sired by JL Dash Ta Heaven, out of a Bully Bullion mare; his breeding is as good as it gets for me. I'm a JL Dash Ta Heaven fan and a Bully Bullion fan, so this horse is both in one package," stated Cameron.
Full results from the 2019 NBHA Open and Senior World Championship are available at www.MyHorseSport.com. Relive the action on Ride TV at www.RideTVGo.com. Learn more about the National Barrel Horse Association and see the full event schedule at www.NBHA.com.
About the National Barrel Horse Association
The National Barrel Horse Association, headquartered in Augusta, Ga., is the largest barrel racing organization in the world. The NBHA is the recognized leader of barrel racing in the world and is known to be professional and innovative while staying true to western heritage, lifestyle and dress. In 1992, the NBHA revolutionized the barrel racing industry by pioneering the divisional format, which allows riders of all skill levels a chance to win money and prizes in barrel racing competition. NBHA official events have paid out $13 million to date with more than $2.5 million in added prize money. NBHA has over 20,000 members of all ages across the United States and affiliates on five continents. Learn more about the NBHA at www.NBHA.com. Follow us on Facebook, Instagram, Twitter and YouTube.