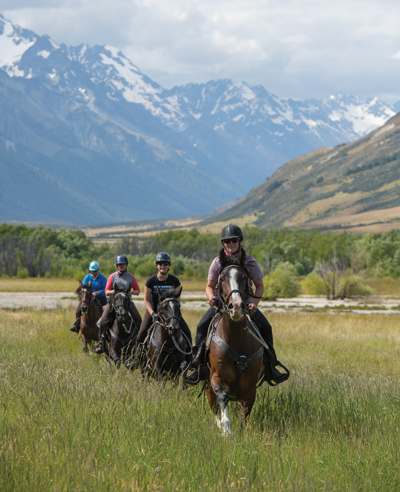 My New Zealand equestrian vacation all seems like a dream now. Today, as I write this, marks day 32 of my self isolation due to COVID-19, and I would give anything to be back in the saddle on Hannah, the Shire-cross mare that John Wall, owner of the New Zealand trekking company, gave me for the duration of my riding vacation in the destination of New Zealand.
It's funny how being without a cell phone and internet seemed like a luxurious break from reality back in January, but now it's my lifeline to the outside world, where a simple trip to the feed store seems like an adventurous outing.
If I were to pick a place to be transported to after this craziness is over, I would most definitely choose to be on Hannah, riding among the clouds on the South Island of New Zealand. It would be a welcome treat to revisit the five-day trek around the spectacular Lake Hawea, with a day of wine tasting in Wanaka followed by four days of climbing mountains on our steeds in the picturesque Ahuriri National Park.
If only I could go back to Hunter Valley Station where it all began, watching the horses graze in the paddock by the turquoise waters of Lake Hawea. Or to Boundary Hut, singing familiar songs with Angie Leckey, John's wife and business partner, as she plays her ukulele around the open fire.
Just thinking about the camaraderie with the other women, the daily laughter, and the scenes from the saddle during my riding vacation in the destination of New Zealand puts a smile on my face.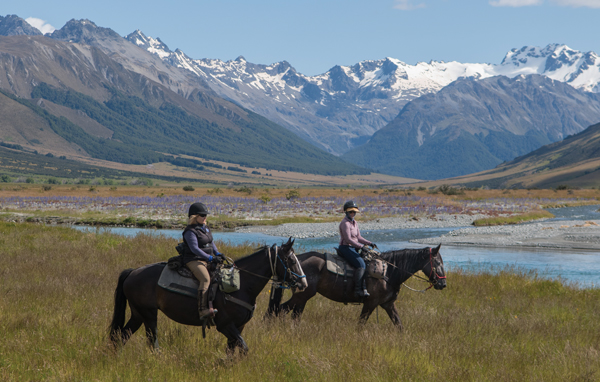 Saddling Up for Adventure
Adventure Horse Trekking N.Z., Ltd., has been in business for seven years now, and hosts approximately 25 rides per year with their team of 76 horses. Many of the horses, including Hannah, are sired by Supreme, their Shire stallion.
Their draft-cross breeding program produces what John calls "a traditional Kiwi farm horse," equally suitable for plowing or riding. Wall and Leckey are a welcoming couple, and I was honored to be a part of their first ride partnering with Wild Women Expeditions, a company that empowers all women through adventure travel of all kinds.
The Land of the Long White Cloud Ride begins at Hunter Valley Station, a working
farm and sheep ranch that sits on the banks of glacial-fed Lake Hawea, known as one of the most beautiful areas in New Zealand.
Our trek around the lake takes in jaw-dropping views from trails bordered with blooming manuka bushes, wild foxglove and purple lupins. For two nights in Boundary Hut, we live as the herdsmen do, without electricity or indoor plumbing.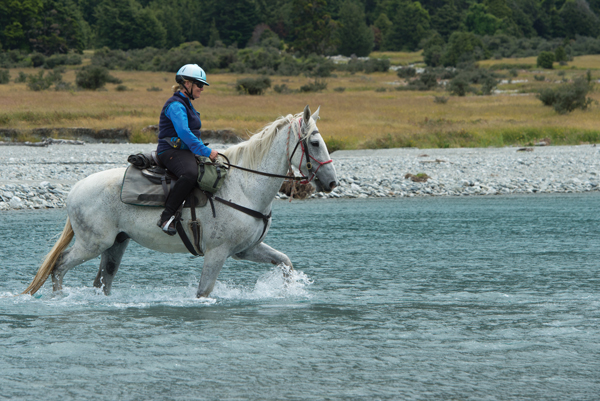 Megan Kelly, one of the wranglers and a professional chef, treats us to a home-cooked Kiwi-style Christmas dinner, which includes a shrimp and smoked salmon cocktail starter and a beef tenderloin with berry sauce main course. We know we are in good hands as we finish off this memorable meal with a Pavlova for dessert—a traditional New Zealand cake made of meringue, whipped cream and fruit.
Dinner is cooked in an outdoor kitchen and eaten at a large outdoor dining table underneath the mountains. As the sun sets and the full moon rises over the hills, we gather around the fireplace, singing familiar songs in unison to Leckey and her ukulele.
Riding Around the Lake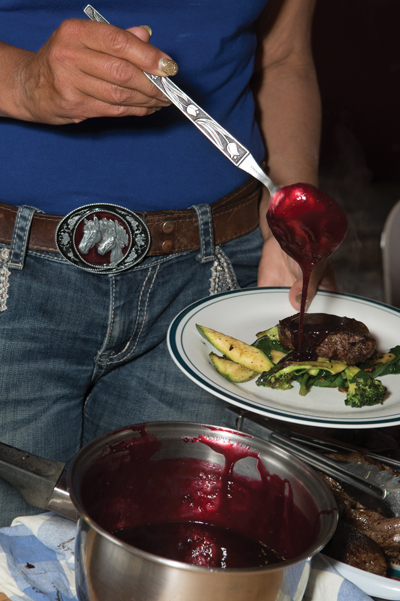 The ride to Dingleburn Station on the other side of the lake includes water crossings and lunching on a beach, where some are brave enough to swim. Swans float in the water and Merino sheep dot the countryside.
At Dingleburn Station, we welcome the indoor plumbing, hot showers, and company
of Nicky Mead and her family, who run the 17,000-acre farm of Merino sheep and Angus cattle. Dingleburn Station was only accessible by boat, horse or air until the early 1960s, when the road was blasted out.
Leaving Dingleburn Station, Nicky gives us a demonstration of one of her Huntaway dogs at work gathering a large flock of sheep. We pass a waterfall, which provides power for the station, and climb to the top of a hill to take in the glorious views. The road out hangs over a cliff wall with the shores of the lake below.
Winding Up the Trip
Our only day out of the saddle features wine tasting at local wineries near Wanaka. We visit Maude Wines, which recently won an award for their Riesling. I purchase a bottle of Basket Case at Nanny Goat Vineyard, made from handpicked bunches of whole grapes, including the stems.
The final portion of the ride transports us to the picturesque Ahuriri National Park and Birchwood Station. There, we ride up switchback trails for mountainous views, gallop through lupin-filled meadows, and cross large bodies of water.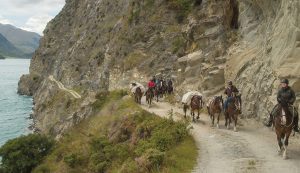 Lunches take place beside babbling brooks, on top of mountain peaks or beside a lake reflecting the surroundings.
It was a sad day when we said goodbye to the horses, hugged each other and went our separate ways, either beginning our journey home or continuing to see more spectacular sights of the island.
For me, it was a blessing to be able to take part in this wonderful journey, but now more than ever, I'm thankful for the opportunity. The Land of The Long White Cloud Ride is now most definitely on my list of must-do rides.
This article on New Zealand as a riding destination appeared in the June 2020 issue of Horse Illustrated magazine. Click here to subscribe!