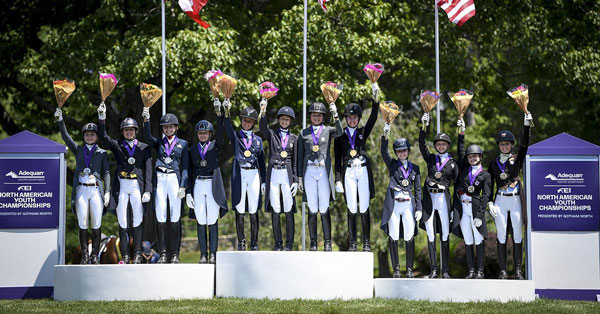 U.S. Equestrian is pleased to announce that the Great Lakes Equestrian Festival (GLEF) at Flintfields Horse Park in Traverse City, Mich., has been selected as the host venue for the 2020-2022 Adequan/FEI North American Youth Championships (NAYC) for the disciplines of dressage and jumping, pending final approval from the International Equestrian Federation (FEI). Competition is scheduled to run from August 4-9, 2020.
The NAYC offers an elite opportunity for rising talent to build confidence in both a team and individual championship competition environment, while representing their country under international FEI rules. The competition format, which emulates that of senior championship competition, is essential in the continued development of athletes, while ensuring future success for U.S. Equestrian's Olympic programs. Athlete applications for NAYC will open by January 1, 2020.
"The NAYC is annually one of our largest commitments toward the continued development and growth of our talented youth athletes. The Great Lakes Equestrian Festival at Flintfields has quickly become a premier venue in the U.S. and is a location well suited for this type of event," said Bill Moroney, Chief Executive Officer for U.S. Equestrian. "This competition is essential in order to continue building our Olympic programs as younger generations of athletes are able to gain the valuable experience they need to excel at the next level."
Top international competition organizer, Thomas Baur, who has previously managed dressage at NAYC, as well as other major championships, including the FEI World Equestrian Games™, will return to supervise competition needs for dressage participants, as Flintfields Horse Park welcomes the discipline back to the venue.
Great Lakes Equestrian Festival
GLEF will also host their annual summer series prior to the start of NAYC, which will feature multiple weeks of international jumping competition. The first series is set to begin on June 9 and continue through June 21, followed by a second series, starting July 1 and continuing through August 9, offering participating jumping athletes the opportunity to compete for consecutive weeks at the venue.
"The entire team at GLEF is thrilled to be selected as the new host of the NAYC," said att Morrissey of Morrissey Management Group. "We have been diligently growing and improving every year in order to reach our goal of standing out as a unique and all-encompassing championship venue, and to be selected to host NAYC for the next three years is the fruition of all of that hard work. This competition is such an important championship in the North American pipeline as young riders develop into our future stars, and we are excited to be a part of that legacy. Preparations are already well under way so that we can provide the best NAYC yet, and we look forward to welcoming all of the exhibitors and their families and friends for the first time in 2020."
GLEF has established itself as a popular summer competition destination, hosting multiple weeks of FEI-sanctioned jumping competitions, and quickly becoming a leading competition venue in the U.S. under the management of Morrissey Management Group. Traverse City, which is located two hours north of Grand Rapids, Mich., has continually been voted one of the best small town destinations by Trip Advisor and offers an array of summer activities and entertainment with its ideal location in Grand Traverse Bay on Lake Michigan.
Booking Your Accommodations
Accommodation blocks have been reserved at the Grand Traverse Resort & Spa, Delamar Hotel, Fairfield Inn & Suites Traverse City and the Great Wolf Lodge for competitors and their families, which will be available for reservation with a block code prior to the event. Vacation home rentals and additional group lodging options are plentiful in the area, and it is encouraged by management to reserve accommodations early. Booking the group rate for an NAYC Group is available online.
The NAYC Concierge Desk will be sponsored by Traverse City Tourism and can assist attendees in confirming reservations for special activities and dinners, as well as help facilitate other accommodation requests. Please contact concierge@mmg.management. For individual accommodations, please visit http://traversecity.bookdirect.net. For large group accommodations (8+ guest rooms or more), please call or email Beth Hobbs with Traverse City Tourism at 231-995-3912 or beth@traversecity.com.
Booking Your Flights
Direct flights from major airports, including Atlanta, Charlotte, Chicago, Dallas, Denver, Detroit, Newark, New York (La Guardia), Orlando, Phoenix, Tampa, and Washington D.C., are available into Cherry Capital Airport (TVC) through airline operators, such as American, Delta, United, Elite Airways, and Allegiant. Cherry Capital Airport is less than 10 miles from the main competition venue and is approximately a 20-minute drive.
Attractions Near the Adequan/FEI North American Youth Championships
Located on Lake Michigan and one of the Midwest's most picturesque towns, Traverse City offers an array of attractions and entertainment for all. Visit Sleeping Bear Dunes National Lakeshore for a pristine view of Michigan's lakefront coast, or try the many restaurants and local eateries that make for a charming downtown, which has been voted Midwest Living's Greatest Town in the Midwest. Learn more about Traverse City online.
Stay up to date on the Adequan®/FEI North American Youth Championships by following FEI NAYC on Facebook and Twitter. Use #FEINAYC.