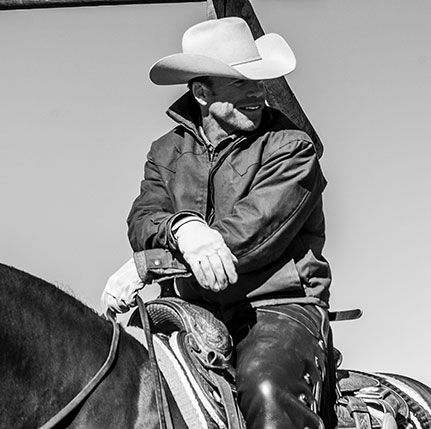 The new NRHA Reiner of the Year Award was developed by the National Reining Horse Association (NRHA) Hall of Fame Committee. The new award is supported by the Reining Horse Foundation (RHF). This new accolade allows NRHA to honor a person/entity who enacts a measurable, positive influence on the industry.
Taylor Sheridan is the inaugural recipient of the NRHA Reiner of the Year award. The NRHA Board of Directors voted to approve both this award and the candidate for recognition.
Sheridan, a horse enthusiast since childhood, started reining after his Hollywood acting and directing career took off. He elevated his commitment to reining by producing "The Last Cowboy," a reality-based TV program on Paramount Network. The show tied into August's Run for a Million event in Las Vegas, Nev.
The Last Cowboy
"The Last Cowboy" put reining center stage by sharing the journey of eight reining pros as they prepared elite horses for the Million Dollar Invitational, the main event during the Run for a Million. Both the television series and the event in Las Vegas brought reiners together in a unique way and exposed a new audience to reining.
"The Last Cowboy" highlighted the many positive aspects of the sport, from the family atmosphere to the care riders invest in their horses to maintain their welfare. It also brought some of NRHA's largest events to the attention of an expanded audience.
The enduring positive energy, new relationships and fresh perspective that Sheridan has brought to the sport of reining qualified him as the ideal recipient of this prestigious award.
"Taylor is a man of great vision and determination," said NRHA President Mike Hancock. "His tenacity and persistence helped drive the production [of The Last Cowboy and the Run for a Million] faster and farther than anyone else could have. We're so happy to announce that he's our Reiner of the Year."
NRHA Reiner of the Year Award Ceremony
Sheridan will be recognized alongside this year's class of NRHA Hall of Fame inductees during the NRHA Futurity at Sliders' Night Out, presented by Toyon Ranch on December 4, at State Fair Park in Oklahoma City. On this special night, RHF will recognize new and previous NRHA Hall of Fame inductees, as well as the Dale Wilkinson Lifetime Achievement Award recipient. It's a great time to celebrate the sport's legacy and bright future. For details on how to host a Hall of Fame table or become a major event donor, contact RHF Executive Director Leslie Baker at lbaker@nrha.com or (405) 946-7400.
About the NRHA
Founded in 1966, the National Reining Horse Association (NRHA) is a nonprofit association dedicated to promoting and encouraging the development of and public interest in the sport of reining. The focus is on developing and maintaining suitable standards of performance and judging and in providing a fun-filled, family-oriented atmosphere.