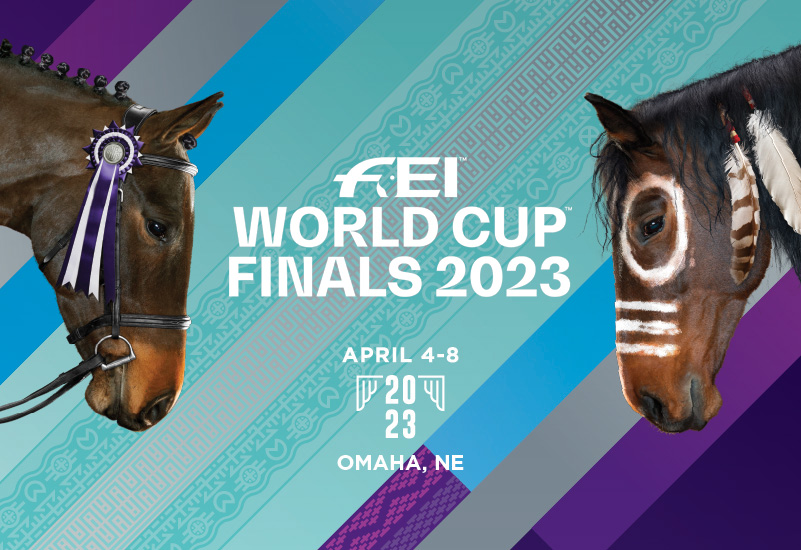 Move over Florida sunshine and California desert show circuits, the hottest place to be in equestrian sport will be Omaha, Nebraska, April 4-8, 2023, for the Fédération Equestre Internationale (FEI, the governing body for international equestrian sports) World Cup Finals. The best in the world in dressage, show jumping and vaulting will converge on Nebraska's biggest city to compete for bragging rights, ribbons and prize money. This will be the second time that Omaha has hosted the prestigious event and one of only a handful of times the Finals have been staged outside of Europe.
The horses will start to arrive in Omaha the end of March. Once obligatory quarantine arrangements and first horse inspections are completed, the horses will begin practicing in the main arena of the CHI Health Center (formerly known as the CenturyLink Center) located near the Missouri River on Tuesday, April 4. Competition kicks off on Wednesday afternoon, April 5, and finishes on Saturday evening, April 8. Find the full schedule
here
.
The World Cup Finals venue will also offer many shopping and dining options, as well as educational events, children's activities, and entertainment. A highlight of the event is the central location of the warm-up arena near the shopping and dining areas which allows attendees to watch their favorite equestrians working just a few feet away.
Dan Urban, World Cup Finals show jumping stable manager and Omaha native, extends his invitation to attend the finals and enjoy what the area has to offer, "Omaha is a sports town! We have played host for the College Baseball World Series, the U.S. Olympic Swim Trials, the NCAA Final Four, and of course, the 2017 FEI World Cup Finals. As such, we know a thing or two about hosting quality events. The venue for the World Cup Finals provides a unique setup for the whole event where the stabling, warm up, shopping, and competition all take place under one roof, and our downtown area is a vibrant scene with excellent restaurants, shops, museums, and more. We're bringing the best in the World to town for a thrilling competition, but we're also excited to show off what Omaha has to offer."
Tickets are still available and a trip to the very interesting, sometimes quirky, and always super-fun city of Omaha is a spring break well worth taking! Purchase tickets here.
New This Year
Omaha first hosted the FEI World Cup Finals in the spring of 2017 to rave reviews from competitors, spectators and officials, many who could not have located Omaha on a map before that time. While this year's finals will include the things everyone loved before, there are some new things to look forward to as well.
Top of that list is the addition of the FEI World Cup Vaulting Finals to the 2023 program with competition for individual male and female athletes and a vaulting pair's competition called "pas-de-deux." Vaulting is an interesting mix of gymnastics and artistry performed on the back of a cantering horse at the end of a lunge line. As the sport's name suggests, the human athlete jumps onto the back of the moving horse and then performs a routine of required and unique moves in front of judges. Then finally, they gracefully dismount in a similar fashion to that of a gymnast exiting a balance beam.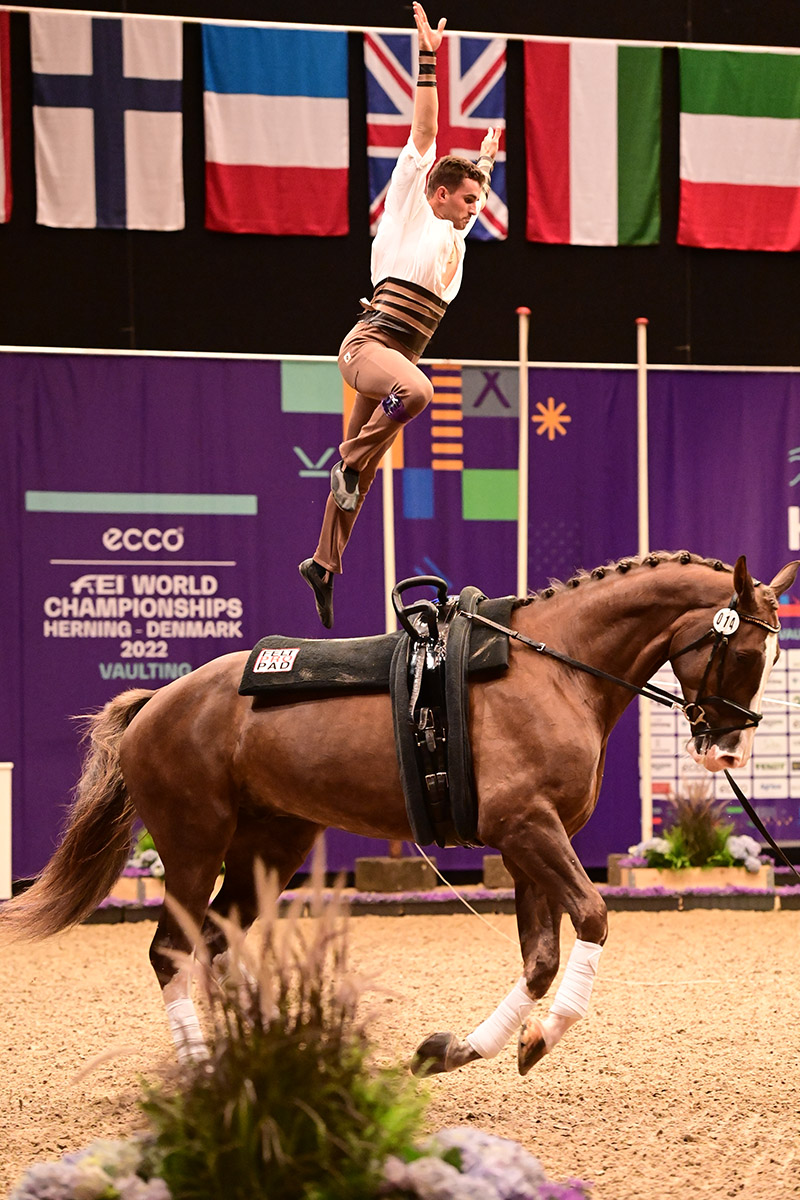 Mary McCormick, a decorated World Championship US vaulter will be in Omaha as a lunger for the Austrian vaulters among other duties there. She shares her thoughts on adding vaulting to the World Cup lineup, "The World Cup Finals is one of the most prestigious events in all of horse sports and everyone competing here is an absolute master of their craft. Anytime you bring the best of the best in multiple disciplines to one venue, the excitement is guaranteed. There will be the boldest, bravest, most talented athletes and horses in all the world under one roof ready to give their all and put on a spectacular show. Hold on to your hats, equestrian fans, this is going to be an incredible ride."
Also new to the 2023 Omaha World Cup schedule is a full schedule of educational clinics and demonstrations. Two featured speakers are Olympic show jumping medalist, author and television sports commentator Melanie Smith and renowned animal scientist and author Temple Grandin.
According to World Cup Finals Media Liaison Jennifer Wood, Friday, April 7, will be "Meet the Athletes" day, "We will have the riders in the trade show at the Omaha Equestrian Federation merchandise booth taking photos and signing autographs for fans. The full schedule is to be determined, but we anticipate all of the top riders being there from all three sports since competition doesn't start until the [dressage] freestyle in the evening."
Omaha 2023 has partnered with local schools offering field trips for students during the event. New this year will be STEM activities such making working carousels featuring different breeds of horses, using math to estimate how much to feed a horse, and history lessons about the role of horses in Native American tribal culture. Horse breed demonstrations, hands-on lessons about horse care, a miniature jumping course for kids, and other educational displays are planned as well.
Linking to the heritage of the region, the Omaha Finals has partnered with the Bluebird Cultural Initiative in presenting "1723: The Horse Tribes Of The Great Plains" as the cultural theme. World Cup and Omaha Equestrian Foundation Chairwoman Julie Boilesen explains, "We're flashing back―300 years ago―to a significant moment on the Great Plains when horses were transforming Native American livelihood and culture. Horses became revered and honored members of tribes, responsible for providing security and for enhancing trade and commerce. We'll be sharing those fascinating stories throughout the World Cup. We hope fans will enjoy listening and learning from Native American orators, musicians, historians and creatives as we celebrate the horse's heritage and significance in this region."
Dressage
"We are looking forward to see once again the top European dressage horses compete in the United States and anticipate some incredible competition in Omaha," says World Cup Dressage Finals Dressage Event Director Thomas Baur of Germany.
Seventeen competitors are set to compete in dressage in Omaha over two days of competition, the Grand Prix test on Wednesday, April 5 at 1:15 p.m. Central US time and the Grand Prix Freestyle on Friday, April 7, at 6:15 p.m. Central. Total prize money for the dressage competition is 300,000 Euros (25,000 for the Grand Prix and 275,000 for the Freestyle).
The breakdown of competitors from the various FEI Leagues is: seven from Western Europe; two from the Central Europe; none from the Pacific; three from North America; one from a non-FEI league national foundation; three extras selected by the FEI, and the title defender from last year (Jessica von Bredow-Werndl and TSF Dalera BB from Germany, who were also the Tokyo 2020/21 Olympic Champions).
Horse and rider pairs from North America are Anna Buffini, San Diego, California, and her 15-year-old Hanoverian mare Davinia la Douce, Steffen Peters, San Diego, California, and Akiko Yamazaki's 15-year-old KWPN gelding Suppenkasper, and Alice Tarjan, Oldwick, New Jersey, and her 10-year-old American-bred Hanoverian mare Serenade MF.
Check out the Dressage Definite Entries list for Omaha.
Show Jumping
Event Director for the Longines FEI World Cup Show Jumping Finals Jon Garner says that it is hard for him to believe it has been six years since Omaha first hosted the Finals and shares his thoughts on this year's competition, "I think for the jumping competition there is a different vibe this time around. Riders were skeptical in 2017, which I understand, so some opted not to make the trip. That is not the case this time around, I really feel the city and the event is truly 'on the map,' so we will have absolutely the best of the best coming."
He lists just a few of the key players in this year's event, "Martin Fuchs from Switzerland is looking to defend his title from Leipzig, Germany, last year and McLain Ward will be fired up to win again on home soil like he did in 2017. The course design team led by Bernardo Costa Cabral [Portugal] and Technical Delegate Alan Wade [Ireland] have been tirelessly preparing the courses. We are in for a dandy!"
A total of 42 riders and 47 horses from 19 countries are on the Longines World Cup Jumping Finals Definite Entries list for Omaha. The breakdown of entries by FEI Leagues is: 19 from Western Europe, 14 from North America; three from the Arab League's Middle East Sub-League; two from Central Europe, and one each from the Australian, Eurasian and New Zealand Leagues.
The first round of jumper competition for the Omaha Finals is Wednesday, April 5 at 7:15 p.m. Central US time. Day two of jumper competition is Thursday, April 6 at 7:15 p.m. Central. And, the final round, which will close out the Omaha FEI World Cup Finals, is Saturday evening, April 8, at 6:15 p.m. Central. Total prize money for the jumping competition is 550,000 Euros (100,000 for the top rider in the first class, 150,000 for the winner of the second and 300,000 for capturing the win in the final class).
Qualified horse and rider combos from the East US North American League include Ailish Cunniffe and Vivaldi du Theil, Nicholas Dello Joio and Cornet's Cambridge, Hunter Holloway and either Eastern Jam or Pepita con Spita, Devon Ryan and Eddie Blue, Aaron Vale and Prescott, and McLain Ward and Callas. Qualified from the West US are Simonne Berg and Cooper, Elisa Broz and Kardenta Van 'T Meerhof, and Natalie Dean and Acota M. The Canadian representative in Omaha will be Erynn Ballard and either Gakhir or Hero.
Riders not from North America, but who declared the North American League as their competition circuit for qualifying are listed as "North American extra qualifiers" by the FEI. They are: Santiago Lambre, Brazil, riding Chacco Blue II; Daniel Coyle, Ireland, on Legacy, and Daniel Blumen, Israel, on either Gemma W or Ladriano Z.
Check out the Jumping Definite Entries list for Omaha.
Vaulting
Vaulting joins the line-up for the Omaha Finals after the qualifying system was revamped following the 2019 season. The new system encompasses a year-long, global competition schedule rather than just a winter European show series as with the old system. This now allows for more international participation in the World Cup Vaulting Finals.
Additionally, there are now two different tests that the individual vaulters perform during the Finals, a technical test and a free test. Before, both tests were the same. The pas-de-deux vaulting pairs will perform two free tests. Vaulting World Cup Finals competition in Omaha will take place on Thursday, April 6, at 1:15 p.m. Central US time and Saturday, April 8, at 1:15 p.m. Central US.
According to a news release from the FEI, a plane has been chartered to bring six vaulting horses from Europe, five from Germany and one from Italy. The balance of the Omaha vaulting competition horses will be supplied by the USA. It is important to note that the vaulting horse also figures into a vaulter's overall score. McCormick explains, "The horse score accounts for twenty-five percent of the total round score. The horse is judged on their quality of movement and submission. The lungeur plays a critical role in ensuring the horse performs at their best and also receives a score for their correct use of aids and precision of the entry and salute."
FEI rules say that if they meet the eligibility requirements, the highest ranked individual men and women athletes on the Vaulting World Cup Individual Standings list on December 31 of the year preceding the Final will qualify out of three regions: 1-Africa, Asia, Oceania; 2-North and South America, and 3-Europe. And, the four highest ranked Pas-De-Deux athletes will also qualify, regardless of region, along with the 2022 World Cup Vaulting Champions.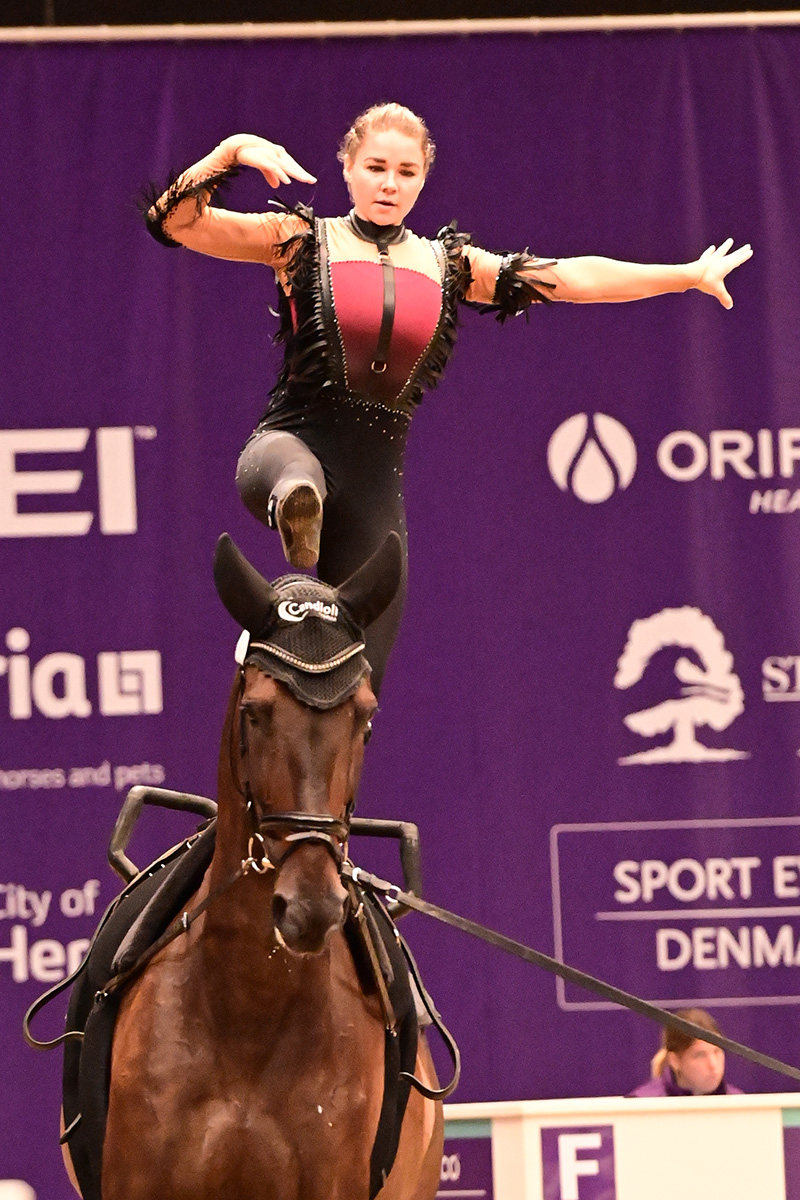 The USA's Kimberly Palmer, 28, Half Moon Bay, California, comes to the Omaha Finals off a bronze-medal win in last year's World Cup and a fifth-place standing in the 2022 World Championships in Denmark. Fellow American Daniel Janes, 27, Moss Beach, California, will compete for the USA in Omaha in the individual men's division and brings experience from the 2018 FEI World Equestrian Games and the 2022 World Championships. Both Palmer and Janes will vault on Romeo with Christoph Lensing lunging.
Canada's Averill Saunders, Sundre, Alberta, comes off a successful junior career and competed in last summer's Herning World Championships. She will be vaulting aboard Max 4060 with Sara Kraus lunging. Neither the USA nor Canada qualified a Pas-de-Deux entry.
Along with the North American entries to cheer for, spectators will want to watch for the top vaulters in all three categories (men's, women's and pas-de-deux) from last year's World Championships, the German contingent. Other talented vaulters from Austria, Colombia, Denmark, Hungary, Italy, the Netherlands and Switzerland will be in Omaha too. A total of $10,100 US in prize money is up for grabs in vaulting ($3,050 each for individual male and female vaulting competition and $4,000 for the pas-de-deux competition).
Check out the Vaulting Definite Entries List for Omaha.
Oh So Interesting Omaha
The city has many family-friendly activities in addition to the pending equestrian action at the CHI Health Center. Known for sports, art and culture, a world-famous zoo, an expansive botanical garden, and many interesting museums, Omaha is a river town with the mighty Missouri River separating the eastern city from Council Bluffs, Iowa, just across the water.
Not far from the World Cup action, visitors can stroll along the beautiful river greenway, stop at the National Park Service Lewis and Clark Expedition Visitor's Center, and walk across the 3,000-foot Bob Kerrey Pedestrian Bridge, affectionately known as "Bob the Bridge." Look under the bridge to find Omaha's beloved troll Omar and take a selfie with the benevolent blue guy. Not far from the river, the city's old warehouse district has been lovingly refurbished into a vibrant shopping and dining area called The Old Market. The Henry Doorly Zoo and Lauritzen Botanical Gardens are also along the river.
Omaha is also the home of Boys Town, a home for underprivileged youth made famous by the 1938 movie of the same name staring Spencer Tracy as Father Edward J. Flanagan and Mickey Rooney as one of the troubled young men. A National Historic Landmark and still a working sanctuary for youth in need, the current Boys Town campus has a visitor's center and offers tours of the grounds.
Omaha also offers many culinary delights. The Reuben sandwich was invented there by a local hotel owner and the city is famous for great steaks at reasonable prices. A wide variety of ethnic foods and a number of yummy ice cream parlors and candy shops are other foodie options. Local vineyards and craft breweries and distilleries offer tasting opportunities too.
The city consists of thriving neighborhoods each with their own unique style and attractions. One such neighborhood, Aksarben (Nebraska spelled backward), was home to a race track of the same name. Triple Crown-winning Thoroughbred stallion Omaha spent his final years in Nebraska and was buried at the race track. A marker on the former track site displays a plaque honoring the Triple Crown Champion.
Fans of history have many choices in Omaha. From the restored main train station that houses the Durham Museum complete with talking bronze statues of train travelers, to the Mormon Trail Visitor's Center in Florence, to the El Museo Latino in South Omaha, and many other local historic sites, one can delve into the past for hours. For a free visitor's guide and more tourism information, go to the city's tourism bureau site.
Omaha Fun Facts
Founded in 1854, the city is named for a Native American tribe. The 2020 census lists the population as 486,051 and the city covers 146.27 square miles.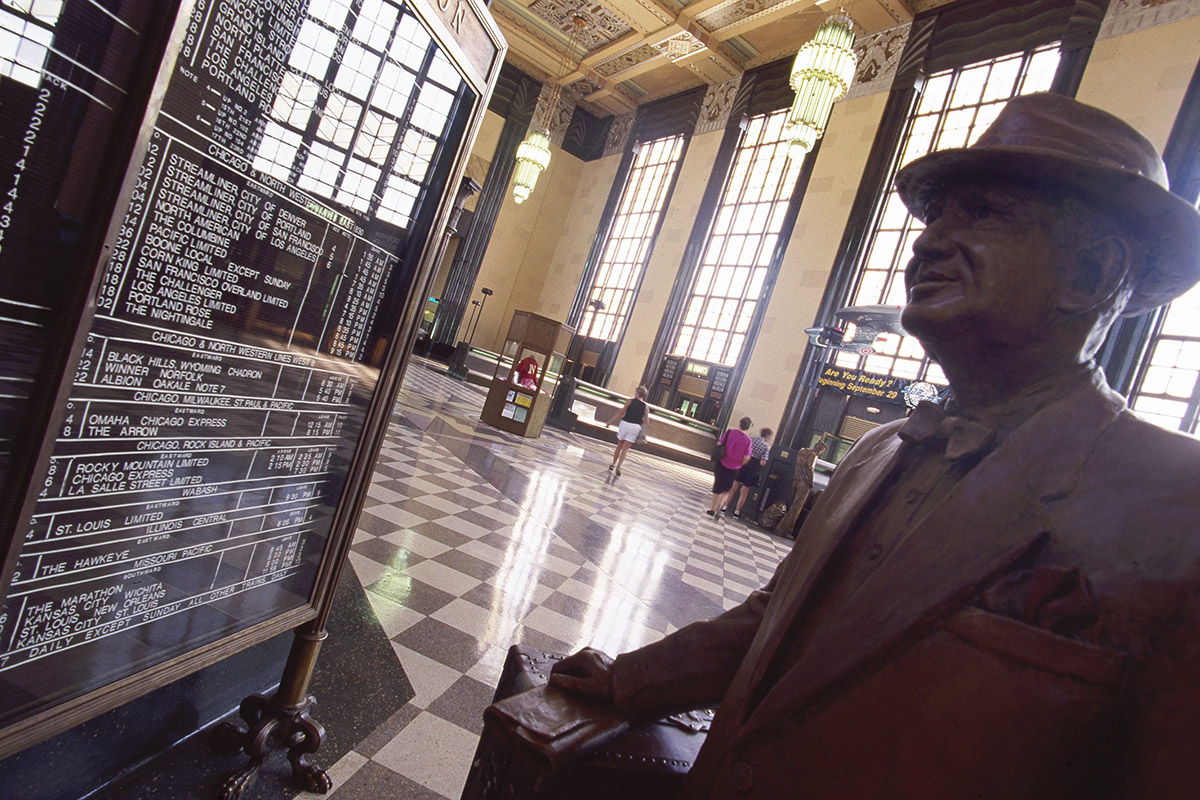 Omaha is home to four Fortune 500 companies: Berkshire Hathaway (#3), Warren Buffett's multinational holding company; Union Pacific Railroad (#141), the largest U.S. rail network serving 23 Western states; Mutual of Omaha Insurance (#337), known for its popular "Wild Kingdom" TV and now web series, and Kiewit Corporation (#339), construction, engineering, and mining and one of the world's largest employee-owned companies.
In addition to the Reuben sandwich, other food items developed in Omaha include the cake mix, the TV dinner, Kool-Aid drink mix, and butter brickle ice cream.
Famous people from Omaha include the aforementioned billionaire Warren Buffet, dancer and actor Fred Astaire, the 38th US President Gerald Ford, actors Henry and Peter Fonda, human rights activist Malcolm X, actress Gabrielle Union, and news anchor Paula Zahn, to name just a few of hundreds. Television personality Johnny Carson was born in Lincoln, Nebraska, but started his career in Omaha.
How to Watch the World Cup
If the trip to Omaha to witness history in the making in person isn't possible, then fans can watch all of the action (livestream and replay on demand) on FEI TV via the Clip My Horse service which requires a paid subscription; sign up here. CBS Sports Network will also air a highlight show after the fact on Thursday, April 13 from 7-10 p.m. Eastern US Time.
Find all of 2023 Omaha FEI World Cup the news, schedules, results and other information at https://omaha2023.fei.org.
This article about the 2023 Omaha FEI World Cup Finals is a web exclusive for Horse Illustrated magazine. Click here to subscribe!