For a homeless horse, entering the realm of Pure Thoughts Horse and Foal Rescue in Loxahatchee, FL sparks a magical transition: a starving horse becomes well-fed; a neglected horse becomes cherished; an unwanted horse becomes part of a family. Jennifer Swanson and Brad Gaver have rescued, rehabilitated and re-homed close to 2,000 equines over the past ten years. I'm lucky to be able to say I've known them for most of that time. I have seen it with my own eyes–for horses at Pure Thoughts, the grass really is greener.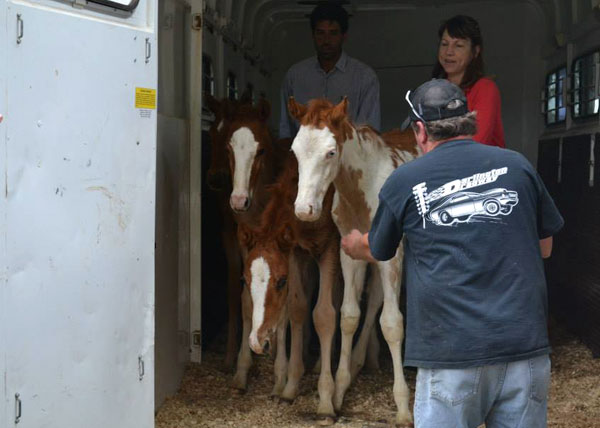 At Pure Thoughts, Brad (in the back) leverages his insight and good horse sense to heal and train horses (and people) creating lovely unions. Jennifer runs the show, once rescuing 163 horses in one night after a show down with meat buyers at an auction in Ohio.
It's been a while since I've been down to Florida to visit them, but thanks to Facebook I can peek in on Brad and Jennifer's world on a daily basis. Right now they have a paddock-full of nurse mare foals tended to by a flock of good-hearted caretakers. The five babies on the property include a blue-eyed paint named Handsome Lake (he's six weeks old) and a gorgeous 10-week old roan named Santana (10 weeks old). When they arrived at Pure Thoughts, they transitioned from orphaned foals to frolicking friends with full bellies.
Right now, Pure Thoughts is focused on caring for the babies, but also struggling to pay for their keep. Sloshing buckets of creamy milk replacer for the tiny herd costs about $50 a day. And more babies are on the way from the same Kentucky farm where these five came from. The place farms out the dams of these babies to nurse other foals for hire. In addition to the five babies already at Pure Thoughts, three more were born last week and three others are waiting for pickup.
"Most of all," Brad says, "We need appropriate adoptive homes for these guys, like, yesterday."
For more information about Handsome Lake, Santana or any of the many horses at Pure Thoughts, check out their website at www.pthr.org. Click here to visit them on Facebook, email FLTRP@PureThoughtsHorseRescue.com or call Brad Gaver at 561-951-2108.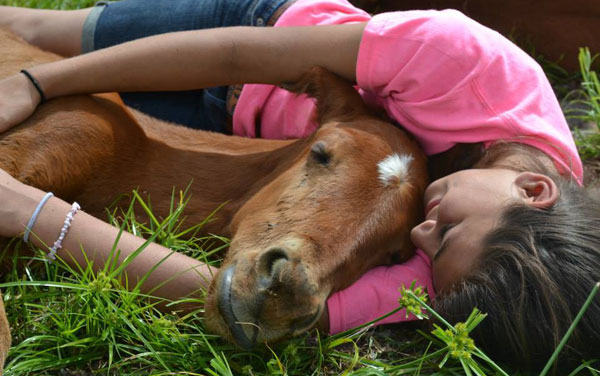 Once a horse arrives at Pure Thoughts – no matter whether he's hours old or decades old — he's evaluated, rehabbed if necessary, trained, loved, and tended to by a squad of enthusiastic volunteer riders and, hopefully, united with a happy adoptive home.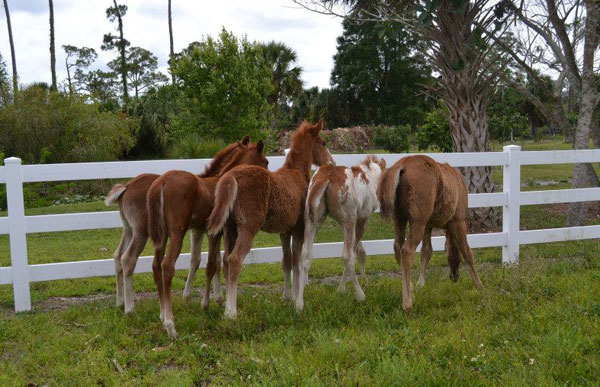 I love sharing stories about Pure Thoughts' great work and the wonderful horses they shepherd.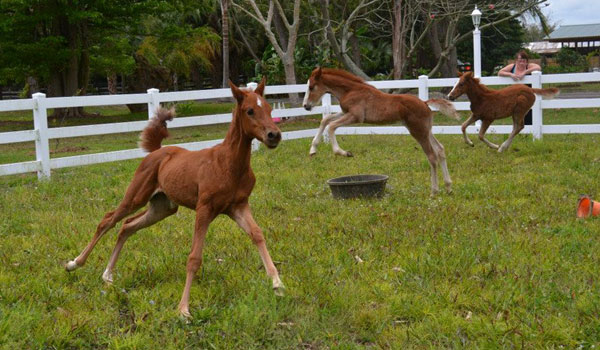 I've never met two people who "walk the walk" more than Brad and Jennifer when it comes to hard work and dedication to keeping horses safe. Their goal is to put an end to horse abuse, neglect and horse slaughter in the United States.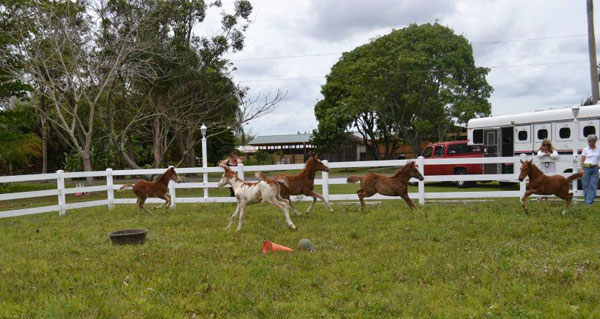 The American Horse Council's Unwanted Horse Coalition (UHC) estimates that there are about 170,000 unwanted horses in the United States. Rescue organizations and adoptive families dedicate their lives to providing a safety net for homeless horses (or worse: slaughter-bound horses) of every size, color and breed.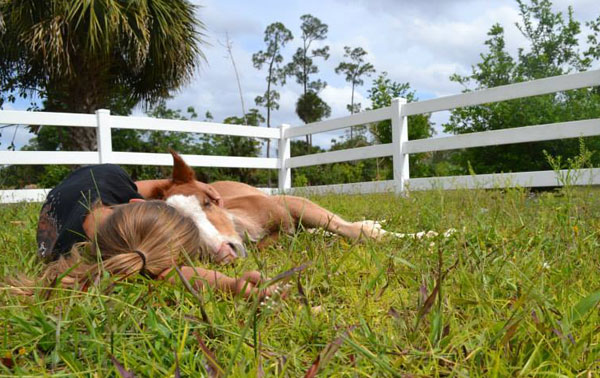 All photos courtesy of Pure Thoughts Horse and Foal Rescue.
Back to Over the Fence