According to Alivio Farms lead trainer Tina Ann Legno-Cope, cultivating and strengthening balance in your horse provides an opportunity to strengthen any weakness.
I love the idea of a longe lesson, so when I saw the flier about Tina's clinic — and talk of classical training — hanging on the board at the barn a few weeks ago, I signed up. But with houseguests, deadlines and an insane amount of Little League baseball on the calendar at my house, the clinic also turned out to great escape. And event that had nothing to do with anything but me and my horse.
I have to be somewhere! That's what I sang over my shoulder as I ran out the door at 7:30 am on Sunday with my boots in one arm and a bag of carrots in the other.
During my lesson, we got right to work with a cavesson and a longe line. Taff (my adorable, 13-year old Section D Welsh Cob aka Glenhaven Atherton) has a lot of natural balance. Tina quickly got to work on his habit of crossing over his inside hind leg and falling in on the circle. With her help I was able to start to teach him to carry his weight in a more balanced fashion. I was amazed how quickly he lined up within an hour lesson.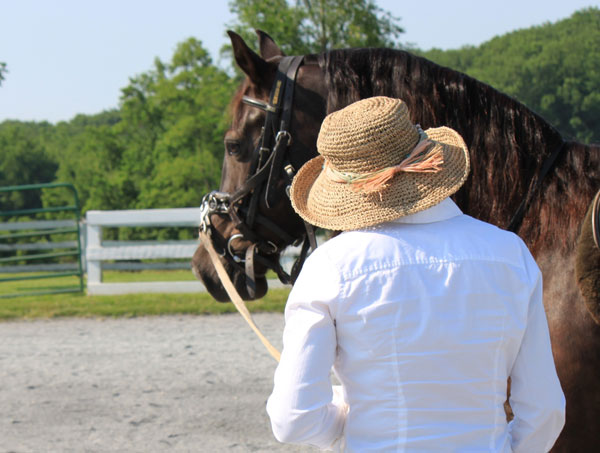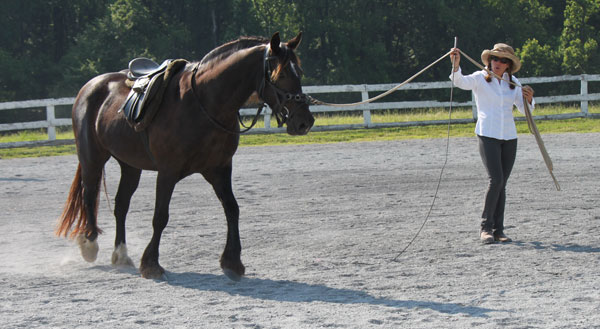 In addition strengthening weaknesses, Tina says teaching a horse how to carry his weight correctly on the circle also gives the rider a chance to develop the right feel. "All the sudden you're riding a horse that's a wave, not a board," she says.
She also believes that the more balanced a horse is, the saner he is. I think the same goes for me. A lesson with Tina helped me find a bit of balance (and sanity) both at home and in the saddle.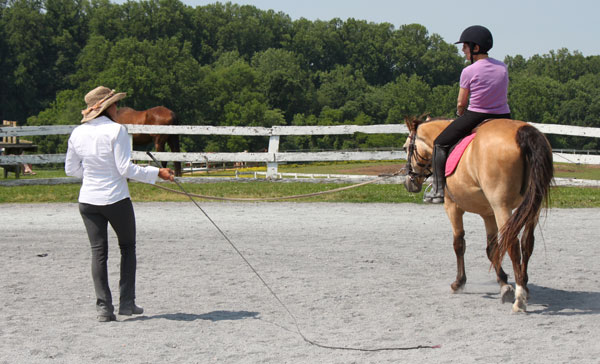 This rescued Mustang pony named Ed (above) boards at the same farm with my horse. In the past, poor Ed has suffered from such bad chronic lameness issues that his owner had been advised – in at least one case – to put him down. She spent thousands of dollars trying to fix his lameness problems – from seeing the best lameness specialists to hydrotherapy and many other treatments. Nothing worked. Then she found Tina. After three months with the trainer, Ed relearned how to move. He learned balance from the feet up. Guess what. He's not lame anymore.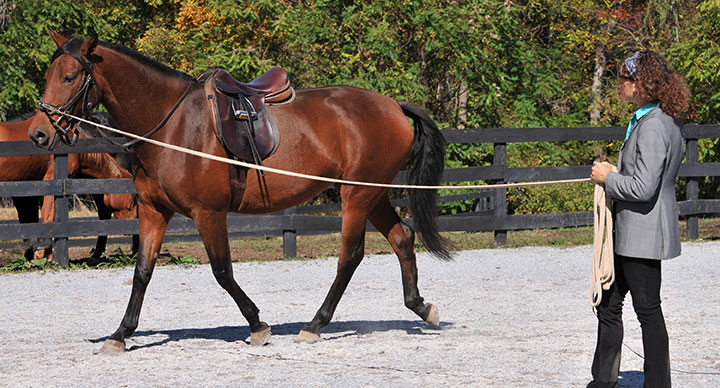 Tina Ann Legno-Cope has worked around horses for her entire life and has been training riders for 20 years, the last ten of them while she was studying until a long-time student of Modern-day classical training master Nuno Oliveira. Photo: Gregory Tinius