My family has a long history with carriage horses. My grandfather had a barn full of them. Once he drove his two favorite horses (Percheron work horses, Benny and Betty) all the way from his farm in New Jersey to Pennsylvania, pulling a covered wagon full of kids including my mother. As for me, I drove my first pony cart at about nine years old. I remember the moments vividly, trotting the pony through that small town to the beat of a proud clip clop with the reins in my hands, and taking in pony smell with every breath. What could be more fun?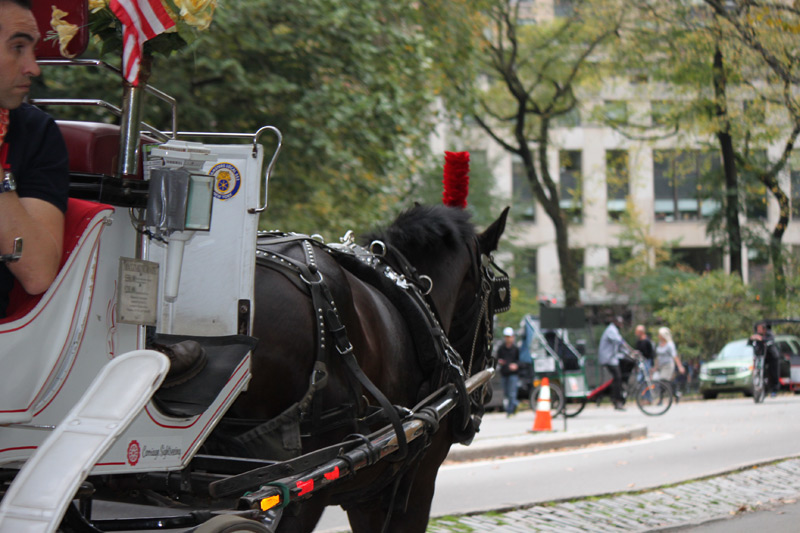 Over the last few years I have followed the headlines about the proposed
ban on New York carriage horses
from a distance. The
disturbing pictures
in the news of hot, worn out carriage horses dying on the streets of New York are not pleasant. I was prepared to shun the jerks who allegedly enslave the New York carriage horses then send them to slaughter, but over and over, I wondered, is this the whole story?
At first, when I heard about this video narrated by actor Liam Neeson, (as much as I like him as an actor) I thought how arrogant – to suggest that we keep carriage horses in abusive conditions for the sake of a tradition. But after actually watching the video, I was convinced that there is another side to the story. The people seemed nice. The horses seemed well taken care of. There was a lot of love for the horses and happy retirement farms. I wondered about sports like horse racing that occasionally (often?) beat horses to a pulp, dispose of them and then just keep on keeping on.
I was in New York this weekend and eagerly made my way up to Central Park to get an eyeful of the carriage horses myself. What I found surprised me. Yes, it was a pleasant 70 degrees out and definitely not hot, but what I saw were draft-crosses at work – more like "ho hum" than unhappy slaves. No sweat, no heavy breathing, no uncomfortable rubs or signs of agitation, just gleaming horses putting one foot in front of the other with bright-colored feathers in their head stalls. With their heads relaxed and stretched forward, they walk a paved circuit touring Central Park, then turn on to busy 59th Street where they either take a break, pick up new passengers or head back to their stable not far away over on the west side.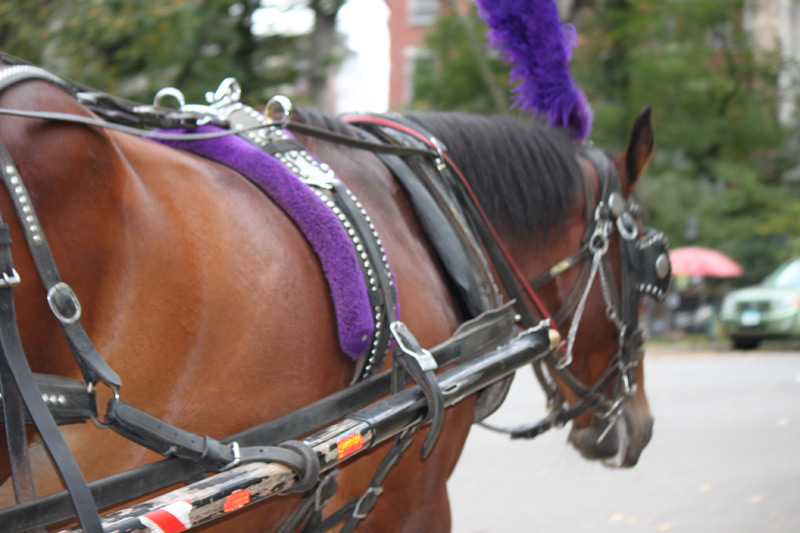 Perhaps my experience would have been different on a hot, sweaty summer day (they do have temperature restrictions, though, like in any sport that involves animals – it's up to the caretakers to take good care). I do see a few more important reasons against carriage horses in NY here. So for today, while I enjoyed the sound of the clip clop and a whiff of horse hair on the breeze, I will continue to ponder both sides of the fence on this debate.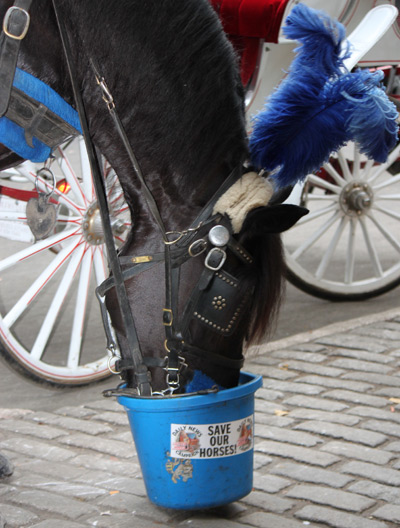 Back to Over the Fence