My obsession with holiday cookies started when I was in high school. Over the years, I have made, decorated, packaged and delivered herds of boxes of holiday cookies. I have a collection of copper cookie cutters from moose to chickens to owls, dogs, cats, X's and O's, a giant dragonfly, flowers, birds and even a Martha Stewart giraffe and corresponding elephant and crocodile (safari theme).
I also have a delightful stable full of cookie cutter horses, ponies, a donkey and one funky-looking draft (an antique). Oh yeah, and a sleigh. And a perfect copper barn. One year I made cookies for all of my barn friends – they each got one huge cookie that had been decorated like their own very horses – merry buttercream bays, paints and chestnuts. Another year I made a herd of snow ponies in chocolate buttercream and white sprinkles and delivered them to a friend on Christmas day.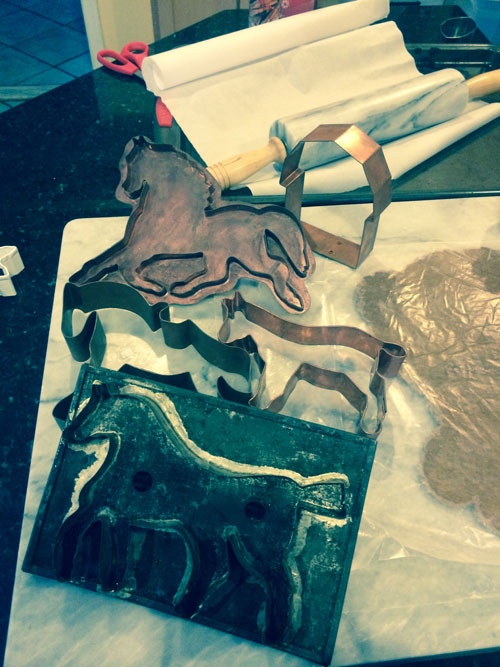 On Monday I made a trip to an old store in the Maryland suburbs that sells cake-decorating supplies. My older son selected a football-shaped cookie cutter and one shaped like a men's tie. His younger brother debated which color sprinkles he wanted to buy. As usual, my thoughts strayed to horses. I bought decorations for the horses I would soon bake. We hustled home to make cookies.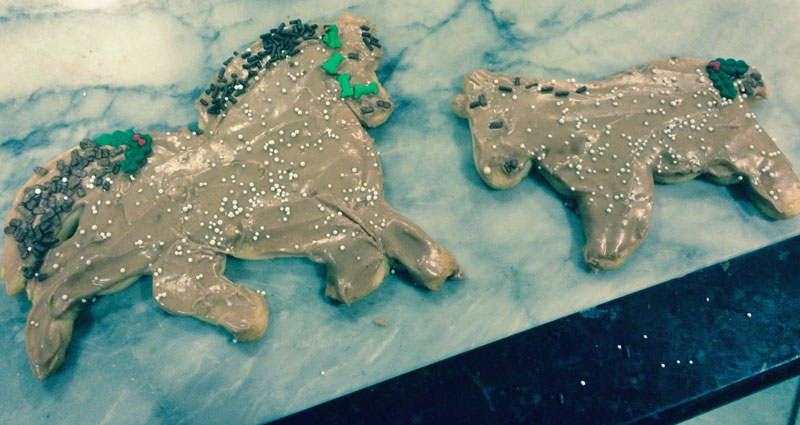 Like I was visiting with old friends, I dug through my box of cookie cutters, selecting a favorite cresty, high-stepping pony and the humble copper donkey. After the flour and the sugar were mixed and the baking was done, I made frosting. To get my dark bay just right, I mixed a few melted Hershey kisses into the buttercream and picked at a pile of chocolate sprinkles. Then I dressed them for the holidays with some special sugar holly leaves from the store. Can you hear the festive clip clop of their sweet sugar-cookie hooves?
Back to Over the Fence