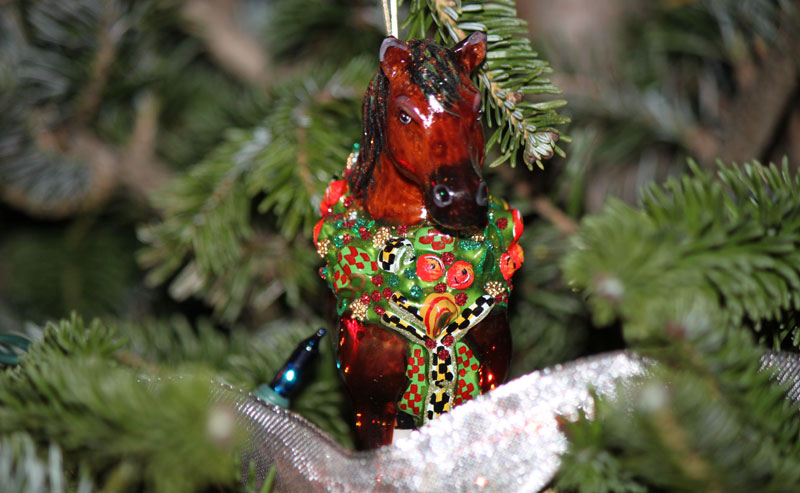 If you're in Wellington, Florida – the equine capital of the world this time of year – it's perfectly normal to walk into a department store wearing britches and boots and smelling like the barn (even carrying a dog into Nordstrom is A-OK). Sadly, I'm not in Wellington this winter. In Washington, DC (where I sit inside on a cold, rainy day without a single palm tree or drop of sunshine in sight) – riding boots stick out like a sore thumb, at least in a department store.
Nevertheless, on my way home from the barn on the day after Christmas, I treated myself to a once-a-year-splurge. It's my own holiday tradition: shopping for half-price holiday ornaments at a posh department store — just me and the sugar plums.
My paddock boots strode lively and quick past racks of high fashion and took the up escalator to the home department. It was as if a magical force pulled me past the glistening Santa ornaments, half-price boxes of fancy chocolates, Waterford crystal snowflakes and expensive sparkling stockings, table runners, and holiday candles. I made a perfect square stop in front of a table covered in sturdy, beautifully painted boxes.
I opened one and stopped breathing for a second. Nestled inside lay the most beautiful ornament, ever. The adorable mouth-blown, hand painted glass pony blew my mind a little bit. His eyes — how they twinkled! His dapples how merry!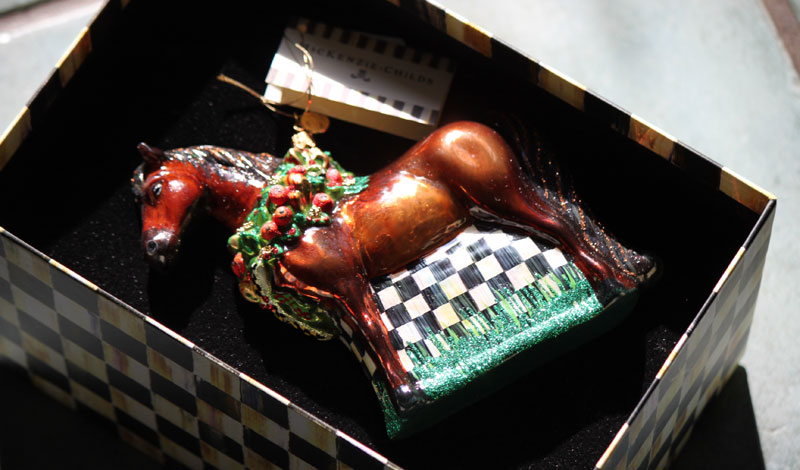 After a long pause to absorb it all, I snuggled the pony back into the velvet interior of his box. I cradled it in my arms as I perused the other ornaments, but didn't see anything as wonderful as my Christmas pony treasure. A sales lady wrapped him up with care and I put him away in a special place.
It's time for a long winter's nap, sweet pony. I can't wait to see you again next year.
Back to Over the Fence