Doug Bruce is a South Florida "R" judge who has specializes in hunters and equitation since 1997. He's also got a soft spot for unleashing the hidden talents of off-the-track thoroughbreds. This year, he's combined his experience as a trainer on the show circuit (local shows all the way to the Winter Equestrian Festival in Wellington) to showcase the hidden talents of some very special "diamonds in the rough" at Pure Thoughts Horse & Foal Rescue In Loxahatchee, Florida.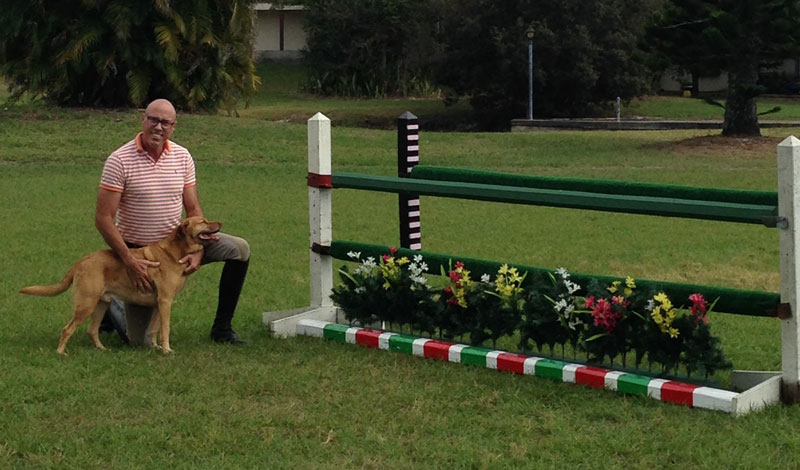 You could say Bruce is in the business of scintillation. The verb "scintillate" means "to emit flashes of light; to sparkle." He helps rescue horses do just that.
It all started when Doug adopted a German Warmblood named Tommy Boy from Pure Thoughts. Impressed with the hard work and dedication of Pure Thoughts co-founder Jen Swanson and Brad Gaver, and the quality of horses he found at their rescue facility, he went back. A friendship sparked between the three of them. Doug offered to train and show a few horses. Maybe he'd find a good deal on a nice horse for one of his students along the way. It was a win-win-win.
"I figured they are doing a really good thing, so let me help," Doug says. "I wanted to help these thoroughbreds get a new life and help Pure Thoughts at the same time." Income from the sale of these polished show horses could help the rescue save other horses.
These days, Doug can be found teaching at Pure Thoughts a few times a week. Pure Thoughts is calling the horses he works with their "Diamonds." Some of Doug's students along for the ride have turned out to volunteer at the rescue, too. "I love to teach and train" he says. "I love thoroughbreds and I love to see them have a resurgence in the hunter world. Just because it's a rescue horse, does not mean it's not a horse of worth."
Earlier this winter, Doug and his students showed five rescue horses at a local rated show in West Palm Beach, including a beautiful mover and great jumper named Hasty Red, a 6-year old, 16.2 gelding. Bruce is sure he'll make someone a nice equitation horse.
For more information, contact Doug Bruce at Dougbruce4700@yahoo.com or call Brad Gaver at 561-951-2108
Check out Pure Thoughts' adoption page at www.pthr.org.
Read more about Pure Thoughts Horse and Foal Rescue >>
Back to Over the Fence