It's snowing like crazy here in the Mid-Atlantic, but I'm keeping warm with thoughts of sunny days and sweaty ponies. Pony racing is a big deal in Maryland. Young catch rider Colin Smith says, "It's all about fun and going fast with lot of wind in your face when you're galloping around the track. It can be a flat race or over fences. It's an exciting feeling with all those galloping feet. Sometimes you can hear the crowd cheering, if they're loud enough to overcome all the galloping."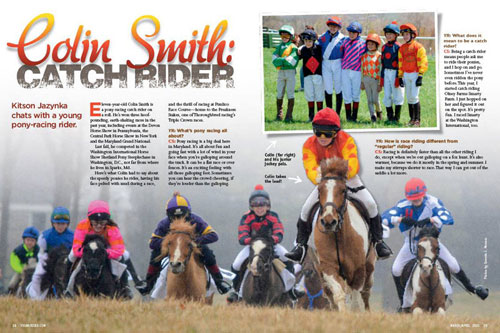 I interviewed Colin, 11, last fall for a story that appears in the current (March/April 2015) issue of Young Rider magazine. He told me about winning three races in 2014, including competitions at the Devon Horse Show in Pennsylvania, the Central Park Horse Show in New York and the Maryland Grand National. Last October, he competed in the Washington International Horse Show Shetland Pony Steeplechase in Washington, DC.
Colin doesn't mind the pelting of mud in his face on the racecourse – at least not that much. Of course, he'd much rather be in the lead with nothing but his pony's ears between him and the finish line.
When he's not racing or juggling the demands of middle school, he helps his mom – Maryland horse trainer Mimi Schmitz – while she teaches. "The most fun times are when my mom lets me demonstrate jumping for the little kids, like over our coop, oxer or the telephone pole," he says. "When you're riding fast and furious over jumps, the pony life can turn a quiet day into an oomph day."
Check out this awesome video above of Colin and the adorable Olney Farms Smarty Pants running in a race at the Washington International Horse Show. Colin told me Smarty is one mellow pony, "… but when it comes to racing, she's all business."
Back to Over the Fence