I'm on the phone with New Zealand this afternoon and I'm speaking to a unicorn. Well, I'm speaking about a unicorn, anyway. His name is George.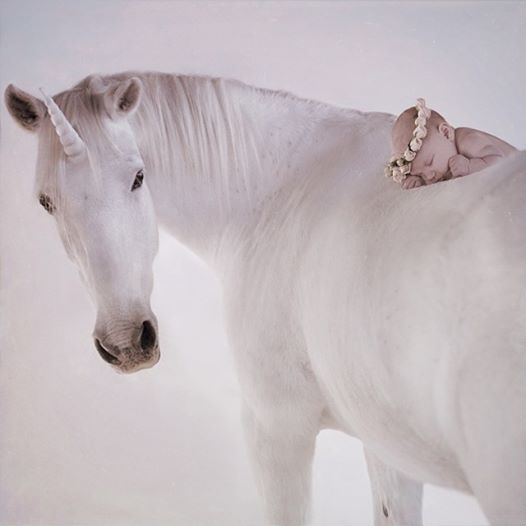 I was interviewing George's owner, animal behavior consultant and zoologist
Mark Vette
when all this came up. Even though we were talking about his dogs, when I saw that he also worked with horses, our conversation took an inevitable turn. What, I asked, can you tell me about the life of a unicorn? Here's what Mark had to say.
On what it takes to be a successful unicorn…
George has a nice spring to his step and just has that magical quality. He also has to have a positive attitude because all of his work is done at liberty. I know George enjoys his work. He opens the gate himself and wants to get right to work. George's main job is to look like a horse that just came out of the clouds.
On creating the illusion…
When he's working, George wears a mane and tail extension in addition to the horn mounted on his head. The horn is super light and it's attached with the same glue that human actors use when they must attach a costume piece onto their heads. George has a small area on his forehead that gets shaved, then on goes the non-toxic glue and the horn. The glue peels of when the horn comes off. George wasn't used to his horn at first. He bumped into things and knocked it off. But he has a wonderful temperament. When he got used to the horn, it was like, a unicorn was born.
George has been in movies, on television shows and commercials like this one for Cadbury. He was one of the horses in The Chronicles of Narnia: The Lion, the Witch and the Wardrobe movie and also in this award-winning short film. Check him out as one of three unicorns in this commercial for a retail store in New Zealand.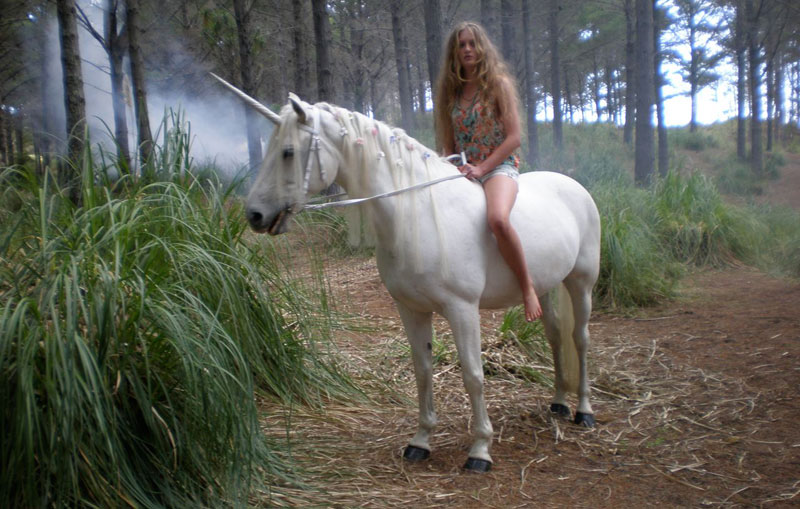 George's trainer, Rosie Miles (a show jumper and Grand Prix dressage rider) says that George has a great sense of humor and likes to play jokes. He is very intelligent and will lie down on command, gallop on the beach and come to where she's standing or follow a camera car. "He's very gentle with actors who can't ride and really looks after them." she says.
He's 19 years old and stands 15.2 hands high. He's what she refers to as a "New Zealand Station-bred" horse, which means a farm-bred horse and a bit of a mix of many breeds. No matter his pedigree, George seems to always know what Rosie is thinking. She calls him, "Mr. Reliable."
Back to Over the Fence