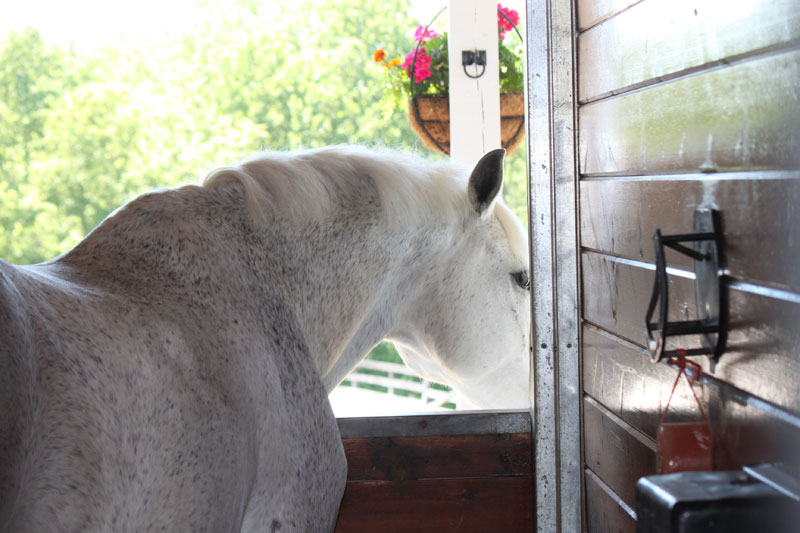 Cherrybrook Blue Suede Shoes, at Wind Fields Farm, didn't seem to mind the attention of visitors.
There is a farm in off the beaten path in Virginia's beautiful horse country that I have been driving past since I was about 12 years old. Picture miles of well-kept black fencing that follows the ups and downs of a winding country road. There's the main driveway for Wind Fields Farm and then the farm entrance with a cute cottage at the road (of course, I'm partial to the farm entrance) and endless tree-lined stone walls that border the fields.
Green pastures roll away from the road, racing to the edge of a distant, dense forest that hides Goose Creek and wildlife like bald eagles, fox and black bear. After a while the fencing changes to the style of the next farm. The road (when I was a kid it was referred to just a "734" now as the suburbs creep ever closer, it has a name: Snickersville Pike) curves to the right, drops down an incline and abruptly dumps you out on a much less appealing and busier road. A left turn on Route 50 puts you on a fast track to Washington, DC about 40 miles away. A right turn takes you straight into the historic and horsey town of Middleburg.
I grew up in the area, and detour by that farm any chance I get. I found these nice pictures from when the farm was last for sale. Last weekend, my friend Eliza and I took a tour of the incredible 463-acre farm during the annual Hunt Country Farm Tour hosted for the past 56 years by Trinity Church in Upperville. It was a thrill to turn down the long driveway, poke around on the beautiful grounds, walk through the barn and experience the farm. Now if I could only live there. I realized after the fact that I hardly took any pictures while we were there. I was too awestruck!
That day, we happily drove, drove, drove around the countryside, stopping at some other choice places on the self-guided tour and lingered over beautiful barns, beautiful horses. Here are some images from the day.
On the tour, we met Innkeeper, the last son of Secretariat still alive today. He is in great shape in his retirement at the M.A.R.E (Middleburg Agriculture Research and Extension) Center on the tour.
What the barn at Poplar Grange in Marshall, Virginia lacked in history, it more than made up for in the shining wood paneling and gorgeous horseflesh inside.
The rolling hills of Poplar Grange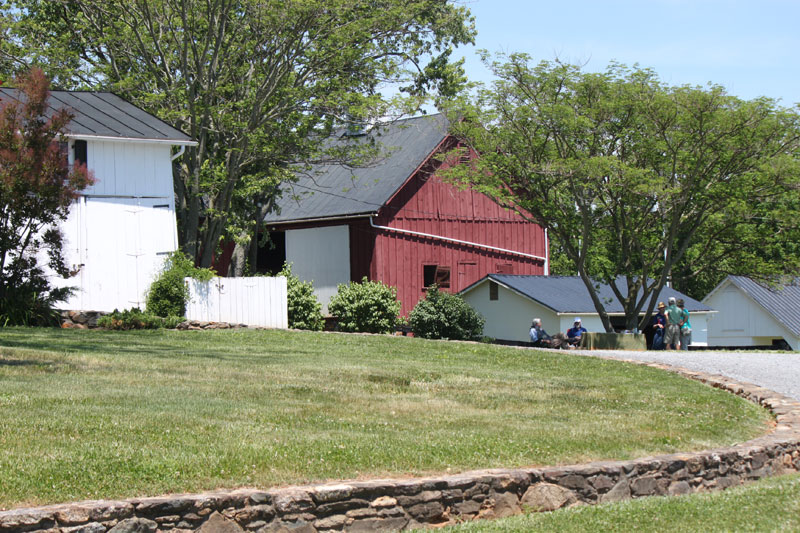 Rock Hill Farm in Bluemont, Virginia is home to working hunters and is on the National Register of Historic Places.
This old piece of farming equipment has been turned into a sturdy bar at Rock Hill Farm, which is on a conservation easement with the Virginia Outdoors Foundation.
A little turnout pasture at Rock Hill Farm.
Back to Over the Fence