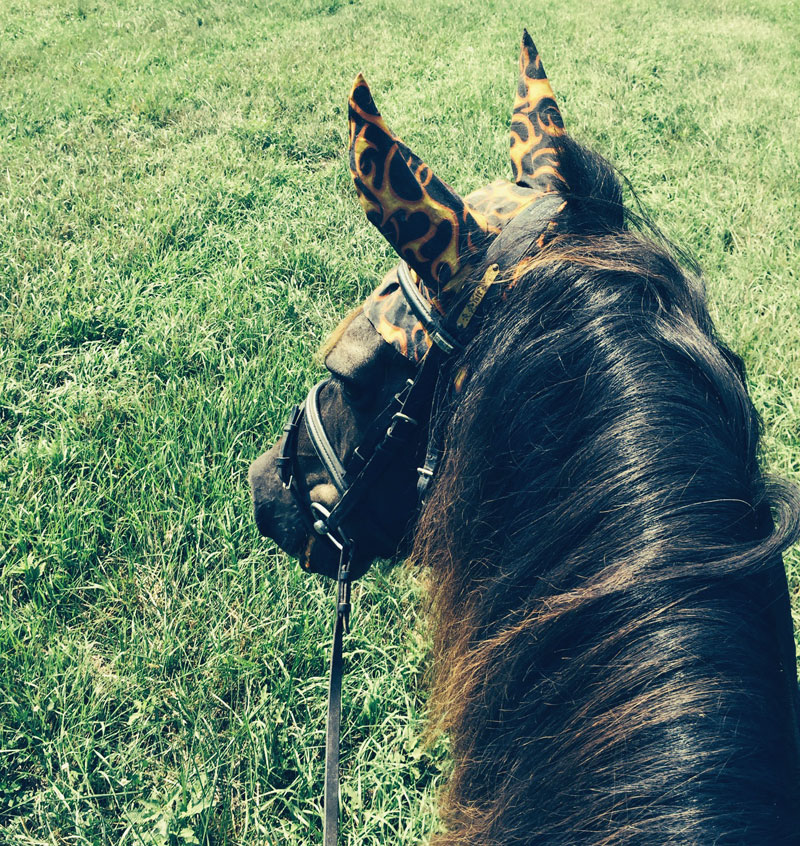 It's full-on bug season here in the Mid-Atlantic and I'm keeping the flies out of my horse's ears in style. That's my Welsh Cob gelding, Taff, wearing what I call "Horse on Fire." Hayden, Alabama-based LaClaire Couch made this little piece of wear-able equine art. She makes more than 12,000 Ear Me Now Fly Bonnets a year. Do the math –12,000 bonnets times two ears per equine times a million flies, that's a lot of bugs not in horses' ears. LaClaire is a regular super-sewing bug warrior.
I recently found out a little more about her and her bonnets. Here's a bit of what she had to say:
Kitson: How did you get into the business of making horse fly bonnets?

LaClaire: I have been in official business since 2000, but actually started sewing the bonnets in 1996 when my grandson began to ride at three years old. His first horse, Buckshot, was an 18 year old, half Belgian/half thoroughbred mare, so you can imagine how large she was – and he could not reach her ears to keep the deer flies from biting while on a trail ride. In her efforts to keep the flies off she would shake her head which in turn would scare him. So like the loving grandmother I strive to be, I made a pattern, found some really funny material and made Buckshot a bonnet. It worked so well that more patterns were made and material bought for the whole family to have their personalized bonnets.
Like wildfire, I found myself sewing making one custom after another and The Ear Me Now Fly Bonnet Company was started.
Photo courtesy LaClaire Couch
K: What is your favorite bonnet of all time?

L: I guess my favorite pattern would be the animal prints or any of the tie dyes. I also prefer a few beads attached to give the bib a little weight.
We also have a new product line called "Ear Me Now High Visibility Bonnets." The bonnets come in Neon Paisley prints and solid safety colors. We added an extra safety twist with the reflective tape being added for night riding or riding during hunting season. We also make glow-in-the-dark safety collars for people who compete in different events where their horses have to be tied on a high line (or picket) or their trailers during competition. I was once involved in such an event when my horse became loose during the night and a desperate search was on. We were less than 2 miles from an interstate and you can imagine that I was in full panic mode.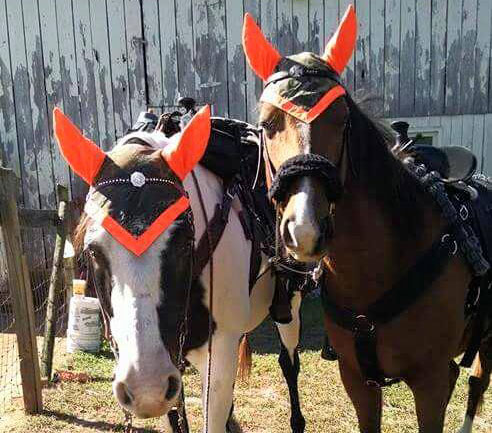 Photo courtesy LaClaire Couch
K: Tell me about the sewing.
L: I cut and sew on average 4 hours each day year round and 8+ hours on rainy winter days. That covers the weekly orders and my efforts to keep my inventory at a manageable level. Plus, not a day goes by without a custom bonnet to cut and fit specific measurements for a mini, donkey, draft or mule.
Photo courtesy LaClaire Couch
I try to make one trip to the post office each day but on occasion two trips are necessary. We also ship out of the country several times weekly. With the Internet's help this fun idea has become popular in the United Kingdom and Canada as well. I've even shipped to Australia on several occasions. Ear Me Now Fly Bonnet Facebook page has more than 5,000 likes and is growing on a daily basis.
K: What do you love most about your bonnet-making empire?

L: I don't know too much about it being an empire but, I guess what I love most is the fact that what started out as a fun idea that served a purpose has turned into something that I enjoy doing and that takes me all over the country meeting fantastic horse people and spreading my little fun idea!
To check out the bonnets, click here.
Back to Over the Fence