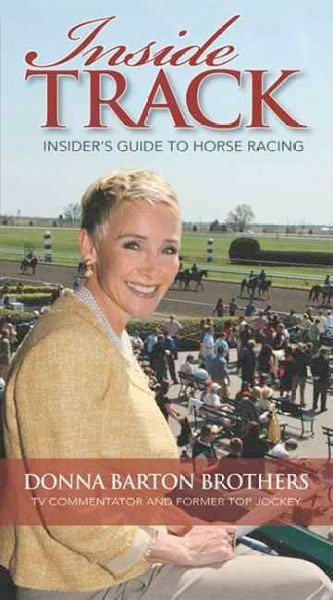 Recently I had the pleasure of talking horses with NBC Sports horse-racing reporter Donna Barton Brothers. You might have read about her this spring in Horse Illustrated or here on HorseChannel. On Friday, an essay she wrote about the emotional side of reporting on this year's Triple Crown appeared in the New York Times. It was a really moving piece. After reading it, then reading it again, I wondered what it was like to be in her boots (sitting on wonder pony, Smokey) during the Belmont Stakes earlier this month, when American Pharoah became the first horse in 37 years to win the Triple Crown.
Donna was generous enough over the weekend to indulge me with answers to a few questions. Here's what she had to say. I recommend reading her essay first!
Kitson: What does it feel like to "watch" a race like this with only your ears, especially when you're on the track?
Donna: This took a while to get used to. At first I would try to listen intently to the call while also checking an infield large screen monitor as I was galloping by. I have found that it's easier to just listen to the call of the race because, since I'm on a horse, my body & mind has so many other things they're dealing with simultaneously — such as: paying attention to my horse and his signals in case there's something he may spook from; getting him into a gallop after the horses leave the gate but not letting him pick up too much momentum in the event that doing this will get him overly excited and make him want to "run off."
K: How did Smokey do for you during the Belmont? What is he like to ride in that pressure-cooker type of situation?
D: Smokey is a good boy with a big heart. He doesn't spook from much—really, almost nothing. But he also doesn't love riding up next to another horse and getting him to ride up to a horse on the "off side" was the only real challenge. He just wasn't crazy about the idea but he's such a good boy that he did it in spite of his preference. Smokey doesn't mind large crowds or the crowd noise. But in that situation, he also didn't like being off by himself (just him and me), he preferred to be next to another saddle horse or walking around rather than standing alone, off to the side.
K: After American Pharoah won the Triple Crown, how did you keep your emotions together for the interview?
D: Practice. I had to keep my emotions in check for 11 1/2 years as a jockey, especially in a situation where a horse I cared deeply about was injured. When I started covering horse racing for NBC Sports my husband, Frank Brothers, was still training horses (he retired from training in 2009) and sometimes had horses in races we were covering. Objectivity is imperative for a reporter to do their job well and so a display of emotions has simply never been an option (in these situations).
K: What is the hardest part of your job?
D: My job is so great that it's hard to focus on "the hardest part" when there are so many great parts. But if I had to pinpoint it, I would say getting my saddle horse to ride up onto the off side of another horse. The horses I ride are racetrack "ponies" so they're used to accompanying Thoroughbreds to and from the track on the left side of the Thoroughbred. Riding up to the Thoroughbred's right side is not something they're usually asked to do and, quite frankly, would be dangerous if I did it at any other time other than directly after the race when the Thoroughbred is too tired or otherwise occupied to think about kicking my horse.
K: What do you love most about reporting on horse racing?
D: I just love horse racing. I've covered other sports for NBC (bull riding, the World Equestrian Games, AQHA World Championships, Cutting, Reining, Dressage, Show Jumping, Eventing, etc.) but what I love most about horse racing is that there is no judge deciding the outcome (as in many other sports and horse sports). It's a race. You win or you lose. And I love how much Thoroughbreds have a passion for competing and how generous they are. They are incredibly willing to give an all-out effort. Thoroughbreds don't have to be trained to do what they do (as opposed to jumping, dressage, etc.), running and competing is inherent to who and what they are. They do need to be taught patience and to listen to their rider for signals about when and where to unleash their best rally and I love how willing they are to be part of a "team", rather than abide their true nature to just run as fast as they can for as long as they can.
K: What made you want to write something about the experience?
D: A good friend of mine, Jennifer Calder, writes for Chronicle of the Horse and she and I have a deep appreciation for great writing. We text and/or email articles back and forth that we love—or don't love—and discuss the writing of those articles. We loved Tim Layden's Sports Illustrated piece that came out the morning after the Belmont Stakes and that started our week-long "discussion" of our feelings about other articles we read that came out in the aftermath of the Triple Crown. On Saturday, June 13, she said to me via text, "…It's hard though. I'm trying to write about it, just for me so I don't ever forget what MY experience felt like and it's hard to find the right words." Which prompted me to try to do the same. So I went inside myself to figure out what it was that I really felt in the aftermath of the Triple Crown win and I wrote it down, emailed it to Jen. After she said she liked it, I said, "Oh good, I'll post it on Facebook." Her immediate text said, "No! Send it to the New York Times!"…and it went from there.
K: How did you celebrate the Triple Crown yourself, when it was finally time?
D: "Celebrate" would be a strong word. I really just basked in it. For days. I read every article and recap I could find for about 5 hours on the day after the race and then for an hour or two a day for the next few days. I didn't want any part of it to escape me. I just soaked it in. I'm glad I wrote about it though—for me. It was important to get to how it made me feel and that wouldn't have happened had I not sat down to write about it.
Back to Over the Fence