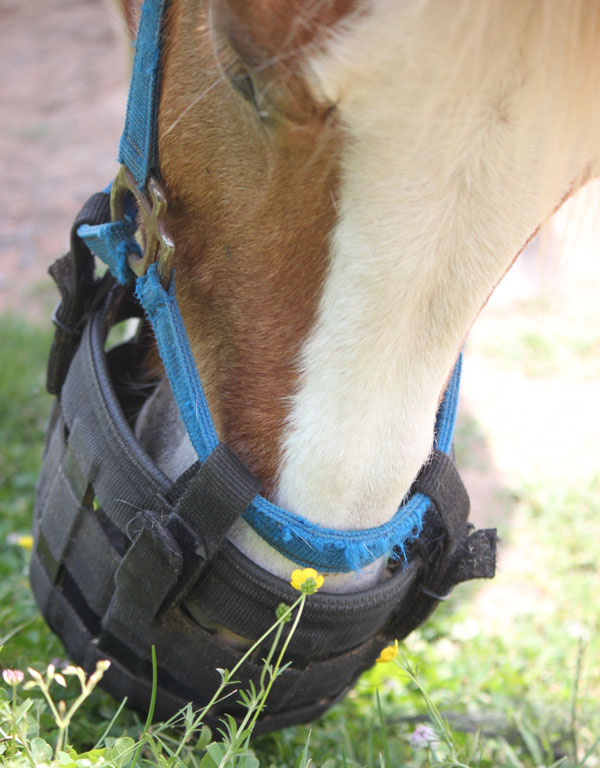 For the last few years, poor Chico has been condemned to a dry lot during the lush Maryland springtime. He gets too fat on pasture and that's that.
This year, we tried a grazing muzzle at the suggestion of his trusty vet,
Pete O'Halloran, DVM
. It's been a great success. Chico's at his best weight in years and he's content wearing it. I asked Pete a few questions about the use of grazing muzzles for issues related to equine weight control. Here's what he had to say:
On the need for grazing muzzles…
With our practice in Maryland, we see a fair number of overweight ponies. Primarily these ponies are overweight because they are receiving too many calories from their diet, for the amount of exercise they experience. As a consequence, we see an increase in cases of laminitis. For many horsemen a muzzle is a convenient option for which to help reduce the amounts of grass consumed on pasture.
On benefits versus risks of grazing muzzles…
I think for most ponies the benefits of using a grazing muzzle are greater than the risks. Sometimes a grazing muzzle may cause a pony to hold grass in its mouth longer than usual. As a result there could be an increased likelihood of dental disease and gingivitis. Some ponies' work so hard grazing through the muzzle; they produce excessive wear on their incisors.
Wearing a muzzle can also cause friction rubs on the face. Ponies wearing muzzles should be examined daily for abrasions. Some ponies especially resent having to wear a muzzle, and may make extraordinary efforts at removing them. This could possibly result in other forms of self-inflicted trauma.
However, It has been my experience, that most will learn how to successfully graze with a muzzle. Turn out in a dry-lot is a better option for ponies that are significantly overweight.
Dietary control is impossible to achieve where grazing is allowed, as an unknown quantity pasture is ingested. Limiting time at pasture is not an acceptable strategy, as ponies are known to be capable of consuming large quantities of grass in short periods of time.
Ponies can probably consume their entire daily energy requirements in around 3 hours of pasture turnout! I have seen estimates for grazing muzzles reducing grass intake by 30 to 80% percent. It is difficult to quantify amount of pasture consumed when using a grazing muzzle. They are perhaps most useful when a pony is reintroduced to grazing following a successful weight-loss program on a dry lot.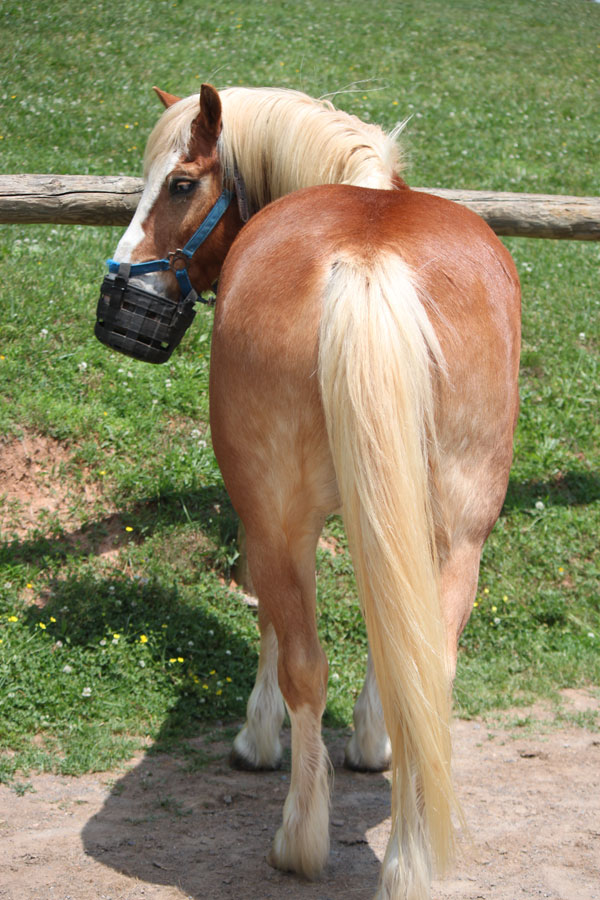 On types of grazing muzzles…
There are several types of muzzles available. Some work better than others. Look at the web site for Dr. Joyce Harman. She has a design that works well for many.
Back to Over the Fence