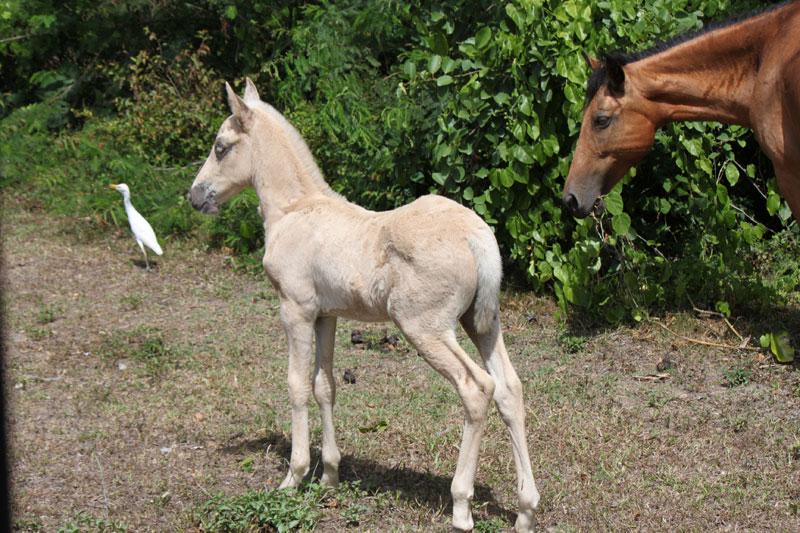 While on a visit to this arid, beachy paradise called
Isla de Vieques
, I've had way more beach time and daiquiris than Internet connection or even a pen and paper. But I have had my camera handy. In between pictures of white sand, turquoise inlets, wild sea turtles and kids in flippers and bathing suits, I've taken a lot of pictures of the island horses that roam around.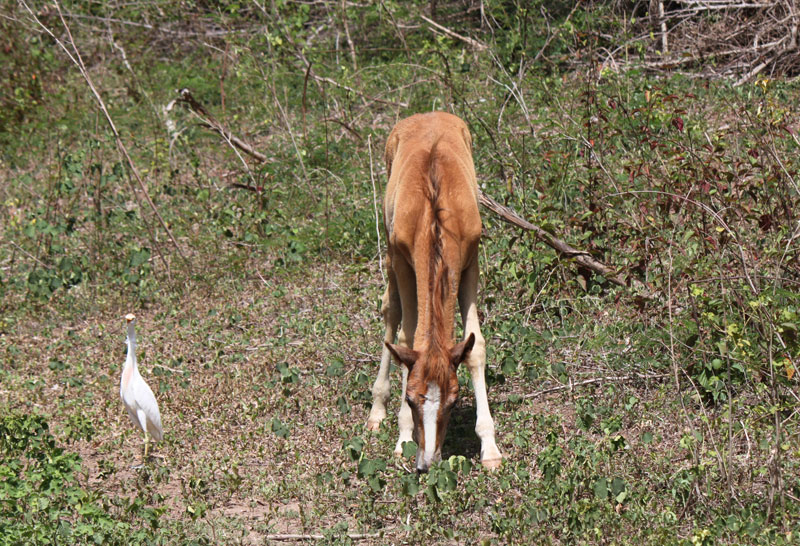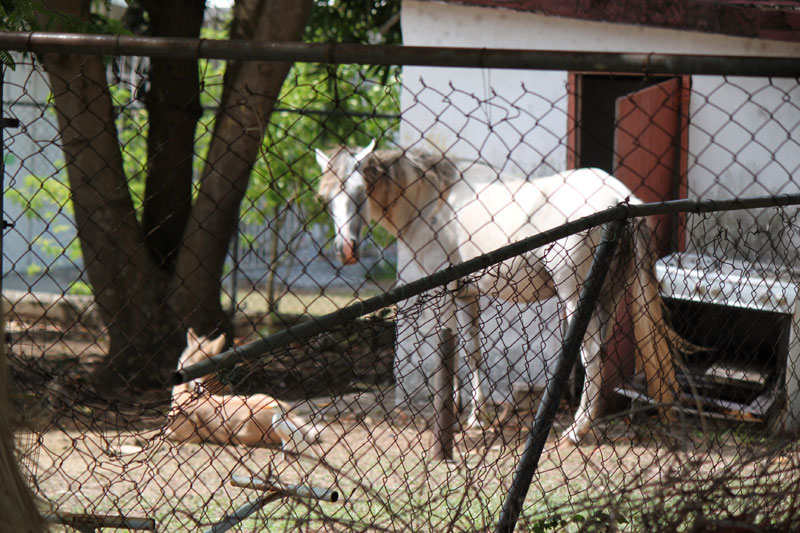 I've seen them wandering a gas station, walking down the sidewalk, serving as a perch for big white ocean birds, drinking from puddles, and poking into a vegetable stand. Others are behind fences at private ranches. One I saw tied outside a house, waiting patiently while wearing a colorful bareback pad. Another (pictured below) dashed haphazardly in front of a truck when its flapping, slapping tarp spooked the horse. Overall the horses look ok. A few look gaunt. Some seemed shiny and healthy. One loose horse on the street seemed to have new shoes.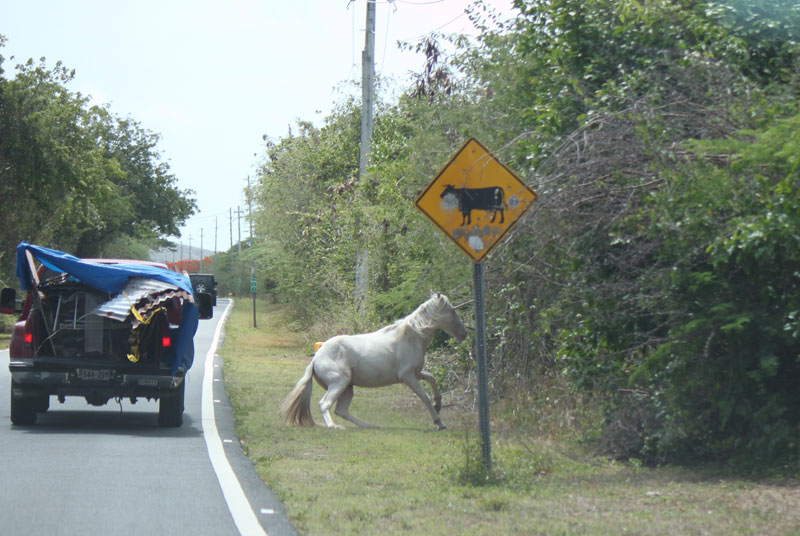 Three things I've heard said about the horses:
"They are like ducks wandering around the towns from one puddle to the next" (seems there is a drought here, and it's been hard on the horses.)
"They are like stray dogs."
"They are pests, like getting in the trash."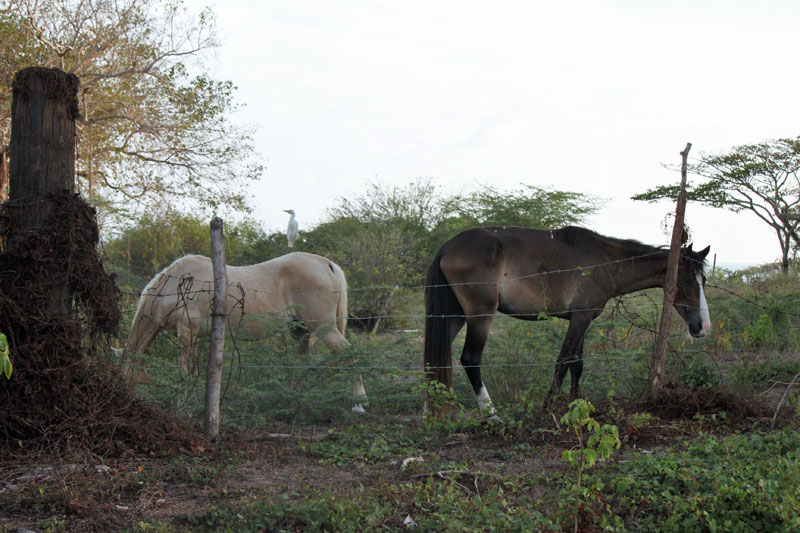 I've seen stallions walking along the beach, pregnant mares grazing, and tiny babies snoozing in the grass next to a road. One day, while having lunch at a beachfront restaurant, a pick-up truck drove by and – yup – there was a horse standing in the bed of the truck, along with a tiny foal. Last night a man in a red vest trotted through the small beach-front on a white horse tossing its head all the way.
I've asked around about the horses, but have only found out that they aren't as feral as they seem. Many are branded, but left to roam to graze.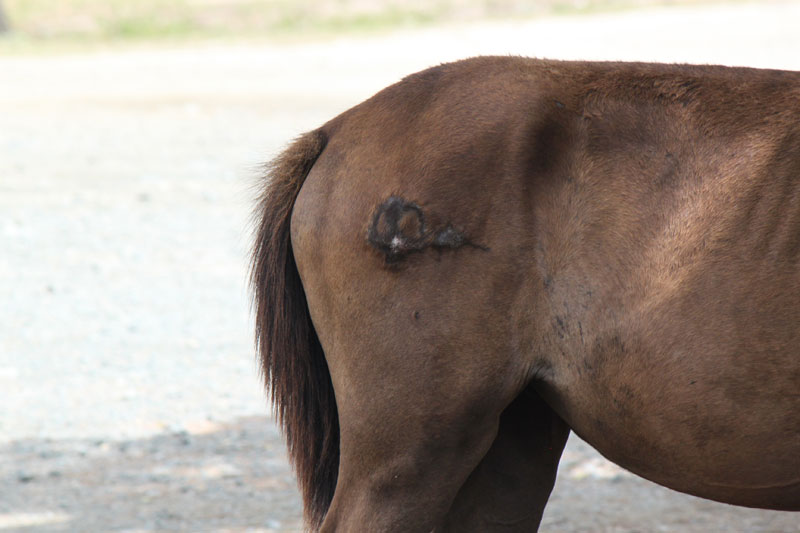 There seems to be a strong Paso Fino bloodline, but some are on the big side. On the more positive side, the horses seem to be a cherished part of the local culture. Perhaps it's just more of a survival of the fittest type of horse lifestyle than I'm used to. Here's a video from a Paso Fino show on the island.
Here's a bit about the horses' history. There are a few outfits that offer riding adventures for a fee.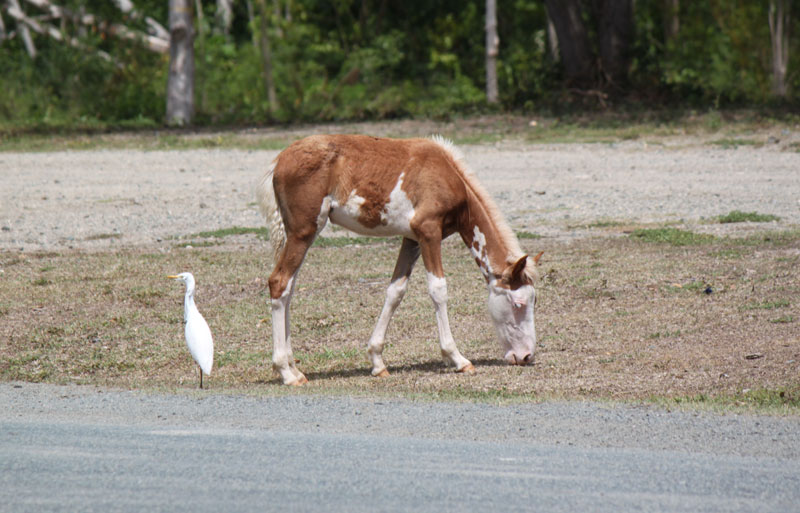 It has been fun to see horses around the island, as we drive around in bathing suits carrying around our snorkel gear in a rented jeep (kudos to my husband patiently stopped the car just about every time we saw a horse). But on the other hand, despite the glorious climate and beautiful setting, I have to wonder if life is such a breeze for these year-round island inhabitants.
Back to Over the Fence