Late last night the Chincoteague Volunteer Fire Department announced via Facebook that they are investigating the disappearance of a 2015 Chincoteague "buy back" foal. Dreamer's Faith was taken from the corral area at the Chincoteague carnival grounds either Sept 6th or 7th. The Chincoteague Police Department is leading the investigation and numerous other law enforcement agencies in several states are investigating. They are offering a $1,000 reward for any information that leads to the arrest and conviction of the people involved.
Each year the Fire Company designates a few ponies, like the beautiful and iconic Dreamer's Faith, as "buy backs." These foals are auctioned for sale but return to Assateague Island to live wild. Sometimes they have been some of the highest-selling foals at the auction (I blogged about one this summer). Their buyers choose a name for the foal and have their names listed on the official registry.
"We have never encountered anything like this in 90 years," said fire company spokeswoman Denise Bowden. To donate to the reward fund, please send a check to Dreamer's Faith Reward Fund, CVFC, PO Box 691, Chincoteague Island, VA 23336.
The pictures of Dreamer's Faith do not show her freeze brand of "15" on her left rump. To report information related to the foal, please call Corporal Tyler Greenly of the Chincoteague Police Department at 757-336-3155.
Fingers crossed for the quick and safe return of this baby! The following are some photos I happened to snap of her during the 2015 pony swim in July.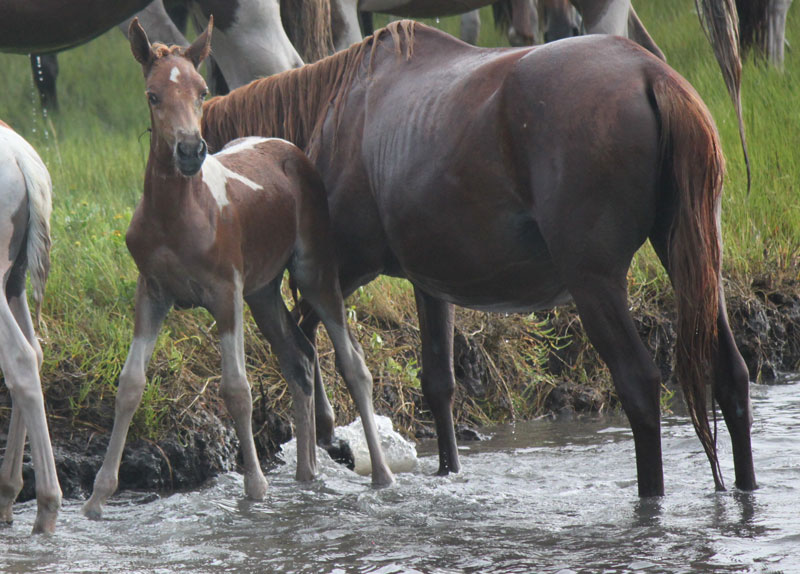 Back to Over the Fence